Good For Appearance, Bad For Restraint..
The Good Girl Bad Girl Cuffs by Booty Parlor are GORGEOUS! If you're looking for a pair of cuffs that are attractive, and can be worn out of the house, then I strongly recommend these. Unfortunately, if you are looking for cuffs that you can use for anything more than very light restraint, you'll need to look elsewhere.
Published:
Pros:
Attractive, can be worn in public, Adjustable to fit, Easy to clean, faux-leather
Cons:
only good for VERY light restraint
I'll admit- when I bought the Good Girl Bad Girl wrist cuffs, I only wanted them because I thought they were absolutely gorgeous. I really didn't care if I ever used them for restraint; I just wanted them because I fell in lust with their appearance… I'm glad I didn't buy them for restraint, because after receiving them it was clear that they would not hold up during anything more than very light restraint play.
The cuffs arrived in a very feminine, attractive package. The packaging is a rectangular box that measures in at: 10 ½ inches long, 4 ½ inches wide, and 1 ½ inches deep. The packaging is black, white and pink in colour. The box opens at the front, similar to a dresser drawer. There is a short piece of lace in the middle of the "drawer" which is used to open it up (similar to a knob or handle on a dresser).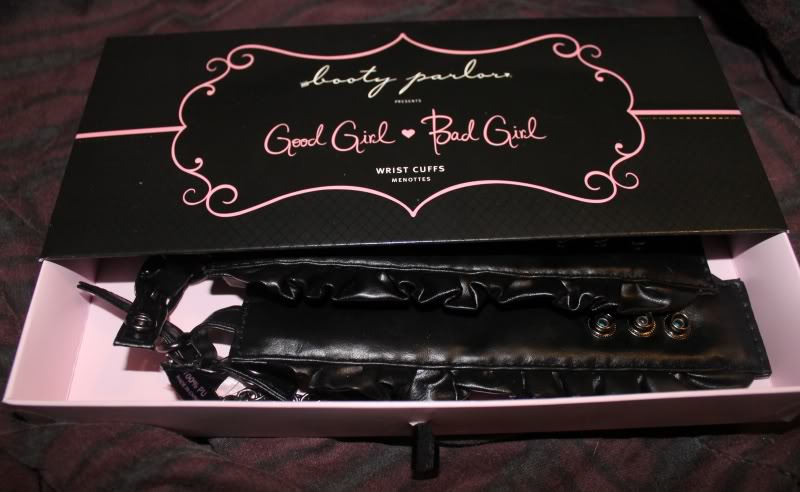 The top of the packaging has the brand name, and product name in script within a swirled design. The back of the packaging has a photo of the product, the package contents listed, product name, short summary of the product, and company contact information. This is probably the nicest packaging I've seen for a product so far. It screams high quality and would be excellent for gift giving. It is also perfect to store your cuffs in when they are not in use, or to use the box for other items you have (there is quite a bit of space in the box- see measurements above).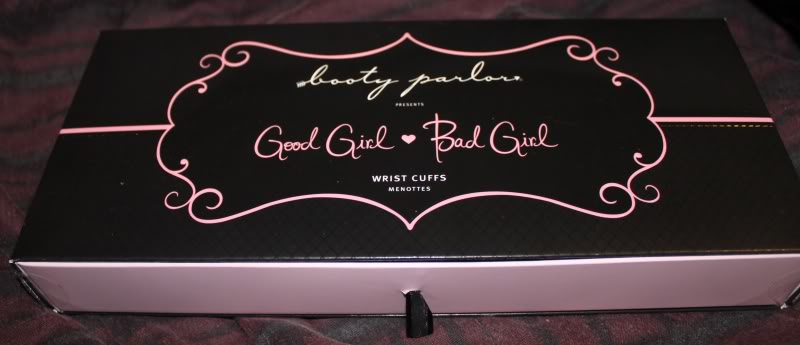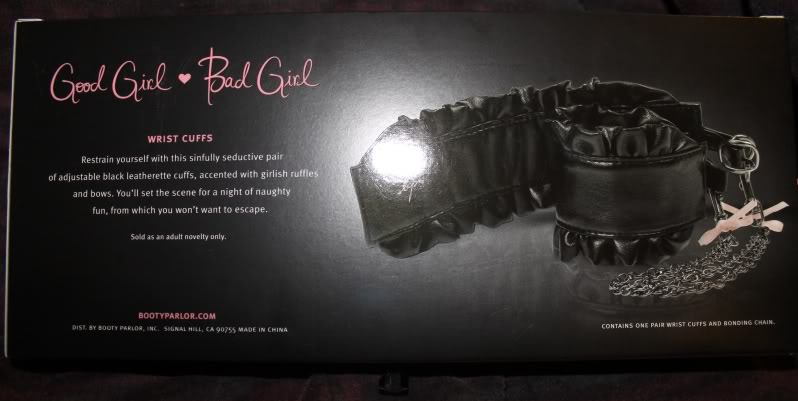 The wrist cuffs are made of faux-leather and are attached by a double stranded chain. Each cuff has a small D-ring on it. Each end of the chain has a clasp on it that hooks into the D-rings. The chain can be detached and reattached to the cuffs very easily. The D-rings are quite small, so if you were to detach the chain, you could wear them out of the house without anyone knowing the wiser. They would make an excellent accessory to complete an outfit.
While they are gorgeous, they will not hold up during anything more than very light restraint (no tugging, no pulling, etc). The chain is quite thin and fragile, and the D-rings are attached to very thin material, which could tear off during play. I won't be using these cuffs for anything more than very light restraint. If you decide to use them for that purpose, be very careful with them to avoid breaking the chain.

The cuffs will fit the wrist sizes from approximately 6-9inches. The cuffs have snap closures with 3 different snaps to accommodate different sizes in wrists. Also, the opposite side of the cuff where the D-ring is located is adjustable as well. This side of the cuff is adjustable like a belt buckle, with three holes to further accommodate wrist sizing. Once the cuffs have been snapped into the closure, they are quite secure and should not fall off (unless they are being tugged on quite hard near the snap area).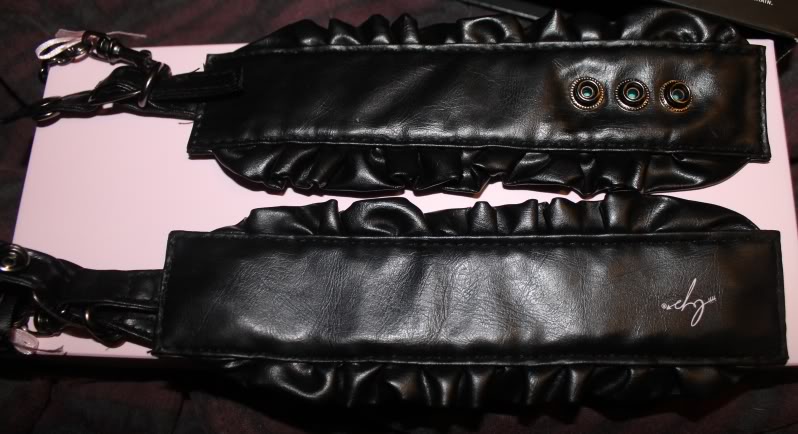 The chain that attaches the cuffs is 13 inches long. The cuffs are 2 ½ inches wide. I am not sure of their weight since we do not own a scale, but the product page says 6.5lbs, which is definitely wrong. If you need any additional measurements, send me a message and I can get them for you.
The cuffs are flexible and lightweight which makes them very comfortable to wear. The faux-leather did not irritate my skin at all. All of the stitching and hardware is in place and I had not found any flaws with them.
When cleaning the cuffs, it is recommended to use a detergent-free soap with warm water, and a micro fibre soft cloth. When I had wiped down the cuffs, I used my regular soap, water and a shower towel to dry it off, and that worked fine.
I've given the cuffs a 5 out 5 star rating because they are absolutely beautiful. If I had purchased the cuffs with the intention to use them for restraint, then the rating may have been slightly lower. The cuffs are just stunning; very feminine with a bad girl edge. If there were other colours available, I'd have to get those too.
Follow-up commentary
8 months after original review
I still love the Good Girl Bad Girl Wrist Cuffs. They don't get much use in our bedroom since they are only good for very light restraint, but I love detaching the chains and wearing them as an accessory. They're still in great shape and have held up well. I'd still recommend them as long as you're not expecting them to hold up for anything more than light restraint.
This content is the opinion of the submitting contributor and is not endorsed by EdenFantasys.com

Thank you for viewing
Good girl bad girl wrist cuffs
review page!