Oh Yes, Multipurpose
My 69th Review!! I thought this was appropriate. This is such a beautiful piece. It is multipurpose. You have a flogger that doesn't inflict too much pain, more for sensory play. And a great piece of textured glass with the popping bubble at the end! I would suggest for all. I am planning on getting some suede conditioner for the tresses to protect them and take care of the shedding.
Published:
Pros:
Textures
Sensory Play
Temperature Play
Multipurpose
Cons:
Don't get it wet
Glass can break if dropped
Shedding Suede
Icicles No 38 Glass Flogger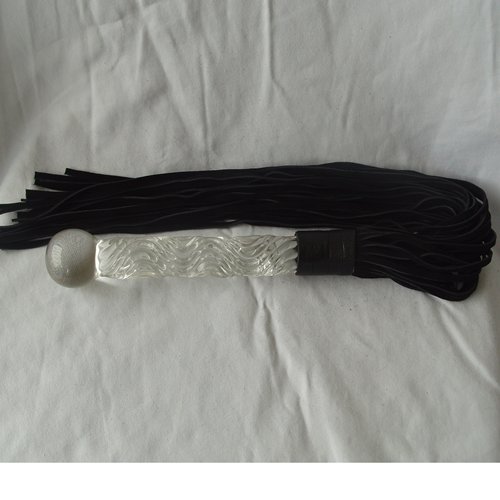 This is undeniably the most beautiful piece that I own! Even though it is quite simplistic with only being clear, the textures and the flogger add so much! Some times less is more. Yes, I know that this is not a hard core flogger, I didn't want a hard core flogger as I am only skirting around the BDSM play. My husband even gave me quite a look when I opened the package of this toy. He quickly learned that it is for sensory pleasure play and not for infliction of pain.
Use
It is a beautiful simplistic elegant looking piece of art. It is vaginal insertion or anal insertion with a careful partner. Can be used by males and females alike. The one draw back is that the suede may end up getting dirty and wet with liquids and lube. It can be place in hot water or in a glass of cold water for temperature play. Be sure to test your temperature on your inner wrist before insertion.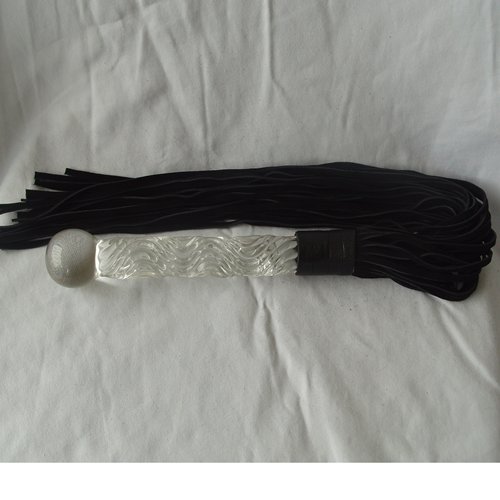 Material/Texture
The bubble tends to give a popping sensation when traveling in and out of your orifices. Textures galore with one large rounded tip and the swirls down the shaft. The glass is actually borosilicate glass other wise know as Pyrex, the stuff your cookware is made from. Borosilicate glass contains boron to change the density of the glass so that it resists breakage and it to break into large pieces with out shards or splinters. The way to ruin this glass is by dropping it and getting chips or scratches on the surface. The scratches can actually cause tissue damage. Be sure to inspect your glass before you use it. The glass is a food safe, hypoallergenic, non porous, latex and phthalates free material. It has an Eden safety scale rating of 10.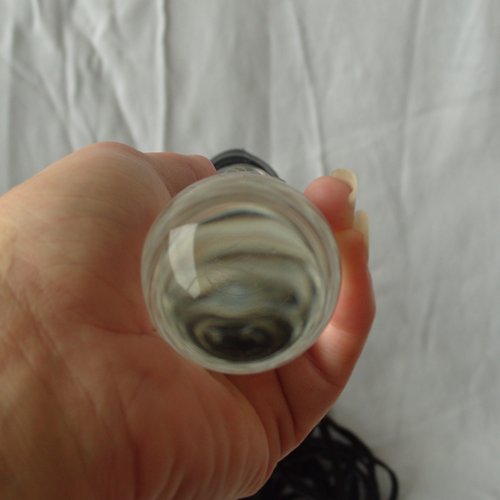 The glass is very firm, please be careful with thrusting or have your partner we aware of the fact that you can bruise your cervix with the firm glass. Remember our bodies have the give, not the glass toy!
The Suede Cat-O-Nine tails are of course suede leather, they smell so good when you open the package. The Leather has an Eden safety rating of 7 on the scale. You actually can get the leather wet but it always seems to get kind of crisp and crunchy and never goes back to the way that it was. Yes the suede tails do give off some lint but when I remember the sued jackets and skirts that I used to own back in the 80's they all had that lint when you initially got them and it goes away!
Size/Shape
The icicles No 38 has a total glass length of 8 ½ inches, the total length of the toy with tresses is 27 inches. The tresses are then 18 1/2 inches. The suede pieces are approximately 3/16 of an inch across. The glass has an insertable length of approximately 6 ½inches so you don't get your juices on the leather wrap. A shaft diameter of 1 3/4inches. The suede wrap on the glass is 1 ¾ inches. The textures are raised aprox 1/16 to 1/8 of an inch. I didn't notice any issue with my wrap is attached to the glass and it seems to be attached pretty securely.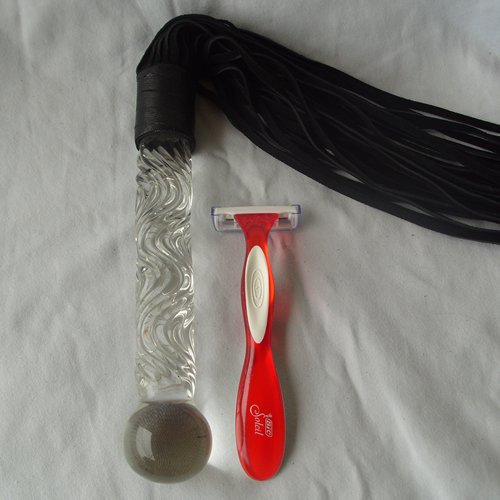 Care/Maintenance
You can use any type of lube with glass ranging from your oils, water based, hybrid or silicone. You can clean it with a 10% bleach solution. You can clean it with your antibacterial soap and water, toy sprays, Eden wipes or what ever you use. If using chemicals be sure to rinse it before you use it. Be careful of the suede tresses. I would bet that some suede conditioner would work nicely on the tresses if need to clean them and I bet it would keep them in shape nicely.
Packaging
Icicles has elegant beautiful packaging. They have the magnetized flap with the product in the clear window. The glass is in a foam type of material to protect it during shipping the box works as great storage.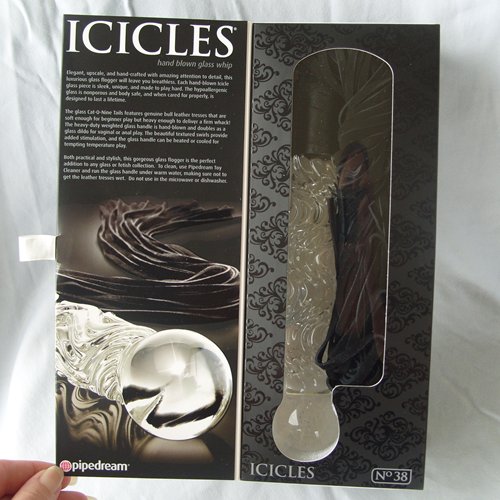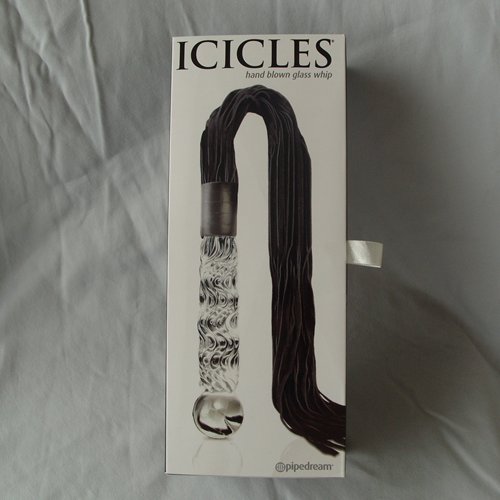 Experience
I would suggest to any one, even if you don't use it as it was intended this is a great looking glass piece. The sensory play is unbelievable. I want to get out the blindfold but that is going to take a lot of convincing on my part. The husband is loosing up a little. I did actually use the dildo vaginally and it is similar to my don wand blue swirl. This one is multipurpose though!
Follow-up commentary
4 months after original review
I really like this one but I don't use it as much because I am always concerned with it getting slippery with any lubrication on it and worrying about getting anything on the straps. I like it but I am too much of a worrier to have enjoyment while I am worrying.
This content is the opinion of the submitting contributor and is not endorsed by EdenFantasys.com

Thank you for viewing
Icicles No. 38
– dildo review page!