The Glass Flogger That Makes My Clitoris Throb!
The Icicles No. 38 glass dildo and flogger is completely divine. It is a dildo that is textured in a wavy design, as well as a deliciously smelling leather flogger. It is two toys in one. It is made with the most love and craftsmanship that I have seen in a long time. It makes my clitoris throb just looking at it, and smelling the leather. It is for masturbation, solo play, double penetration, partner play, and impact play. It is the perfect kink styled dildo and flogger.
Published:
Pros:
+ Glass, exquisite texture
+ Leather, smells delicious
+ Made by Pipedream
Cons:
- Nothing is wrong with this product, at all.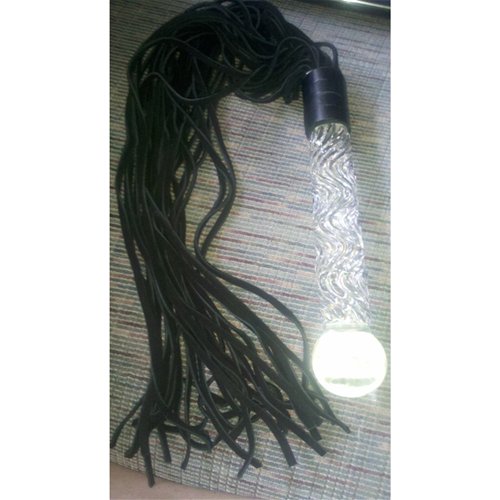 What is the Icicles No. 38 all about?
The Icicles No. 38 Glass Dildo and Flogger made by Pipedream is completely and utterly divine. The craftsmanship of this particular glass flogger is beautiful in a way that is irresistible. This dildo is versatile because it is a dildo with unique textures, as well as a flogger with a glass handle. It is two lovely toys in one, what could go wrong? I think that this piece of glass is a work of art. It is divinely exquisite in a way that only art can be described. It makes my vagina feel like it is using a piece of art work. You can use this solo for masturbation or with a partner for some impact and penetration play. You can use this for double penetration as well. The ball at the end of the glass dildo is great for a "popping" sensation when inserted vaginally. You can use this dildo vaginally or anally, just use caution. The flogger itself smells of leather and deliciousness. It makes my clitoris throb with the way it smells and makes me want to use the glass dildo even more. It makes my partner in heaven with the way I love this product and it is sure to be one of my favorite toys that I own. It is completely magnificent and I wouldn't trade it for the world.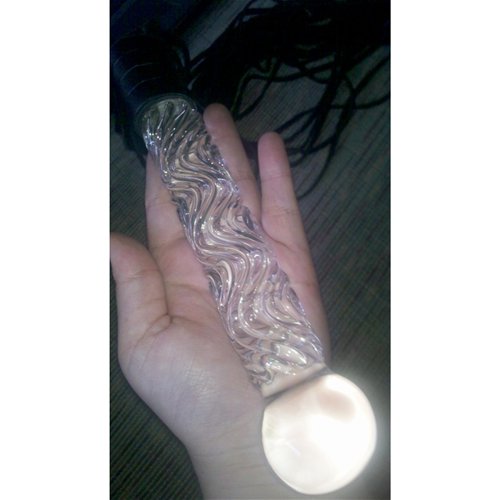 What is it made out of?
This dildo and flogger is made out of glass and leather. My first impression of both materials was phenomenal. I fell in love instantly. The glass felt so lovely in my hand. It has a wavy effect that feels delightful in or out of the genitals. Some people may not like the texture, so if you aren't some texture queen, this dildo might not be the one for you. The ball at the end of the dildo is very smooth and round. I love the way it feels as well. The leather is completely perfect. It smells delicious since I have a fetish for the smell of leather, and it feels even better. Once I took the product out of the box, I could smell the leather right away. It made my pussy extra wet, right then and there. I was already excited to use this product, but that made me even more excited. I couldn't believe how turned on I was getting by just looking at this visually and smelling it. I want to tell you a little bit about both glass and leather.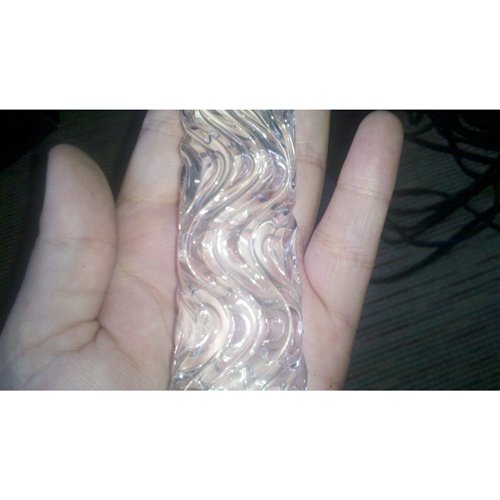 With glass, you can dabble in temperature play. Always use caution when playing with cold or heat. If you want this dildo to be cold, simply put it in a glass of ice water until it is cold and use it to your best desires. If you want it warm, you can run it under some warm water and play with it that way. Remember that the temperature that you feel with your hands is different then the temperature you feel in your genital area, or any other area on your body. Personally, I love temperature play and will be using this feature for my glass product quite frequently.
A glass is an inorganic non metallic material that does not have a crystalline structure. Such materials are said to be amorphous and are virtually solid liquids cooled at such a rate that crystals have not been able to form. Pyrex, a brand name for borosilicate glass, is made by adding boron into the mixture of sand, soda and ground lime.
Leather is made of natural fibers (Patent leather is leather that has been given a high gloss finish.) Leather is a water resistant material with a high tensile strength and high resistance to tear. Usually used for harnesses and restraints it has high resistance to flexing and to puncture. Good heat insulator.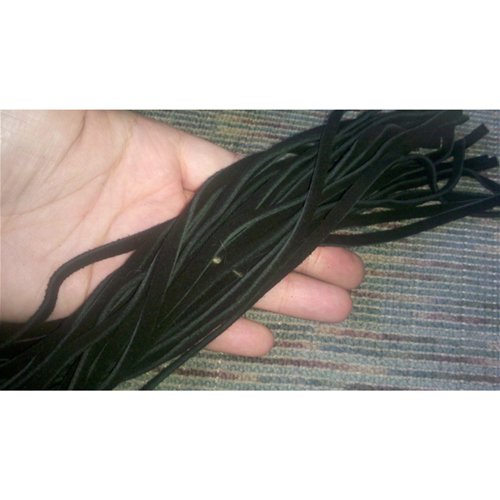 What are the measurements?
The measurements of this dildo and flogger are pretty unique. The glass is the perfect length for extreme pleasure and the leather flogger is perfect for some impact play.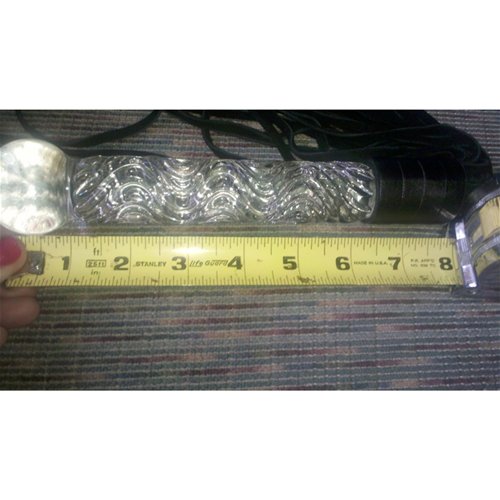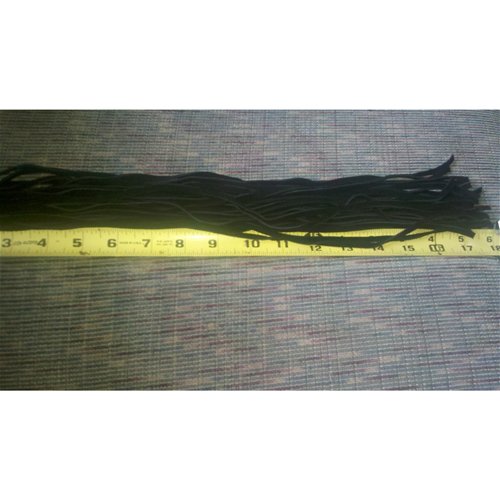 The glass dildo is 6 and a half inches long, as well as insertable. The handle included is 8 inches long. The leather flogger is 18 inches long. The entire dildo and flogger is 26 inches long. The diameter of the glass dildo is 1 inch and the ball at the end of the dildo is 1 and 2/3 inches.
I really love the diameter of this product because it feels so nice when inserted. It is literally the perfect diameter for my anatomy and genitals. I highly recommend this to beginners and above. You won't be sorry, you'll be in ecstasy.
Experience
How do I use this product?
Personally, I use this product for solo masturbation and with my partner. I use it for impact play and double penetration. When I use it solo, I just use the glass dildo part and go at it. I feel a lot of texture when I use this product, but I love texture when it comes to my toys. The glass ball at the end makes a lovely popping sound when you thrust in and out.
When I use this with my partner, he usually teases me with the glass dildo first with either temperature play or penetration. He then uses the glass dildo "handle" and flogs me with the leather part. The leather and the length of the flogger is simply perfect. It is a great length and gives a very nice sting. It leaves beautiful red marks. He can hit this flogger as hard as he wants on me and it will leave marks. I love marks, bruises, and welts. He says that the "handle" which is the dildo feels interesting in his hand. He grips it almost too hard and it still doesn't hurt him. He really likes this multi-versatile toy. He enjoys to hit my breast area, ass, genital area, thighs, and back. You can hit this flogger just about anywhere you want. It does leave a nice sting, so you might want to love impact play. You can use this for light play if your partner is soft on you, so it can go both ways. My partner and I just love doing things rough and with pleasure and pain. We are majorly into the kink and fetish world, especially when it comes to impact play. We are both very pleased with this product and it will be a frequent play toy when it comes to our sexual encounters.
How do I care for this product?
Glass is easily cared for, as well as leather. You can clean glass by simply wiping it down with an antibacterial wipe and drying it. You can also use warm water and soap to sanitize glass. Just so you know, glass is non-porous and rated 10 on the Eden Safety scale. I love glass a lot because it is so easy to take care of and is so simple to sanitize completely. When it comes to leather, you can use a damp cloth of warm water and some mild soap if you need to. You really only need to clean the leather flogger part if it gets bodily fluids on it or something else that disturbs you.
With glass, you can use any type of lubricant that you want. I wouldn't get lubricant on the leather flogger itself, that just means you need to wash it more. I personally use my favorite water-based lubricant for all my toys so it is compatible with everything.
Anything else you'd like to share with us?
I'd like to show you some pictures of the box! It is completely gorgeous and I wanted to share it with all of you.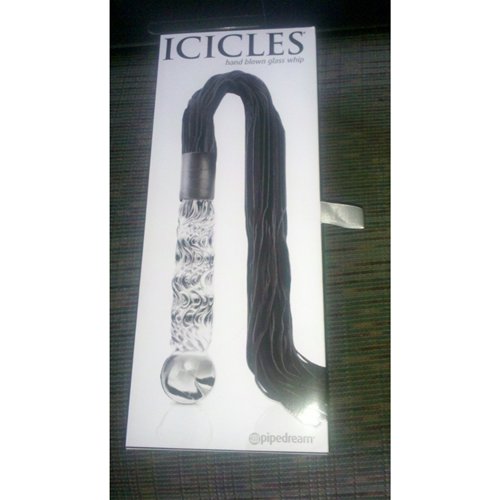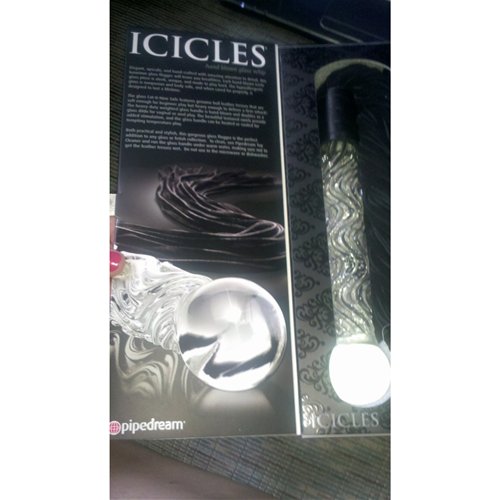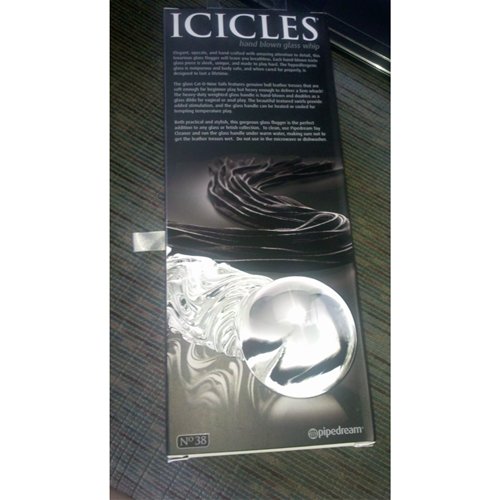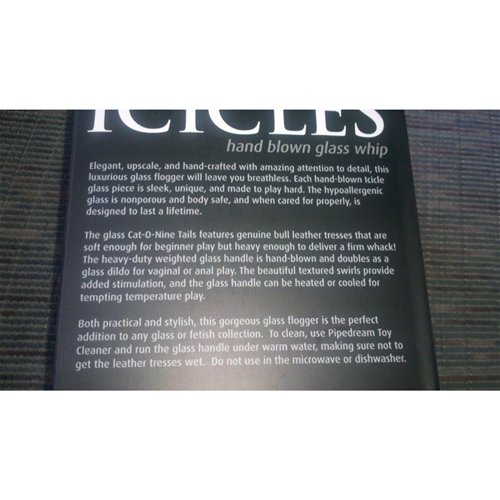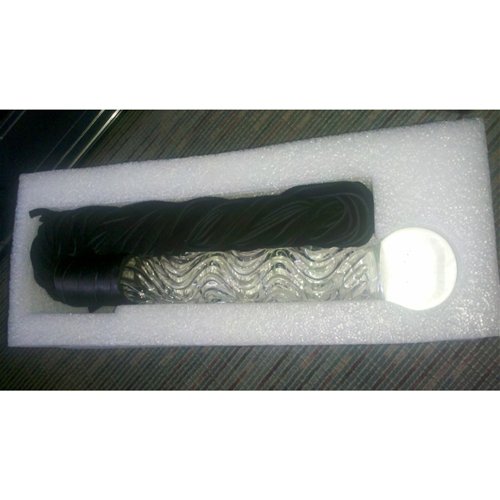 I love being flogged with this on my genitals as well as being penetrated with this dildo, thus -- this product makes my clitoris throb in an exquisitely erotic way
This content is the opinion of the submitting contributor and is not endorsed by EdenFantasys.com

Thank you for viewing
Icicles No. 38
– dildo sex toy review page!