Snap, Pull, Bound!
Put your lover right where you want them with ease and the assurance that they will not be able to squirm away. Tether your submissive to any item and any position you can imagine. These tethers are durable enough to use for light to heavy bondage. With SportSheets Tethers bondage just became quick, easy, and safe for you and your partners erotic pleasure.
Published:
Pros:
Easy to Use, Snap Swivel on Each End, Durable, Sturdy, Versatile, and Adjustable.
Cons:
Nothing at all.
The SportSheets Tethers are a must have addition to your bondage play. With these tethers you can ensure you lover will stay right where you want them. Furthermore, these tethers allow you to turn anything you can imagine into a restraint system. For example, they can be used around a bed post or chair leg and everything in-between. With the SportSheets Tethers you are only limited by your imagination.
SportSheets Tethers are easy and safe to use in any bondage scenario. Due to utilizing a swivel snap enclosure on either end of the tether, these tethers are easy to clip onto your cuffs and secure your lover to any object. In addition, this type of snap allows you to release your partner quickly incase the need should arise. Rest assured, with these restraints your fantasy play time is sure to be safe and easy.
In addition, the swivel snap is attached to the tether strap with an o-ring which allows you to secure another restraint to the tether. You can even use multiple tethers for more elaborate bondage scenarios.
The SportSheets Tethers are fully adjustable. Utilizing a self griping plastic adjustment clip, these tethers can be tightened or loosed easily while ensuring that the strap will remain at the length you desire. Also, they are easy to adjust with one hand for quick bondage. Rest assured, your partner can squirm and pull all they like and the straps will remain at the length you set them.
With SportSheets Adjustable Tethers bondage just became quick, easy, and safe.
Here's The Facts:
Fully adjustable from 2 ½ inches to 48 inches.
Tether strap is 1 inch wide.
These tethers are made of
nylon
and are therefore, water and abrasion resistant. In addition, they are easy to clean by hand washing in warm sudsy water and then hanging to dry. Also, they can be tossed into the washer and dryer. I suggest placing them in a pillow case with the opening tied closed. Tether strap is woven nylon and is therefore, durable and sturdy to use without stretching.
The straps are well made and sturdy. The nylon is tightly woven, allowing the straps to be strong and resistant to stretching.
The o-ring is the style of a typical key ring.
Each box contains two tethers. The package is not discreet since the clam style plastic box contains a cardboard insert which features both a male and female model using the tethers. Although this box may be used for storage of your tethers, I chose to recycle it and store my tethers hanging on my bed posts. To store these discreetly, they can be tossed into a drawer or placed in a zip lock back and stored in your toy box.
In addition, these tethers are travel friendly and can be taken with you on a romantic getaway.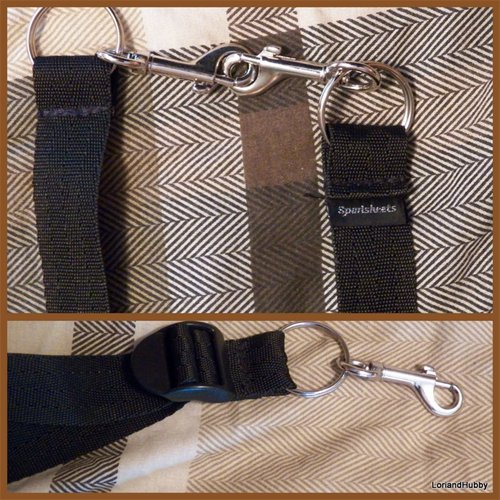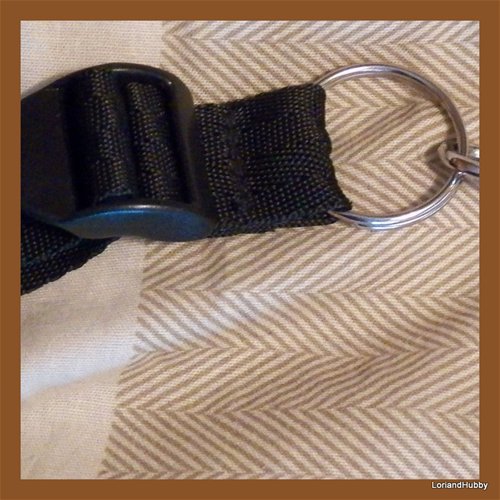 Experience
For the most part we enjoy spontaneous bondage. Due to, how time consuming it is to use rope as tethers; we began searching for an easy-to-use alternative. When we found these tethers with two swivel snaps on each end it was a no brainer that we would order them.

Using these tethers for our bondage play has no only allowed us to be more spontaneous during our play time but has also offered a new demotion to our bondage. Hubby and I have been very creative with our tethers. Such as, the strap can be adjusted to allow hubby to clip the swivels to my wrist cuffs and then clip my ankle cuffs to the loop in the end of the extra strap. Also, when incorporating these tethers into our under the bed restraint system we can utilized six points of bondage. This is especially helpful when Hubby desires to use our wand on me and they keep me firmly in position not allowing me to squirm away. This in itself is a mind blowing experience. Another great position we have found that these tethers work great for is hog tie. Unfortunately, it is hard for my 40 something old body to be flexible enough to comfortably be in this position. Thankfully, the fully adjustable straps allow Hubby to place me in this position and keep me there without stretching my body uncomfortably.

For using these tethers around our bed posts, Hubby came up with a great idea which allows us to use them more quickly and easily. Using rope attached to an o-ring, Hubby has fashioned secure loops which we slipped over the bedposts. Now we have a permeate o-ring attached to the posts and whenever we desire to use our tethers to secure the other to them it is as simple as a quick snap.

The swivel snaps not only allow us to not only use the tethers spontaneously, but also allows us to have peace of mind. Specifically with these fasteners, if an emergency situation should arise we can free the other quickly and easily without the need to use scissors.

Over all, I cannot recommend these tethers enough for light or heavy bondage play. In addition, I am sure that these tethers are a must have for anyone who desires to add a new demission of ease and versatility to their bondage. We are so please with our tethers that we have ordered another set for more elaborate bondage.
Follow-up commentary
2 months after original review
I love these tethers. They work perfect in every situation we throw at them. We have even figured out how to attach them to our sex swing to hold thigh cuffs. They are simply amazing. Since our first purchase of SportSheets tethers we have ordered three more sets. They have held up wonderfully and show no signs of wear or tare.
This content is the opinion of the submitting contributor and is not endorsed by EdenFantasys.com

Thank you for viewing
Tether
– suspension kit review page!