Speak No Evil Choker has me Squealing with Delight!
This collar is very soft, comfortable, wide, easily put on and taken off, easy to clean and feels and looks great to wear. It is for those who do not intend to be rough or apply a lot of weight or pressure on the collar as the materials cannot withstand this type of play. The color options offer you bright and playful or the more traditional black. If you are someone who likes things to match, PicoBong also offers a whip, cuffs, blindfold, and teaser in this "no evil" line of products.
Published:
Pros:
comfortable, lightweight, easily cleaned, quick velcro on/off, comes with leash
Cons:
not for rough play, sizing may not work for everyone
The Speak No Evil Choker is a neoprene collar that closes with velcro, comes with a nylon leash and is made by PicoBong, the more affordable, body-safe, battery operated (which doesn't apply here) sister brand to the high-end rechargeable Lelo. The collar is for lighter BDSM play as the material is softer, it opens and closes easily with velcro and the construction can't withstand rough usage. The collar comes in pink, blue or black and has raised bumps that sort of give it a bit of a bad-a$$ look. They are slightly firm but not hard. When I push on them it feels like stiff foam that I can indent with my finger if I apply a good amount of pressure. The leash has a plastic D ring on each end and can be removed from the collar. There is a plastic swivel snap hook permanently affixed to the collar through a nylon loop that is sewn in, which could be cut off if you decide you never want to use this feature. Using this hook, you could also connect this collar to another leash, rope, cuff, or anything you want to clip it to. Neoprene is water-friendly if you want to use this collar for some bath or shower time fun.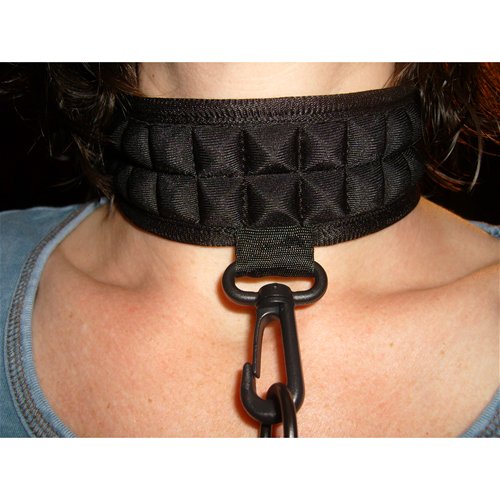 The collar has a slight odor that cannot be smelled while wearing it. The collar makes a little bit of noise when there is friction between it and your neck from moving your head and when your hair moves across it. It also makes some noise from friction and from the pressure being put on the velcro when my partner uses the leash to guide me. This may be something you want, don't want or don't mind either way.
The collar is not meant for rough play or tugging. As you can see from the picture below, the nylon loop that connects the plastic swivel snap hook to the collar has begun to tear away from the neoprene where it was sewn in.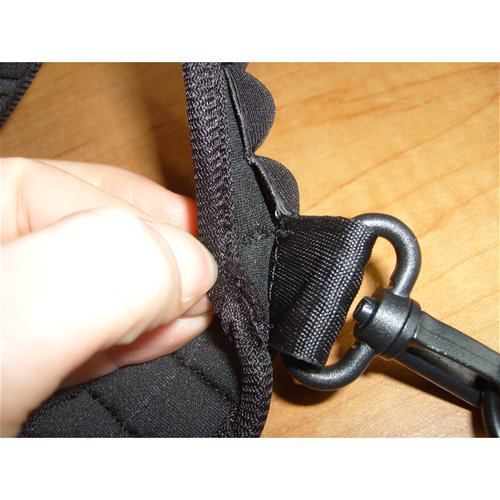 Measurements
Collar laid flat, end to end = 18 3/4"
Collar closed at smallest circumference = 13"
Collar closed at largest circumference = 17"
Leash at maximum length (from trim of collar to end of D ring) = 23"
Leash at maximum length (from D ring to D ring) = 21"
Leash at shortest length (from trim of collar to end of D ring) = 14"
Leash at shortest length (from D ring to D ring) = 12"
Width of collar = 2"
For the collar to be securely fastened the velcro needs to overlap by 1" - 1 1/2". That is how I came up with the smallest and largest circumference measurements. I don't think the velcro would hold if you tried to make the circumference any smaller or larger. My neck is 14" around and this collar is very secure and comfortable on me. For those people with shorter necks, the 2" width may feel uncomfortable or hinder your movement. This could be a pro or a con depending on how you want to use this collar.
Care and Maintenance
Since the collar is made of 100% neoprene and velcro it is safe to wash. You can wash this collar by hand or in a garment bag with like colors in the washing machine. Make sure the velcro is securely fastened prior to putting it in the washer. I'm not sure about putting this in the dryer. I lay it out flat and let it air dry to be on the safe side. I think this method will also help to preserve the brightness of the original color. You can also opt for wiping the collar clean if it is not especially dirty or sweaty.
Packaging
My black collar came in a blue and clear inflatable package. The collar is in a pouch in the middle of a rectangular package with a valve to blow into and inflate squares all around the edge. This is the strangest packaging I have ever seen for such an item and I'm not sure what the purpose of it is. I'm sure you could use your imagination and find a creative way to use this as you can completely remove the one sticker on the back and the cardboard insert leaving it with no identifiable markings. There is a flap in the back that opens to get the collar in and out, so if you were to use this package in the water for any reason, you'd have to be mindful of this flap where water could get in.
Front of packaging with collar still inside: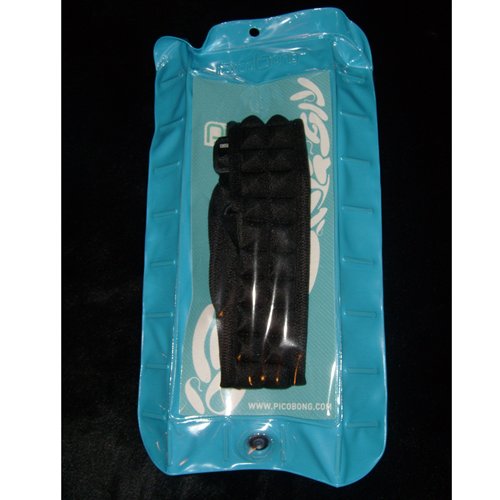 Back of packaging (sticker removes easily and does not leave a sticky residue)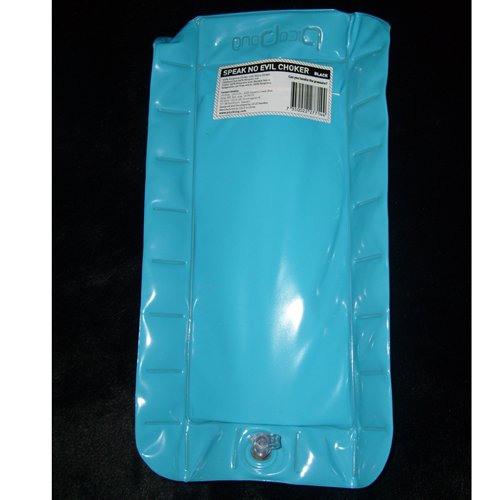 Experience
I wanted this collar for me to wear with my husband for light BDSM and breath play. I love the feel of it on me, it is very soft on my skin and I like the width of it around my neck. For light breath play, the softness and width are important to me as the pressure of the collar is more spread out and not isolated around a smaller portion of my neck like a 1/2" leather collar would be. The velcro makes it easily adjustable to the tightness that you desire. We have an eye hook in our bedroom ceiling above the bed for our sex swing, and my husband tied a rope to this with a carabiner at the end to attach to my collar. This gives me room to move around the bed but in a limited way. It also allows me to put the pressure I want on my collar by using my body weight and positioning. This collar has me squealing with delight every time we use it!

The sticker on the back of the package says above the bar code, "can you handle the pressure?". I would say that the Speak No Evil Choker cannot handle the pressure. Too much pressure on our collar is causing the nylon loop holding the swivel hook to tear. This collar is great for lighter play though, and water play as well. I don't think this collar is quite worth the full price due to the fact that it's not suitable for all types of play, but I'd definitely recommend it if it's on sale or if you know you only want it for light play.
Follow-up commentary
2 months after original review
I still enjoy using this choker. The material is comfortable around my neck; it's soft and not scratchy. It is a little wide for a collar at 2" but this works with my anatomy and is not uncomfortable. I actually like the feeling of having most of my neck covered, reminding me that I'm collared and all that that entails. As I mentioned in my review, the nylon loop that connects the plastic swivel snap hook to the collar started to tear away from the neoprene where it was sewn in after some heavy use. I don't think the collar was designed for this type of use. I've since sewn it to repair it and it still works wonderfully!
This product was provided at a discounted price in exchange for an unbiased review. This review is in compliance with the FTC guidelines.

Thank you for viewing
Speak no evil choker
– collar review page!