Very cute and sturdy. Great collar for beginners, but solid enough for the more hardcore!
The PicoBong Speak No Evil choker has a unique construction that, while soft and comfortable, looks pretty menacing! It is a nice, sturdy item that will have use for a wide variety of players. Make sure to check the sizing before you order -- one size fits most, but not all!
Published:
Pros:
Cute, variety of colors, sturdy, comfortable, lightweight.
Cons:
Velcro part not long enough, one size doesn't fit all, strange pull-strap.
The PicoBong "Speak No Evil" collar comes in cute, kicky and non-threatening packaging. It comes in a clear and blue vinyl pouch, with square "bubbles" on the sides that inflate with a mouthpiece like what you would have on a beach ball. It's unique packaging, but I don't really get the inflatable feature -- is it meant to be used for something else? You can see the product through the front window, so it's not discreet, but it's not graphically sexual or really clear what the product is if you don't already know.
The collar, which is 2" wide and 19" long, also comes with an adjustable pull-strap that can adjust from 10" to 20". It is attached to the collar with a clip, like one you might find on a backpack charm. All of the hardware (this clip, D-rings on each end of the pull strap, and the adjustment buckle) is made of hard, sturdy black plastic with a matte finish. The collar comes in pink and blue with black trim, or solid black. I have the black.
The lining of the collar is neoprene, and the edges are a very soft nylon webbing material. I like this edging as it feels very comfortable, is not abrasive, and does not cut into your skin. The really cool thing about this collar is its appearance -- it has soft, pyramid-shaped "studs" which make it look kind of badass, but are soft and squishy. It almost reminds me of an old-school video game. Very cute. This design feature is very unique and makes a simple, soft, beginner's collar into something more special. There is also a small looped tag on the outside with the PicoBong logo in turquoise and purple--it is pretty enough and does not detract. It has a velcro closure and all of the stitching is nice, even and sturdy.
I find the pull-strap a little weird. It's not long enough to be used as a leash, and it doesn't have a handle anyway. I guess you could hook it to a stationary restraint system, as it does have a d-ring on each end. I really could do without the pull strap entirely. It is sturdy, though, and made of a satiny nylon webbing material.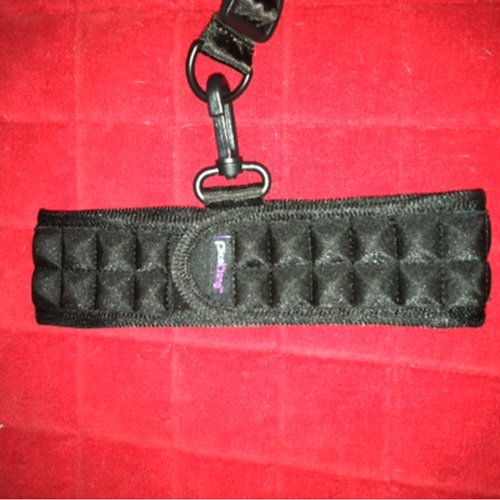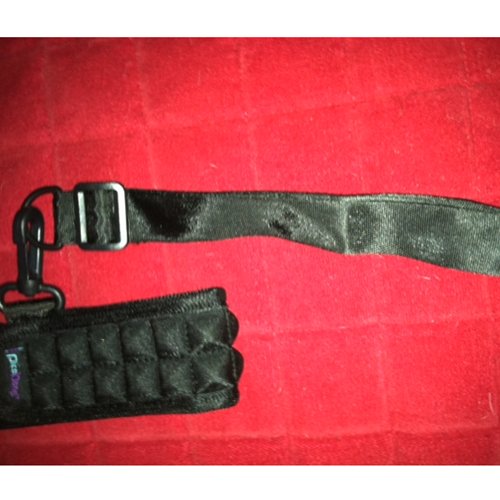 The important thing to keep in mind is sizing. The 19" is not the true max size because you really need at least an inch and a half of velcro contact for it to stay on securely. This would fit a neck between 13" and 17". If the neck you want to collar does not fit into this range, I wouldn't recommend it.
When connected with at least 1 1/2 inches of velcro contact, the collar is very secure. I have pulled on it (while not worn) MUCH harder than you ever would or should pull someone's neck, and it would not break free. Good construction!
I am not sure how to clean it. I would feel uncomfortable with getting it soaking wet or machine washing it, but that might be just fine. I just wipe with a damp cloth.
This would actually be great for travel as it's very lightweight, foldable, and more discreet in your luggage than a leather collar with metal buckles!
Experience
I love being collared; such a feeling of being owned. Because of the soft material, this collar fits much more comfortably than the custom leather collar that my Dom usually puts on me. Even with its softness, I can be led and yanked as much as He'd care to, and it holds up just fine. I do prefer the look (more menacing and pretty) of my leather collar, but this is a very nice one for beginners, and also for travel!
This product was provided free of charge to the reviewer. This review is in compliance with the FTC guidelines.

Thank you for viewing
Speak no evil choker
– collar review page!