Tied up, down, and sidways
This is a fun little rope for beginners, but don't expect too much. It's not silk and not that durable, but a great starting point.
Published:
Pros:
Good for beginners
Cons:
Not silk
Mask doesn't work well
A few weeks ago we tried playing with some rope on a whim. It was merely rope we had on hand, but we enjoyed it so much I thought we should get better rope. That lead me to Fetish Fantasy Series Japanese Silk Rope.
First off, it absolutely needs to be noted that this rope is
not
silk. It's cotton. I will be completely honest and say that I find it very annoying that the package tries ever so hard to make you think you are buying silk rope. Fortunately, Eden Fantasys has it listed as cotton in the description. However, if I were buying this in a brick and mortar store, I would think I was buying silk. The only clue on the package that gives a hint of it not being silk is some tiny text on the bottom flap of the box under the standard "novelty only" disclaimer that says "Materials: Cotton." And when I say tiny text, I mean it. That kind of borderline deceptive packaging immediately makes me wonder about quality.
While we're on the subject of the box, let's talk about the packaging for a minute. On the front, back, and sides of the box there are photos of a naked or near-naked woman. Whether she is naked or not depends on what pose she's in so that her naughty bits are hidden. If I'm honest, I'll say the packaging is kind of tacky and corny. A porn star-esque model making faces at me from the package is generally not a selling point for me.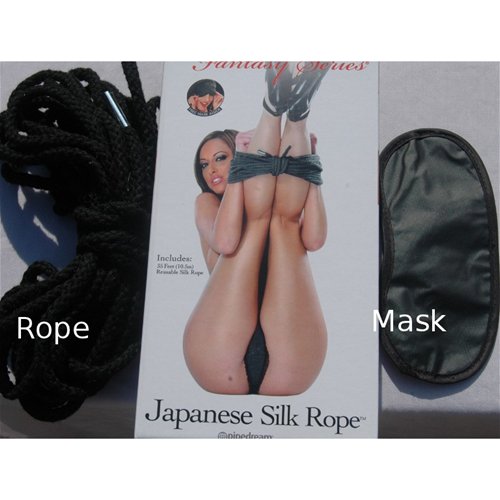 Good news! I liked the actual rope much better than the package. I was a little worried because usually if I hate the package, I hate the product. It just works out that way. The rope, however, is not too bad. It's cotton, 35 feet long, and braided. The package says the rope is 1/4 thick, as in if you lay it on a measuring tape, it will be 1/4 wide. However, if you measure the circumference of the rope, it's about 3/4 inches. I'm very new to rope so haven't had much experience with cleaning it, but I intend to follow the advice from the
Two Knotty Boys Showing You the Ropes
book on cleaning (chain braid it, throw it into a lingerie bag, and wash on the delicate cycle).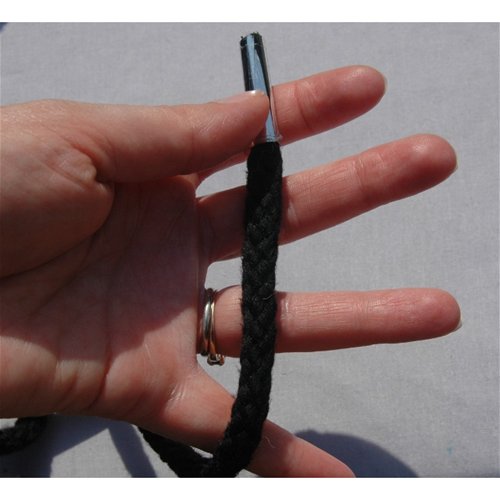 The rope has a nice, but not luxurious, feel to it. The braided texture is somewhere between rough and smooth. It's comfortable on the skin as long as you avoid situations that would cause rope burn, like dragging it repeatedly across the skin. For those of you very new to rope and need to know how this rope feels, imagine cutting a t-shirt into very, very thin strips and braiding them together to form a rope. It's not smooth or slick, but isn't uncomfortable. The ends are merely wrapped in silver tape, so note that you'll need to treat the ends in some way if you cut off or in any way remove the tape.
Of course, you need to know what it's like to be wrapped up in this. I have to say it's not unpleasant, provided the rope isn't too tight. The thickness of the rope allows it to be comfortable without pinching or putting too much pressure in one spot, provided the ties are done safely and correctly. The rope is easy to tie and knots stay put adding to the comfort of the the one being bound and the convenience of the one doing the tying.
So if the rope is so decent, why the 3 stars? Well, when I was examining it, I noticed some parts are already fraying, and were likely already fraying out of the package. I know this rope is not going to last long before it falls apart. In the meantime, even though it's not silk and not very durable, it's not a bad rope for a first dip into rope bondage.
Experience
There was a blindfold/mask that came in the package. The side that goes against your face feels like a cheap polyester, and the other side feels like rough plastic, like you're rubbing your hand on a shower curtain. The mask goes on with an elastic band. I have to say that not only is the material uncomfortable and cheap feeling, but it is also useless. I can see out underneath the mask easily, and it has to be pulled so far down most of my nose is covered before it's effective. It's a cute freebie, but it is pretty much useless.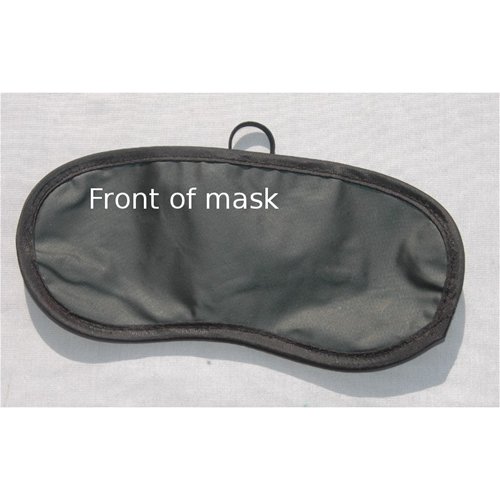 Follow-up commentary
5 months after original review
Although we weren't as into shibari as we thought we were going to be, we do still play occasionally. These ropes have held up reasonably well. They still aren't the most high quality ropes you could find, but they are acceptable for the casual user. Think of them as beginner ropes for those just starting.
This product was provided at a discounted price in exchange for an unbiased review. This review is in compliance with the FTC guidelines.

Thank you for viewing
Fetish Fantasy japanese silk rope
– suspension kit review page!