Wrap Me In Your Sweet Love Of Silk!
Want to add a bit of spice and adventure to your play time? Pipedream's rope maybe just what you need. Whether you are a beginner or experienced at rope binding you are sure to love and enjoy the sleek and plush feeling of this rope against your skin. In addition, the vivid color gives you and your partner a tantalizing visual experience. Use it to bind you partner, for self-bondage, you can even wear it under your clothes. You are sure to fall in love with this exotic woven rope.
Published:
Pros:
Soft, Plush, Vivid Color, Exotic, Hold Knots Well, Good Starter Length
Cons:
Nothing I can find so far, Except I need more!
* Disclaminer - This Review Contains 1 Nude Cartoon Diagram *
Pipedream's Fetish Fantasy Series offers Japanese Silk Rope that is great for the curious beginner. The soft and luxurious feeling of this rope is sure to feel great on your skin. Also, you will not notice any chaffing, rope burns, or pinching. But rather, only light rope indentations left on your skin. Be forewarned, you will be back to buy more. The 35 ft of rope is great to begin with but you may soon find you desire more.
For the more advanced users, this rope would be a nice addition to your bondage gear to add a bit of color to your play time.
Don't let the name fool you, according to a Pipedream's representative, this rope is actually a cotton/polymer blend. Nevertheless, Pipedream's rope is sure to leave you longing to be tied up again and again.
Furthermore, this rope features 1/4 inch diameter, vivid color, plush texture, weaved fibers, and no core. It does however, have a little stretch to it but once the weave is pulled tight there is no more stretching. Also, with this rope your knots hold well with no slipping. Although cotton rope is great for bondage, it is not strong like hemp and is
not
recommended for suspension or partial suspension.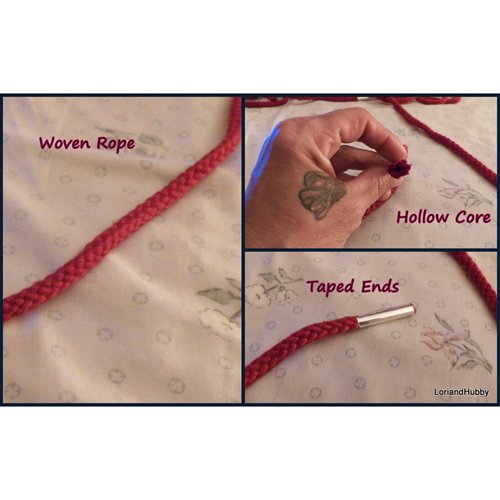 You will recieve your rope with silver tape on the ends to prevent fraying. However, simply take off the tape and use whatever method for the ends that you wish.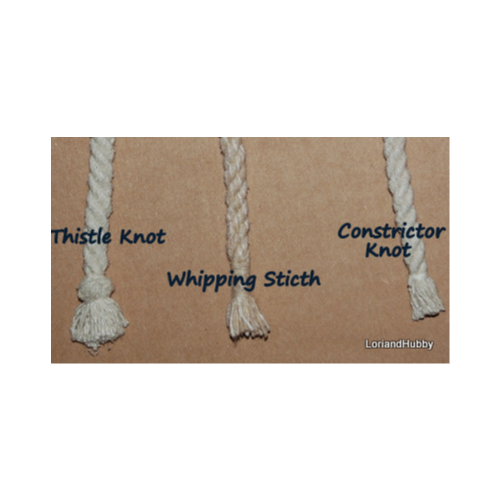 BASIC ROPE TECHNIQUES
There is no single "correct" way to tie someone up. You should use your imagination and explore. But just to get you started, here are some ideas:
1. Rope is best suited for tying multiple limbs. Center the rope over two limbs and wrap both ends repeatedly around both limbs. Never wrap too tightly! Stop at a central point between two limbs and twist the ends against each other—like turning a corner at an intersection and make a simple cinch and tie a square knot.
2. Wrap rope evenly so that you can distribute pressure evenly. This is extremely important for the comfort and safety of your partner!
3. Be sure to cinch so that you are free to experiment with many different kinds of knots. Many knots and rope bondage demos are available online. A personal favorite of mine is
Twisted Monk
4. Typical styles that you may enjoy using are:
(a) Wrists Crossed in front or behind
(b) Wrist to Wrist/Palm to Palm
(c) Chinese Wrists—wrapping the wrists behind the back with parallel forearms and elbows at right angles.
(d) Parallel Ankles
(e) Crossed Legs—for a feminine look.
(f) Roped Calves—this enables the knees to be forced apart.
(g) Doubling the Rope at the Center—a comfortable, yet binding form.
Bondage Safety:
While varying degrees of discomfort are often part of the fun of bondage play, long-term damage is NOT! The idea is to exert control over your partner, not to permanently injure them. Most bondage injuries are with players who get too ambitious and do risky things. Don't let this be you! For a safe, good time, adhere to the following safety guidelines:
1. Don't play under the influence of alcohol/drugs.
2. Don't play if you are not 100% alert and communicative.
3. Don't try positions or knots that you're not 100% sure are safe.
4. Never leave a person in bondage alone.
5. Never apply pressure of any kind to the neck in the throat area.
6. Never play with someone who you do not know and trust.
7. Poor circulation can occur by uneven wrapping. Therefore, always check for sings for bluish tint of the bound area. Listen to your subject, only they know if a nerve is being pinched, there are circulation issues, or if there is any pain. Do whatever your subject says when it comes to their safety and comfort. They have the final word and their decision must be law. Also, always be alert to your subject's reactions.
8. Use a "safe word". A "safe word" is an action, sound or word to alert you that play must stop and that the subject requires immediate attention. Words like "No" and "Stop" are poor choices, because pretend resistance is often a part of the bondage scene. Consider the safe word an "emergency brake". Immediately stop, determine the needs of your subject, and perform them quickly.
9. Always have a pair of medical or safety scissors handy in case you need to remove the rope quickly. Safety scissors are sharp on the edge, but have flattened sides and blunt points so that they only cut the rope and not your partner.
Experience
Do you have a secret Fetish Fantasy about being tied down and only able to move around a little bit? Maybe your dream is being a "Top" and seeing your partner unable to move as you erotically tantalize them.
After joining the 40 something group and being married for 17 years something flipped in our play time, I and my husband are finding ourselves experimenting with things we would have never dreamed of before. Honestly before, it was p.j.'s or t-shirt only 3 positions, 2x's a week if you were lucky. BORING and now it's VROOM!
Never the less, once before he mentioned tying my hands back, I was sort of freaked out. At that moment, oh my popped into my head, I thought has he lost his mind as I held my breath.
So my husband who is more inquisitive than me stumbled across some photos online of rope bondage. He was excited to show me and after I agreed. Granted that, I was surprisingly surprised at how erotic they looked. I just loved the body harnesses, corsets, and thigh restrains. Immediately, something about how the rope binding the body made that little button of mine flutter and flip.
To my surprise, he had already looked up rope on EdenFantasys and was ready to order that night. In the meantime, I was excited and anxious for the rope to arrive. Shortly after the rope arrived, I ran the length of the rope though my hands and was impressed by how soft, subtle, and plush it felt. We looked up images and diagrams online that we could try with our new rope and the experiment began.
After using our rope several times we are delighted to say that this is one of the best pieces we have purchased thus far. It does not leave the tell tale signs of rope burn on you and even when tied pretty tight when the rope comes off you can only see slight indentations left on the body. Fortunately, the rope has held up very well to use and it still feels soft and plush. Furthermore, it only has mild signs of wear. But to be honest, we have put this rope to use so the wear is to be expected.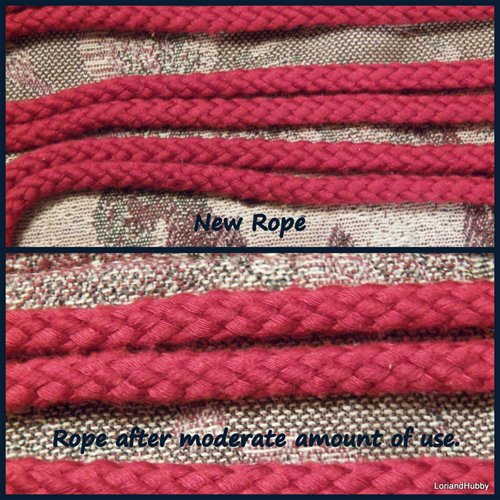 In addition, this rope can be machine washed by simply coiling it and then placing it in a lingerie bag or pillow case tied closed. Wash your rope in cold water with like colors on the gentle cycle. Rope is best air dried by either hanging it up in a coil or under tension wrapped between two points (such as, the back of a wooden chair).
Do not
dry your rope in the dryer as it will get twisted up creating knots that will be extremely difficult to remove.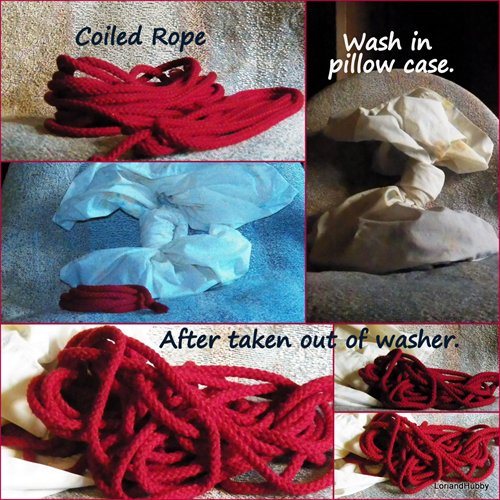 This rope is a great length to use in a variety in ways. Here are some ideas of bondage positions you can try with your new rope:
Breast bondage
Crotch rope
Elbow bondage
G-string tie
Hogtie bondage
Leapfrog position.
Over-arm tie
Reverse prayer position
Rope harness
Savage fold
Spread-eagle
Asymmetric bondage
Box position (arms)
Egyptian (arms)
More ideas of bondage postions
How to videos
How to tie a body harness.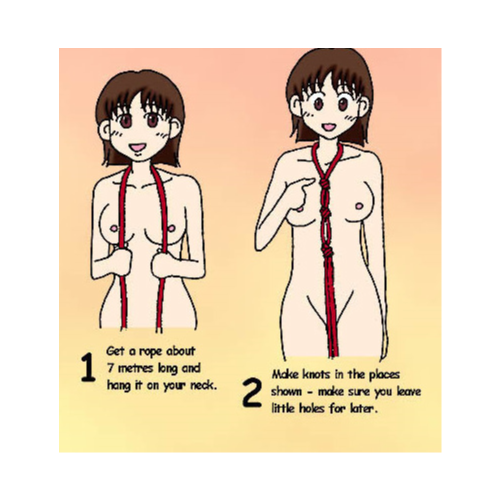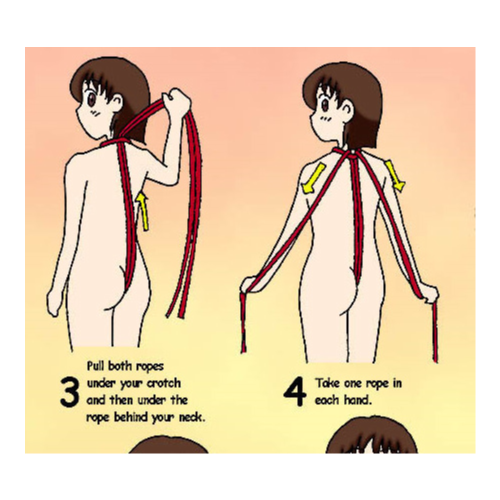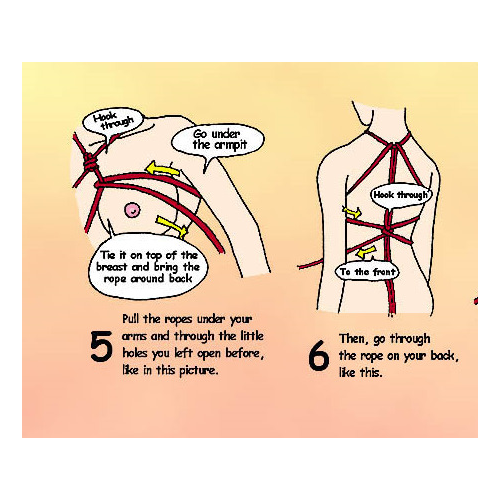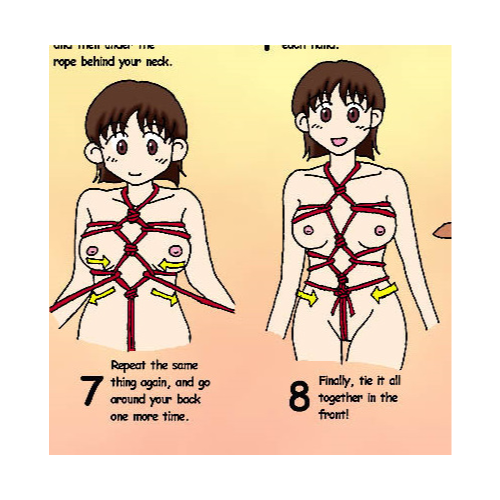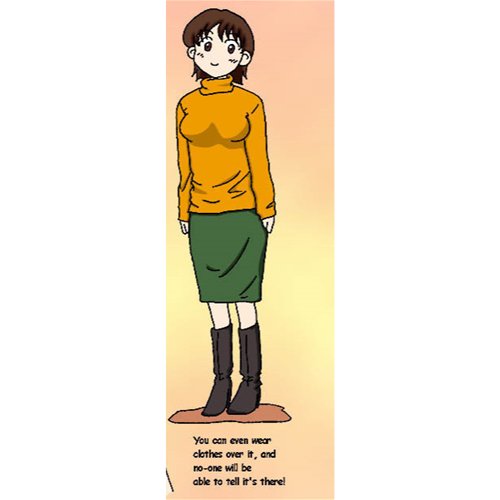 Follow-up commentary
2 months after original review
Although we have been experimenting with bondage kits, rope remains our favorite. After trying a few diffrent brands of rope we continue to like this rope the best. After using it many times and washing it a few times. The rope seems softer and easier to work with. It really is a great product.
This content is the opinion of the submitting contributor and is not endorsed by EdenFantasys.com

Thank you for viewing
Fetish Fantasy japanese silk rope
– sex toy review page!