Torture Instrument for Tits
These large medical-looking devices have been designed for torturing one of the human body's most sensitive zones: the nipples. The pressure can be controlled while holding onto these clamps, but let go and feel the full force of these little jaws nip into your pink ones. Not for beginners, but if you know that your titties crave torture these can be a lot of fun.
Published:
Pros:
Strong grip, padded jaws, interesting construction, affordable
Cons:
They look their price: pretty cheap
Use
What do nipples do to deserve having biting clamps affixed to them? Is it because they are easy to reach, just sitting there on the end of a breast? Do they look like the bulls eye on a target that must be mastered? Or is it because they betray their owner by standing at attention when aroused? Maybe. What we know for certain is that those round little breast protrusions are a hot spot for many. We also know that some people derive pleasure from feeling or delivering pain. And if you find yourself strutting around in that particular camp, you might want to give these a try.
Packaging
Pipedream's Japanese Clover Clamps are part of their Fetish Fantasies Series. They arrive as a pair, sealed in plastic domes on a piece of cardboard. There is a picture of a naked woman from the waist up, modelling the clamps. It's not subtle, but would make a fun sexy gift for some.
Design and Material
These clamps were a little larger than what I had envisioned: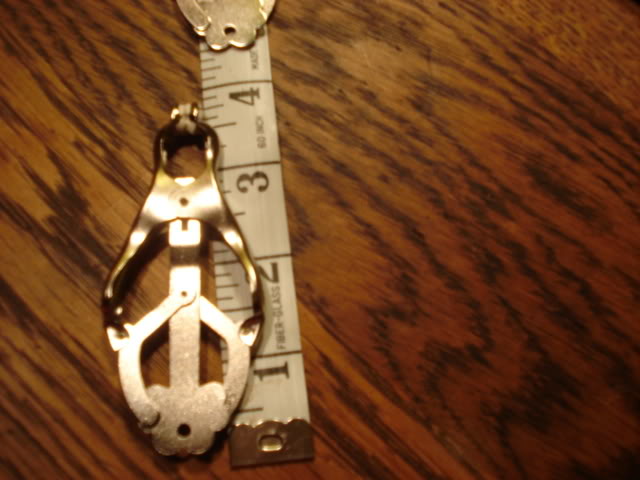 Maybe I got confused because of the large breasts of the model. They are almost 4" in length. They're made of metal with several hinging parts that work together to deliver a powerful pinch when in use. Squeeze the handle together to relieve the tension, and let it go to feel the squeeze. The metal is quite thin, and the pinching part is covered with white rubber on either side. The rubber has a nubbley texture. I believe this texture is for grip rather than sensation. You see, there are two strings that are attached to a hole at the bottom of each clamp. These can be tugged on to increase the feeling. The strings do not actually make the clamps close harder, they just tug at the nipple. Weights or decorations can also be attached via the string and/or holes. I took my strings out because I didn't like the stark white look of them. I feel the same way about the whiteness of the rubber pads, but I didn't just buy these for the looks.
Performance
These clamps do a great job at holding on and holding on tight. They have a tighter pinch than
my tweezer clamps
do at their strongest setting. The level of pinch can be lessened on these clover clamps by applying some pressure on the handle to ease off on the tits. When let go of, they just plain squeeze. If what you're looking for is an intense sensation (within reason) these could be great for you. I say within reason because some people are into hardcore nipple torture which these clamps are not really for. If you want a moderately intense, non-beginner clamp, these clovers are a great way to go. If you want a more beginner clamp, I would recommend a tweezer-style nipple clamp as those are much gentler.
Experience
I've been enjoying teasing and working myself up with these clamps. I find my left tit is actually more tolerant of them than my right. I can't wear them for more than a minute or two at a time before readjusting the pressure with my fingers, but I have fun using them. I haven't worn them during sex yet per say, but feel confident that these would hold on tight during intercourse. Wow. I can't quite imagine wearing them for that long. It's always good to have things to work up to.
This content is the opinion of the submitting contributor and is not endorsed by EdenFantasys.com

Thank you for viewing
Nipple clamps
review page!