Boyz like Grrl Toyz too.
This Grrl is sure to please, very nice size, material and a suction cup base to boot. Use it for harness play, vaginal masturbation or anal fun, this toy will give you the pleasure that only a well made dildo can.
Published:
Pros:
Great material, good suction cup base, usable in the orifice of your choice.
Cons:
None I have found.
So I was looking for a new dildo that had some more girth and a realistic head for my anal activities, I also wanted something that I could share with the wife. This meant that, of course, it HAD to be silicone and the head could not have much of a "lip" that would catch my wife's sensitive pubic bone and be anal safe.
I am so happy I chose the Grrl Toyz Silicone strap-on dong as it fits the bill just right.
For starters, it is 100% silicone. That means that it is not porous at all and can be sanitized by almost any way you feel fit, I like to use a toy cleaner like Climax burst. Remember that when sharing, that it should be cleaned when going from anal to vaginal type play or you can use a condom.
This silicone has no smell or taste and is smooth and firm while still being soft and somewhat flexible. To me it feels like a harder inner core surrounded by a softer outer. I don't know for sure if this is how it's made but that is how it feels. There is a slight drag when I run my finger over it. I find that this helps give the lube something to stick to. Speaking of lube this Grrl plays only with water and oil based lubes, she's not a silicone lube kind of Grrl. We don't want to make her mad do we? Also note that Oil based lubes can cause problems with vaginal use so be aware of your body's particular needs.
This Grrl comes in at a good 6" long with 5" of that usable. It starts at 1 1/2" diameter at the head and gradually increases to 1 3/4" at the base. This should work for most beginners (ladies) and intermediate anal users; it will also work in most harnesses. The base is round and kind of big, 3" across, but that is because it has a suction cup built in. This can be used in all sorts of ways. (Watch video for some ideas) I never had a suction cup toy before so this made for some fun figuring out where and how to use it.
I figured that most people would want to know if the suction cup works and how good. So for the first test I stuck it to the shower wall and bent the head till it touched the wall. 'Pass' Next I walked around the house looking for something to pick up with it. I found three motorcycle helmets (about ten pounds), connected them to each other and tried that. Well, see for yourself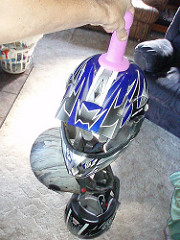 'Pass' As long as the surface is smooth it will stay where you put it, I had no problems during use with it coming off.
Experience
As some of you know I like to take my masturbation sessions in places that are not normal for most people (see my Tenga flip hole review), this toy was no exception. I tried it in all but three of the places I show in the video. All of them were a new experience for me and a lot of fun to do. I could not convince the wife to try them; so I am sorry that I can not give a woman's perspective on that.

For me this toy hits the mark and was very stimulating in use. The head was just what I was looking for and really rubbed my prostate nicely. My largest toy is at 1 1/2" diameter so this one was no problem to insert, after a little warm up with a plug, and the gradual increase in size was very nice to gently stretch my ass to 1 3/4" mark. Some more curve would be nice but it is still a very good and enjoyable dildo.

For the wife, she had no complaints. The head did not hit her pubic bone and applied some pressure to her A-spot, which she likes. I have only one complaint and that is while using it on her the base gets in the way of giving her oral, thankfully she can still get off using this toy.
This product was provided free of charge to the reviewer. This review is in compliance with the FTC guidelines.

Thank you for viewing
Grrl toyz silicone strap-on dong
– strap-on dildo review page!