It Sedeuxed Me
The Sedeux Flare is a fabulous beginner dildo. Whether you're interested in pegging or simply exploring your own anatomy, this dildo makes for a great insertable. Silicone is a great body-safe material that can be sterilized for use between different partners and orifices. With its beautiful colour and swirled appearance, it's sure to seduce.
Published:
Pros:
Made of silicone, beautiful colour, good girth & texture for beginners
Cons:
Could have more of a curve, there's a tiny spot on the head of the dildo that sticks out a bit
When I was first looking for a beginner-style dildo, the Sedeux Flare is what I settled on. Honestly, the first dildo I bought was the tentacle, an insane and whimsical choice. After trying that out for size it became very clear that i needed a thinner dildo with far less texture. After doing some poking around on EdenFantasys it became a showdown between the Sedeux Flare and the
Tantus Acute
. These are both slim, smooth, silicone dildos with a plain abstract design. They're also both harness compatible which I didn't really care about at the time.
The Sedeux is slightly curved. This can help with G-spot or P-spot stimulation. That said, if you are seriously interested in exploring self pleasuring of the G-spot, I would recommend finding a toy that has a more pronounced curve. The G-spot is located inside the vagina aiming up towards the bellybutton. If you're trying to stimulate your own using a dildo it's going to be easier to reach if you have a more heavily curved dildo. That said, the base on the Sedeux Flare acts as a decent handle, and if you can stretch your hand down low enough the Sedeux can provide some great G-spot stimulation. For partner play the Sedeux Flare is just lovely. It's an especially good option for pegging as the girth is quite manageable and the texture is smooth. This would be a great beginner dildo for strap-on play.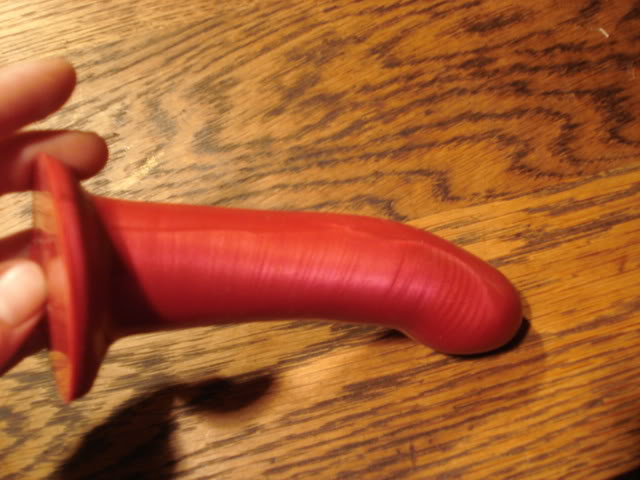 The Sedeux Flare only comes in red. It is a hot sexy shade and the ripples of the silicone pour are evident on the dildo itself. None of this patterning can be felt, though. It is purely visual. The Sedeux itself is totally smooth. There is one little dot on the tip of the head that is not smooth. Maybe this is where the silicone gets poured into the mold. There's also a Sportsheets logo imprinted on the base of the toy. The silicone is quite slick and will not hold lube super well. Silicone with a more matte finish will adhere to lubricant more easily, making it stick rather than slide right off. If you are interested in a similar-sized dildo with a more matte finish, check out the
Happy Valley Hottie
.
Speaking of lubricant, only use water based lube with the Sedeux Flare or any silicone toy. If you are really in love with silicone lubricant, do a little spot test on a discreet part of the toy (maybe the base). Let the silicone lube sit on the silicone toy for some time (maybe overnight) and see if it reacts with the toy.
Silicone is actually a really smart choice for a toy material. Silicone is used to make breast implants, medical tools and kitchen implements. It can withstand high temperatures and can be sterilized. It's a non-toxic material that releases no harmful phthalates. It is odourless, tasteless and warms to body temperature quite quickly when in use. Silicone is one of the best sex toy materials on the market for those who care strongly about using only very body-safe materials.
To sterilize your silicone, you can boil it in water for 4 minutes, wipe it down with a 10% bleach solution or run it though the dishwasher on the top rack with no soap. You will want to sterilize it between uses by people who aren't fluid bonded or after anal use. For cleaning that doesn't require sterilization, use a mild unscented soap and warm water. Keep your silicone away form sharp objects as these can permanently mark your toy. These include especially sharp finger nails, biting down hard with teeth, scissors and knives.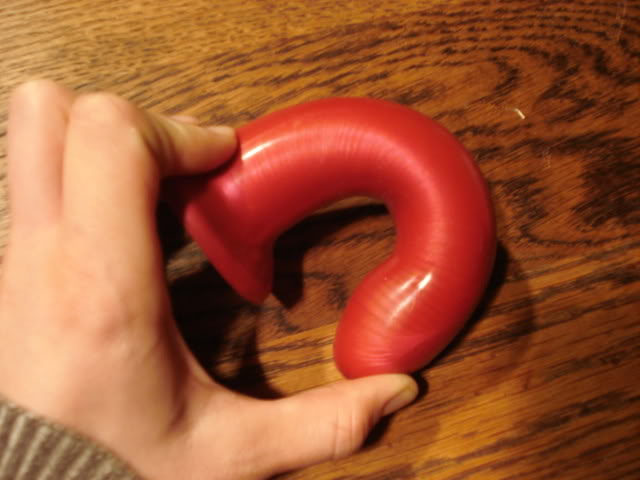 Silicone is a flexible material. The degree of flexibility will depend on the kind of silicone used and the dimensions of the toy. Because the Sedeux Flare is not very girthy, it can bend quite well. This allows for more wild thrusting and vigorous play. It's also a good trait if you are going this for anal play as it's safer to use a toy that can bend and adjust to the twists and curves inside the rectum.
Toys that are 100% silicone can be stored together, but toys that are partly silicone (e.g. TPR) should be stored separately. Toys made partly of silicone can react to one another and melt slightly if they are stored touching.
Experience
As I said, the Sedeux Flare was the first dildo I bought that was actually useable. Though I have since upgraded, I found this toy really useful for learning how to fuck myself with a dildo. It is a really basic shape and size and the price is reasonable. If you've never tried a dildo before and are interested in silicone I would recommend this one, the Acute or the Hottie.

One of the great things about a beginner dildo is that is allows you to start learning about what feels good to you. Listen to your body. I often find that my body craves certain kinds of shapes and I can tell what kinds of toys will fit me best if I take the time to listen to my body. For instance, when I was using the Sedeux Flare it became clear that I wanted a more curved dildo so that reaching my own G-spot would be easier to do.

Though I hardly use the Sedeux Flare anymore, it was an important step in figuring out what kind of penetration I enjoy. Just remember that you have to start somewhere and then stick with your own journey to find out what really works for you.
Follow-up commentary
4 months after original review
I don't really use this dildo anymore. It was fabulous as a beginner dildo because it's so simple and smooth. I've moved on to fancier and harder things, though. I've found that I really like hard materials dildos a lot. When I want something of a comparable size that's made of silicone, I reach for my Vixskin Goodfella.
This content is the opinion of the submitting contributor and is not endorsed by EdenFantasys.com

Thank you for viewing
Sedeux flare
– dildo review page!