My "Italian Stallion"
Realistic, filling, FULFILLING thrill ride. I've never had something feel so real. You almost forget you're with a toy and not a man!
Published:
Pros:
Size, lack of smell, natural feel, price, easy to use, great for riding practice!
Cons:
None!
My favorite quality in this toy would have to be how realistic it is. It holds nice and firm, is hard, but flexible. It truly feels like a real man rather than a toy (only it's not warm). It will warm up some inside you, but it's not like glass where it will warm up to your body temperature; maybe after a long while of use it may.
DO NOT PUT THIS PRODUCT IN THE MICROWAVE! IT WILL MELT! This product is NOT meant to be heated. It is made of a "Sil-A-Gel Formula (TM)" which is like a rubber material. You cannot boil or sterilize this product, and it is NOT water proof. To keep this product clean I use a condom with it, and after use, I wipe it thoroughly with an
EF Toy and Body Wipe
. This keeps the toy very clean and will help it last longer and keep it from breaking down. After you have wiped it down, let it thoroughly air dry, then place it back in it's container.
If you are going to use any lube with this product, which I always need to because of size, please use water based lube only. Other lubes may break down the toy, and you don't want that. Water based lube is safe and easy to clean off.
This toy is anal safe because the balls act as a base. I have not used it for anal play, nor do I plan to, but just for the public, it is safe because of the balls.
The toy is 8" long, 1.5-2" in diameter, and about 4" in circumference. It is veined along the shaft and has a large head on it that is realistic to an actual penis.
It comes in a plastic container of which you can use for storage, that is what I do.
Prodcut Make Up According to the package:
Sil-A-Gel Formula
Anti-Bacterial
Non-Toxic Formula
Latex-Free
Cadmium Free
Non-Phthalate
American Made
Since it is Phthalate free, it is safe for your body w/o a condom. But, like I said before, it is best to use one just for the cleanliness and care of the product.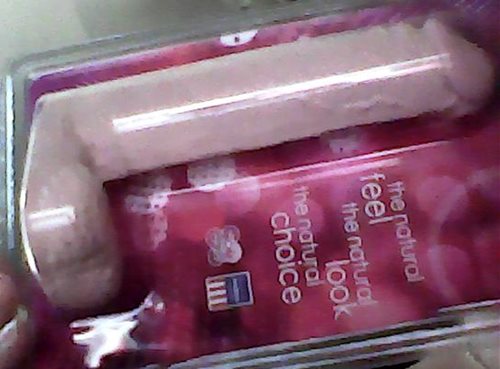 Experience
This dildo felt really natural to me, I really enjoyed it. It is very pleasing and hits all the right spots just like a well trained man. It gets my G-spot and fills me up with its all-over-size. It didn't have any bad smell to it or anything like other people were complaining about; only smelled like the rubber material when you get really close to it, but you cannot smell it during masturbation.
Something I love about this product is that while you are in bed, it will stay in place so you can ride it. It retains its shape and position and the balls are kind of nice if you want something to put your hand on to keep it in place just a little more.
This content is the opinion of the submitting contributor and is not endorsed by EdenFantasys.com

Thank you for viewing
The naturals dong with balls
– realistic dildo review page!