"My name is Buck, and I'm here to..."
In a world full of monster cocks, think of Buck as the friendlier option. His thick shaft tapers from 1.75 inches at the head down to the full 2 inch girth, helping even reluctant receivers draw out their inner size queen. Enough to stretch and satisfy without going over the top, he's the cock on the larger end of the spectrum that you'll want to use for more than just special occasions.
Published:
Pros:
Dual density silicone, seriously thick, tapered, subtle details, boilable, lifetime guarentee
Cons:
Lint magnet
Kill Bill references aside, if you're here for strap-on fucking, you're in the right place.
Vixskin silicone is the gold standard of harness-compatible cocks. Silicone is prized for it's heat retaining ability and non-porous composition, which allows for thorough cleaning and sharing. But Vixen Creations goes above and beyond with their dual-density Vixskin formula, offering cocks with a flexible yet firm core and a soft outer coating that combine to closely mimic the feel of a flesh erection. Hard enough for stimulation and functionality, but yielding enough for comfort and realism. With adequate lube (water-based, no silicone) there is no drag, and adding a bit of cornstarch after cleaning will make the surface silky smooth to the touch. These cocks are known for their ability to create converts and addicts. Once you've had Vixskin, it's hard to accept anything less.
That said, there are several different shapes and sizes in the Vixskin line, so why Buck?
Every cock collection needs at least one member on the seriously thick side. In today's market, that generally means 2" in diameter. Vixen offers four Vixskin options with diameters of 2" and above. This level of girth is not for everyone, and certainly not for a first insertion toy, but it's perfect for people who enjoy a good stretch and/or that wonderful filled-up sensation.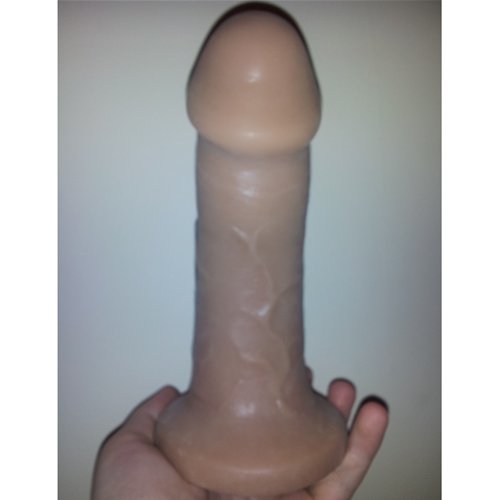 Visually, there are lots of things to love about this cock. The caramel color is very appealing and I consider it to be the most natural looking color they offer. The realistic details include a proportionally sized head and subtle veins (just for show, not significant texture) but other than that the design is very minimalist. Those who find details like balls and retracted foreskins to be a bit much might find a nice middle ground with this one.
Buck's tapered shape helps set it apart from other 2" options. The ridged head is 1.75" in diameter at the widest point, and the upper part of the shaft is slightly narrower than that. The ridge is very soft and compresses easily, which is nice since a cock this size doesn't need all that much help to find the g-spot. It's not until further down the shaft that it widens out to 2". Not only does this make Buck look less intimidating, but it also creates more comfort for people looking to push their limits. The less girthy space in between the head and the lower shaft is a nice "resting point" for someone trying to work up to a larger size. The taper also makes the size feel more dynamic, creating a cycle of stretching on the way in and relaxing on the way out. It adds a delightful element of rhythm and dimension to the fuck.
With an insertable length of 6.5" (7.5" total) Buck is on the shorter end for girthy cocks. Although the common wisdom says extra length is always good for harness use, this isn't always true. With Buck there is a greater chance of being able to thrust in completely without hitting your partner's cervix and causing discomfort. This length is plenty to work with for most positions and I haven't had any problems with falling out. As with any cock without an extreme upward curve, missionary could be a challenge depending on your body type. The shaft has a slight curve, so Buck sits at half mast in a harness. He's also fairly heavy, so make sure you have a sturdy harness and a correctly sized o-ring. I haven't tried Buck for anal but it's not out of the question.
Buck arrives in Vixen's standard packaging for cocks without balls, a clear plastic tube with black caps on each end. It works great for storage, which is useful since Vixskin attracts lint like crazy. Ideal storage would be standing upright and away from any rubbers of mysterious orign. Buck will fit easily into a suitcase for travel, just be mindful that anyone who comes across him will know immediately what he is. To thoroughly clean him you can boil, wipe with diluted bleach, or give him a run in the top rack of a soapless dishwasher cycle. As long as you keep him away from sharp objects, Buck should last many lifetimes. If he fails under normal use you are protected by Vixen's lifetime warranty, though it does not apply if he falls victim to silicone lube or chewing pets.
Overall, I am very pleased to have Buck as the girthy option in my collection for now. He's thick and hearty like a nice steak sauce, but not so huge as to strike the wrong kind of fear and get banished to the bottom of the toy box. The monster cock that can actually get used on a regular basis. Hell yes!
Experience
For a size reference, the closest cock I have that compares to Buck is Johnny. Johnny is longer than Buck and somewhat bigger around the head, but further down the shaft he gets narrower instead of thicker. Buck has the exact opposite size distrubution, narrower at the start and then thicker than Johnny on the way down. Both are wonderful, so it's really just a matter of preference.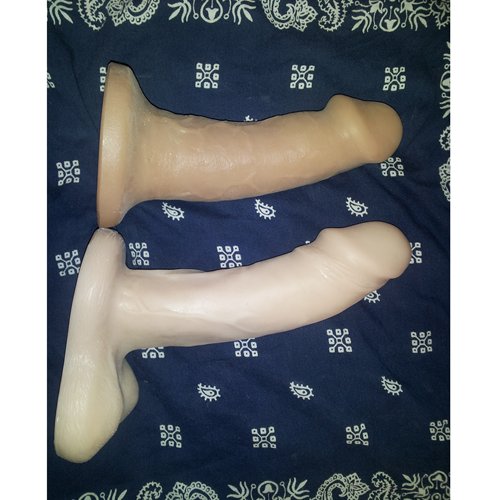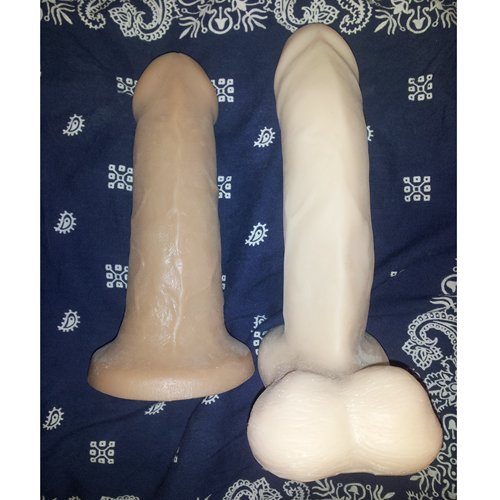 Follow-up commentary
2 months after original review
I'm still very glad I choose Buck over some of the other larger Vixskin options. He's a favorite of partners who want size, but thanks to the taper, shorter length, and subtle head he has yet to overwhelm anyone who has been brave enough to try. So far soooooo good.
This product was provided at a discounted price in exchange for an unbiased review. This review is in compliance with the FTC guidelines.

Thank you for viewing
Buck VixSkin
– realistic dildo review page!