Raquel is a whole lotta woman!
Every relationship takes some work and compromise, right? Although Raquel requires a lot of warm-up for me to use, and even then can only be used in certain positions because of her length, I'm still in love with her for her fabulous texture and shape. (Shhh, don't tell my partner.)
Published:
Pros:
Squishy VixSkin; Flexible shaft; Large tip for G-spot action; Suction-cup base; Shimmery silicone.
Cons:
Too long for some; Only one color option.
The Basics
My, my...what an elegant sex toy. Raquel is tall and slender, with curves in just the right places. She's flexible, but knows how to stand up for herself when needed. Raquel can be used for handheld vaginal or anal penetration, but her large, sturdy base makes her an excellent candidate for harness use, and her average diameter means she will fit most harnesses. What's more, the base doubles as a strong suction cup (I tested it on the shower tile), for hands-free solo use. Va-va-voom!
The Senses
Raquel has a luminous strawberries-and-cream complexion, with a subtle lavender shimmer. Her smooth skin creates friction to the touch when clean and dry, but feels like wet silk when lubricated. Her vibrant pink shaft is topped off with a thick, rounded layer of the very squishy VixSkin silicone; if you squeeze it, you can feel the end of the firm core about an inch down from the tip. The mid-section of her shaft has about twice as much of the softer silicone on its underside as it does on the upper side, and then the thickness of the squishy layer evens out toward the base. Raquel's shaft is flexible enough to be fairly easily bent all the way into a U-shape, with the tip touching the base, but firm enough to stand horizontally when held up by the base.
Her base is made of a very firm silicone in a pearly, translucent cream color--presumably the same stuff as the core of the shaft; a small rectangle containing the word "VIXEN" is embossed on the side. The underside of the base features a circular concavity, and is embossed with the full Vixen Creations logo inside its curve.
After bathing her gently in a fragrance-free soap and allowing her to air-dry, she has no scent or flavor.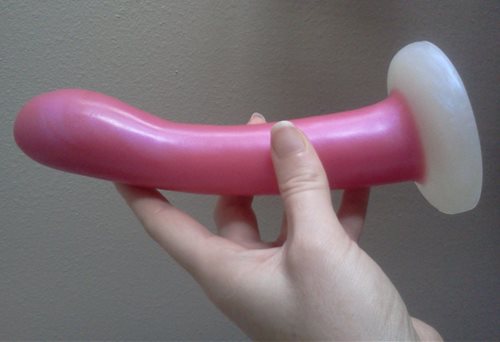 The Dimensions
One might assume that her measurements would be somewhere along the lines of 36"-24"-36"; however, let's take a look at her actual measurements. The Raquel I received measures exactly 8" tall from bottom of base to tip. Measured from the spot where the shaft meets the base, she has an insertable length of 7 1/4"--about 7" if a harness ring is added. Her widest diameter, at the center of the rounded tip, is 1 5/8" (4 3/4" circumference), while her slimmest diameter, just under that tip, is a mere 1 1/4" (4" circumference). This gradually increases to almost 1 1/2" (4 1/2" circumference) near the base. The base itself is slightly oval-shaped, measuring 3 3/8" from "top" to "bottom", and 3" from side to side. The round concavity on the underside of the base is 2" across.
The Material
Raquel is made of the near-magical VixSkin dual-density silicone from Vixen Creations. Although her surface may feel somewhat similar to "cyberskin" or "jellee" materials, she is 100% non-porous silicone, with all the corresponding health benefits. These include the ability to sterilize her by: boiling for 5-10 minutes (making sure not to let her touch the bottom of the pan and burn her soft skin); washing in the top rack of your dishwasher, minus soap; washing with a 10% bleach/water solution for about 10 minutes and rinsing thoroughly; or rubbing her down with isopropyl alcohol. She will not give bacteria anywhere to hide, nor will she emit any harmful chemicals, such as phthalates, which might be absorbed by your body. She won't play well with silicone-based lubricants, so be sure to use a water-based one to keep things slippery.
The Packaging
Raquel arrives in a simple cylinder of clear plastic with a black cap on each end. The front is decorated with an oval decal reading "VixSkin" in large curly letters, and "Worth Every Inch" in small letters beneath. On the back is a large rectangular decal with the brand logo and product information, including care instructions. It would make a nice gift box, providing the recipient won't be opening it in front of a crowd. It's also good for storing your valuable toy upright, if you don't already have a toy storage chest or cabinet.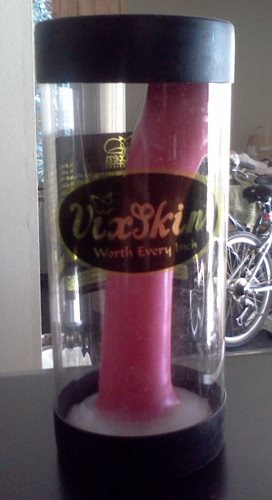 The Possibilities
Being a longer dildo with a large base, Raquel can be used by almost anyone, for almost any typical dildo purpose. A woman who wants to hold the base and fuck herself silly? Check. A man or woman who wants anal play without the risk of a fishing expedition in the ER? Check. A lesbian couple who wants a longer strap-on toy to facilitate more positions? Check. A man or woman who wants a suction-cup toy for solo adventures? Check. She can be used in the shower, the bed, the kitchen, the tent, the play party... Just sterilize between partners, and enjoy to your heart's (or vagina's, or ass') content.
Experience
Ah, Raquel. You are VERY tall, and very curvy up top. I spent a long time in the bath with all of my smaller toys, preparing myself for you. I used a basic vibe and some dirty thoughts, then my Sedeux Please, then my VixSkin Spur, then my new Fetish Fantasy G-Kiss (at which point I had my very first solo vaginal orgasm, by the way!). Only after all of that did I wake my sleeping partner and ask her to gear up with your elegant self, so I could experience you for the first time. Well! I laid back and focused on relaxing, and there was only a little pain with the penetration of your thick-yet-soft tip. You felt quite lovely inside me, but when my partner began to thrust with you, it quickly became too intense. Only very shallow thrusts would work for me.

So, I had the brilliant idea of changing positions, and bending over the bed to enjoy you from behind, as my Spur is a bit short for such things. I asked my partner to give you a 180-degree turn so that your curved tip would remain aimed at my G-spot. You are so long and flexible that we were able to execute this position-switch without disengaging! In fact, in the midst of the switch--after I was turned around with my back to my partner--I realized I was too warm, and we both walked, albeit somewhat awkwardly, down the hall to the thermostat and back, STILL without disengaging. (There were lots of giggles during this maneuver, as you might imagine.) Well, Raquel, when we arrived back at the bed and began the attempt at sex from behind, the position decreased your effective length but also increased your effective girth, as those types of positions tend to tighten my vaginal muscles and create more friction.

We tried a few variations on this from-behind theme, then went to a different position, one of our favorites: me lying on my back with my hips at the edge of the bed, her standing in front of me with my legs around her waist (or sometimes with my ankles on her shoulders). With her thrusting gently but quickly, you gave me another vaginal orgasm this way. You are VERY intense, Raquel, in case I forgot to mention that. After this, I wasn't able to handle you anymore, so my partner and I moved on to other things. But don't feel neglected! We'll be practicing and playing further with you in the future, I promise.
Follow-up commentary
2 months after original review
Raquel and I had a wonderful time together tonight. I took her into the bath with me for a relaxing sex-toy experimentation session, in preparation for some serious studying. (Orgasms and caffeine get my brain going--what can I say?)
I warmed up for Raquel by using my
Maia MB1
mini-vibe in several ways, with several other (smaller) toys. I was determined to find a way to eliminate that slight pain I'd felt upon insertion the first time I played with her! Once I felt pretty revved up and wet, I relaxed and slo-o-o-owly began to push Raquel into me. I breathed deeply, consciously relaxing my PC muscles and pushing out a little on my indrawn breaths, using steady, gentle pressure on Raquel's base. Finally, her "head" was all the way past those muscles, and was nestled cushily up against my G-spot. No pain! Yes!
I did some gentle, quick thrusting, using only about half her length, with the MB1 on low speed teasing my clitoral area. It wasn't long before I just let Raquel remain on my G-spot, while I pressed the MB1 to my clit and hung on for dear life! That was definitely one of the longer and more powerful orgasms I've given myself, and that wonderful VixSkin layer caused no discomfort to those tightly clenching muscles. Thanks for helping me out with that, Raquel!
This content is the opinion of the submitting contributor and is not endorsed by EdenFantasys.com

Thank you for viewing
Raquel
– strap-on dildo review page!