A Great Wand for Your Collection!
I wasn't sure how much I would like the shape, but I find it easy to use and great to stimulate my G-spot with. The shaft size may be a bit underwhelming for size queens, but I would definitely recommend this toy for average-sized toy users. I also think it would be great for beginners to glass, and maybe even more advanced users like me.
Published:
Pros:
Pretty, texture is noticeable but not uncomfortable, head is filling and stimualtes the G-spot.
Cons:
Pointed end isn't that convenient for holding onto.
I have a variety of SSA glass toys in different textures and colors. The Wizard was unique to me because of its amber color and because of how different the two sides looked. So I was interested in adding it to my glass collection.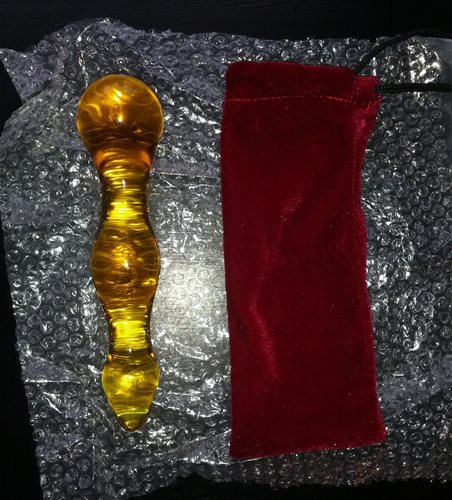 Like all SSA glass toys, it arrived in a thin red pouch made of velvety material, and wrapped in a layer of bubble wrap. As other people have said in their reviews, it would be better if the pouch itself were padded. However, this isn't the main issue I have the pouches; once you own a bunch of glass toys with this same packaging, it becomes difficult to tell them apart. This is where labeled packages (like boxes that other toys come in) would come in handy.
According to EF, the measurements are as follows-
Length: 7"
Insertable length: 6"
Circumference: 4"
Diameter: 1 1/4"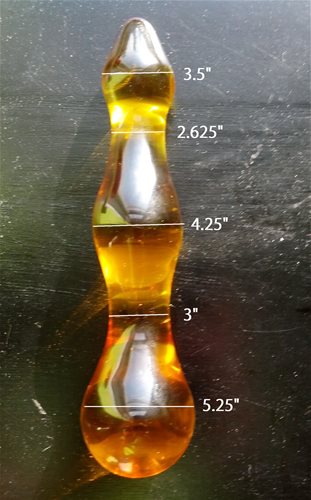 Of course, the circumferences vary along the bumps of the toy. These were my measurements.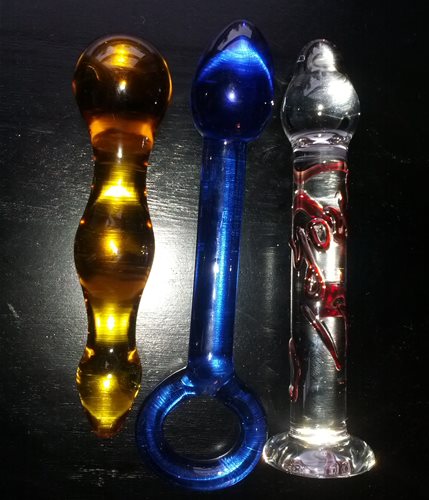 I prefer using the larger end, though it's very big. Here is it next to my Sweet Lola (my glass toy with the second-largest head, the Wizard having the largest) and my Hearts Wand (which has an average-sized head).
I like the Hearts Wand's head because it's tapered for comfortable insertion and the shape is uniform all the way around, but it's narrow and difficult to push agaisnt the G-spot. The Sweet Lola has a large head with a point that can be faced towards the G-spot, but is uncomfortable if it gets turned around in the wrong direction. It is also more filling than the Hearts Wand.
The Wizard head is the biggest, as I said. And it is round rather than pointed, but after warming up or using lube, I never find it uncomfortable to insert. And obviously I never have to worry about turning it the wrong way. It is also more filling, and the large bumps feel great.
The Hearts Wand has a base of the flat, strap-on style. I only use it solo and find it a bit annoying to grip the ridge with my fingers. The Sweet Lola has a loop that is easy to maneuver the toy with. And the Wizard has the large end, which is easy to hold onto, and the small tip, which is a bit hard to move around. I don't mind it.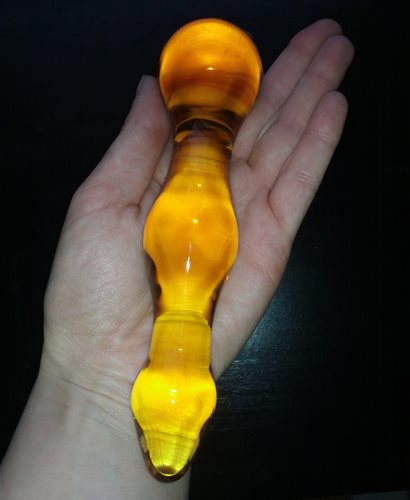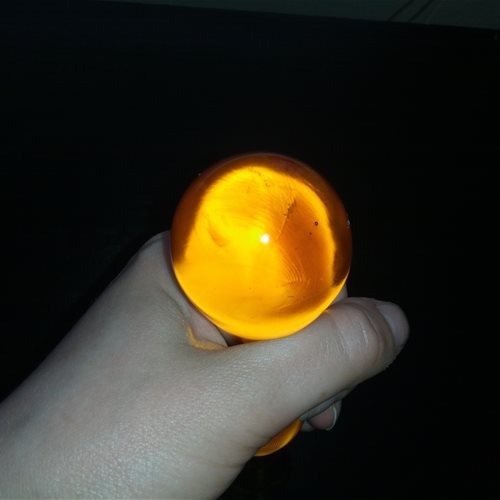 Like all SSA glass toys, it is very durable. I have even accidentally bumped a couple against the faucet while washing them and they haven't been scratched.
It's a breeze to wash. I would suggest washing it with soap and water, or with toy cleaner or wipes. It can also be boiled. I usually do this with a medium-sized pot (large enough for the toy to sit along the bottom) and a pair of tongs.
Boiling it is also great if you enjoy temperature play; you can leave it sitting out for about 15 minutes and then it will be warm and feel great when you use it. Or, if you like cold temperature play, I suppose you could put it in the fridge or freezer before using it (I've never tried this, but I assume it would work well).
You can use any lube with it, but (like other glass toys) you won't need much. There is basically no drag, and the sloped surface of this toy feels noticeably different as you put it in and out but wasn't uncomfortable to me.
Again, it's a gorgeous glass piece. But I wouldn't leave it out for people to ask about. It kind of looks like an abstract sculpture, but it's also pretty dildo-sized.
But I would suggest it for travel if you wrap it in clothes. I also think it would make a good gift. I think it would work for a beginner- glass user or an advanced one, but it would probably be best to buy for someone who has used sex toys before but is interested in trying textures (an advanced user may find the shape and texture boring compared to a toy with bumps or swirls).
Overall, I think a lot of people would be very happy with this toy like I am. The size difference of the heads makes the Wizard a semi-unique double-ended dildo. The large head is very filling and feels great against the g-spot. Some size queens may not find it as long or filling as they would like, and some advanced glass users may find the texture boring. Also, the smaller point for holding onto the toy may be a neagtive for some people, but I really don't mind it. I think it's a great piece. It should last me forever, and I'm very happy that I ordered it.
Experience
I enjoy the fact that the two ends of the toy are very different. The pointy end is small, and convenient for warming up. I think some people would enjoy it for anal use (if using it with a partner who is holding onto it. I would not suggest using it anally unless you are careful because the large end doesn't seem to have been designed for it).

As I said, I don't mind that the pointy end isn't so convenient for holding onto, but someone whose partner is controlling it might (though I will say that, comfortably, I have an inch of that end sticking out me and that is enough to hold onto). And the Wizard actually has my least favorite end for holding it, but I find it comfortable and enjoyable enough to use that I can still overlook this enough to give the Wizard 5 stars.

Aesthetically, it is actually a very pretty amber color in person. I wasn't crazy about the color from pictures online, but the way the light catches it is actuallly very cool (this was a picture I took in daylight). And yellow is a color of glass that seems to be underrepresented on Eden Fantasys, so maybe some people will be interested in it for this reason.
This content is the opinion of the submitting contributor and is not endorsed by EdenFantasys.com

Thank you for viewing
Wizard
– classic glass dildo review page!