Petrificus Dildo-lus
Wizard is one of those toys that is beautiful and functional. It can be used in a variety of ways, is a great color and has whimsy going for it. Is it magical? Who knows? It certainly caused me to have a great time!
Published:
Pros:
Interesting Color
Great Design
Beautiful
Cons:
None
Truth be told, when I opened this toy I couldn't help a little wand waving and pretend spell casting. Certain spells, used by a certain popular wizard with a scar, were shouted with gusto while I brandished this fancy glass beauty. Alas, they didn't work.
Wizard is a glass dildo. Either end could be used for stimulation, and each has their own merits depending on the use you have in mind. You could use Wizard for external stimulation. I generally prefer glass toys with stacked balls for clitoral stimulation, but this one works for me as well. For internal vaginal stimulation, you can use either end of Wizard. Using the smaller end gives you a nicer handle to hold on to. Using the larger end gives you a greater sense of fullness. You decide which you prefer, or switch it up during your play. If you love glass, but also love vibrations, you can place the end of your favorite vibe up against Wizard while you're using it. The glass transfers the vibrations very well, and it adds a new depth to the experience.
Although I suppose you could use Wizard anally, I would exercise immense caution. There is no real flare to the base. If you keep a tight grip on the larger end, and use the smaller end for insertion, you have a bit of a safety measure built in. I would not suggest using the larger end for anal insertion at all, as I feel the toy would really try to get sucked in too far.
The color of Wizard is simply lovely; it's a medium amber shade and uniform throughout. You don't see this color much in sex toys, which is a shame. I think it has a very natural look, which is appealing to me. There are areas of distortion when you look through the glass. They won't change the use of the toy at all, but I thought I would mention it. The surface is smooth, with no rough spots or imperfections.
Wizard is a straight glass dildo with a series of graduated bulges. One end starts with a pointed tip, and after a crest and a valley, it increases into a larger bulge. After that is another valley and a large bulb. Rather than being three large bulbs which might be jarring during thrusting, the gentle crests and valleys give it a gentle sensation, like riding a wave with peaks and dips. The total length of Wizard is 6 3/4". The three bulges are 1", 1 1/4" and 1 1/2" in diameter, respectively.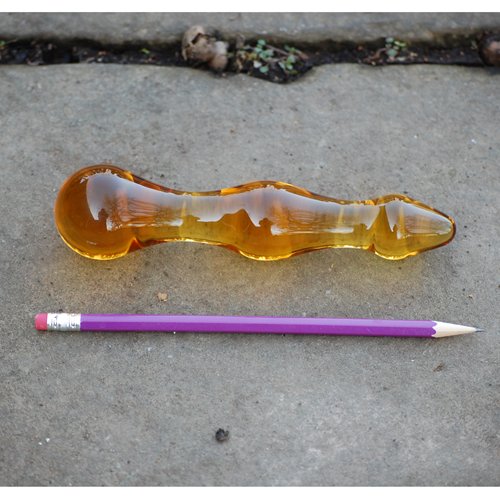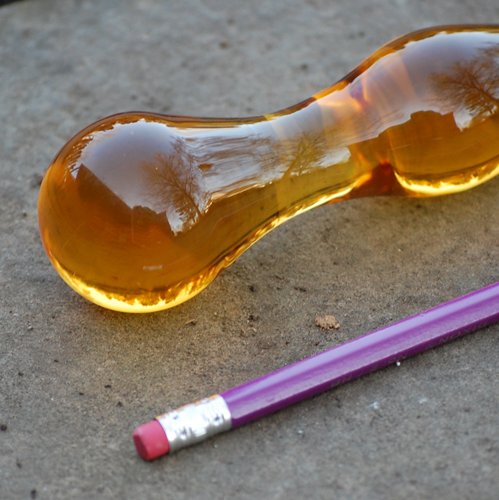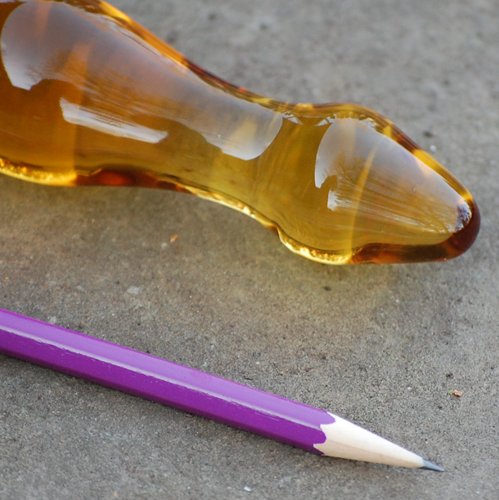 You could use this toy for some temperature play, as glass holds heat and cold well. Place the Wizard in a dish of warm or cool water before using it to tease you or your partner. This toy could also be used for body massage, with a nice massage oil. Obviously, the toy is waterproof as well, so it could be used in the shower or bath. One thing this dildo won't work for is any type of harness play. It isn't O-ring compatible, and has no base to speak of. I suppose technically it will fit through an O-ring, the part that wouldn't fit through would be very uncomfortable against the harness wearer. I wouldn't suggest buying this for harness use.
Wizard is made of borosilicate glass, which is non-porous, hypoallergenic, non-toxic, latex-free and phthalate-free. It has no smell or taste. Borosilicate glass is better known as Pyrex, the bakeware and dishes popular in kitchens the world over. As Wizard is glass, it is firm and rigid, but no bend or flex.
Cleaning Wizard is simple. You can wash the toy with soap and water, or you can use your favorite toy cleaner. It can be sterilized by placing it in boiling water for three minutes, or washing it in your dishwasher. Because it is a glass toy, you can use any lube you like. It does not tend to collect lint or hair.
Wizard comes wrapped in bubble wrap, within a plain red storage pouch. The pouch is ok, but is not padded. For storage, be sure to avoid storing Wizard up against other glass toys, or anywhere it might bang against anything which would break it. No instructions, care information or paperwork came with the toy. It is pretty self explanatory, but you can consult the many reviews for tips on using this toy.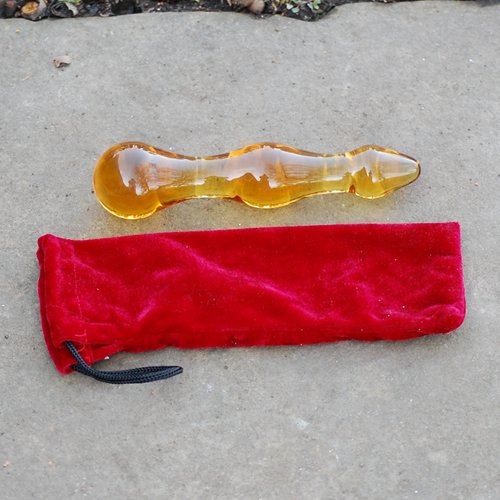 Experience
Wizard is a lot of fun! I love glass toys, and each unique size and shape offers something new to experience. I tried Wizard a few ways. I used it for solo clitoral stimulation. I used it for solo vaginal and anal stimulation. I also had my husband use it on me vaginally during oral sex. There wasn't a way that I didn't enjoy!

If you are new to anal play, Wizard is a great choice to test the waters. You can choose how much you're comfortable inserting, and the valley after the first bulge provides a great place to rest a bit. Remember to keep a firm grip on that large bulge, to keep the experience safe. And, if you decide anal isn't for you, Wizard can be sterilized and still give you tons of pleasure when used vaginally. It's a win-win.

The wave sensation feels amazing during slow thrusting no matter where you use it. I would avoid quick movements, as the glass isn't forgiving and it could bruise or damage sensitive tissue. The point on this toy is pretty pointy, so it's especially important to move slowly and not get carried away. There is no texture to the surface of Wizard, so if textured glass is your thing, you'll need to look elsewhere.

As a side note, if you dislike cold toys you may wish to hold this in your hand to warm it up a bit. The large bulb can take a bit of time to be warmed up by your body heat. I like the short time that it remains chilled, but if that isn't your cup of tea please take the necessary precautions.

And, I'm not gonna lie, it did get pointed at certain body parts while certain spells were shouted. After ample testing, I can verify that the only magic in this wand is the design and beauty of it. But, for me, that's more than enough.
Follow-up commentary
7 months after original review
This is still a lot of fun to play with, partly because of sensation and partly because it is so visually fun. Great as a wand or a toy, I have no complaints or issues with this toy.
This content is the opinion of the submitting contributor and is not endorsed by EdenFantasys.com

Thank you for viewing
Wizard
– classic glass dildo review page!