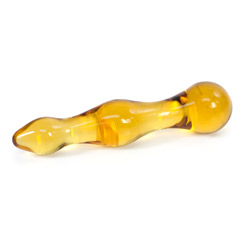 Wizard
Classic glass dildo
by EdenFantasys
This Wizard has put a tantalizing spell on my ass!
My girlfriend waved this "wand" in two of my enchanted places, and yes, it did cast a spell on me! It is strikingly beautiful, deliciously functional, and easily manageable. The different styled ends are what is really original about this dildo. With the sensuous curves and spellbinding colour of this baby, you'd be sure to want to take it home! Love temperature play? Great! Warm it up, cool it down, it's up to you. But the Wizard let's you enjoy pleasure in just about every way imaginable!
Published:
Pros:
Love the color
Pretty pouch
Great for anal and temperature play
No lint or hair collecting on it
Cons:
Wish it was longer
Red velvet drawstring pouch isn't padded
The name says it all, doesn't it! With such a tantalizing, amber-like colour, how could you stay clear from this baby! This dildo is two sided and the one side features a tapered edge, which I like to use for ease of anal insertion. The other side is a more rounded bulge in which I either use to a) hold on to when I am inserting the tapered edge anally or b) insert this bulge vaginally, in which case it really provides the vaginal fullness I crave. The rounded bulge seems to contribute to more powerful orgasms. Who doesn't love those! Anally, the tapered edge glides in very smoothly and makes insertion effortless.

Are you traditionally a person who seeks out vibrations with their dildo? Presto! The Wizard has the perfect solution for that too! Since this is a glass dildo, vibrations are easily transferred through this medium. What does this mean for you? Insert one end of the dildo into vagina or anus, Then, using your favorite vibrator, place your vibrator again the other side of the dildo. There ya go! A vibrating dildo :)

Are you traditionally a person who seeks out a variety in temperatures? Hey, the Wizard has got you covered! Plop that thing in the freezer (or cold water) or quickly submerge it in a bowl of hot water and you are ready to go! Just test it out on a sensitive part of your body, like the palm of your hand, before putting it on your genitals. If you're into anal play, I would strongly suggest that you insert the tapered end and not the rounded, bulged end. This dildo has no real flared based so using the larger end as a handle is best, especially since the sphincter muscles have a natural tendency to pull objects closer to the body. Just a word of caution.

Are you a person who loves to squirt? Great! Wizard gives you such a full feeling! The curves goes in and out in a way that provides suction-like a vacuuming experience. The second bulge reaches the g-spot and skyrocketed into a fourth dimension! Because it's glass, it keeps a firm position, just what you need to get the job done.

Do you like a toy that has multi-uses? Well, you could use this to give your lover a nice body massage. My girlfriend put a little massage oil on me, kneaded it in with the dildo. That was a nice treat! Oh, and although this toy is not o-ring compatible, you may consider using this as a double ended dildo. Although not very long, Wizard could be great for front entry of the vaginal wall.

When it arrives at your residence, it comes bubble wrapped in the storage pouch. Unfortunately, it's not a padded storage pouch. I had to go out and get my own. The toy didn't come with any type of information for use or care, but it pretty much speaks for itself.

The Wizard is made of borosilicate glass. This type of glass is latex free, odor-free, non-toxic,non-porous,phthalate-free, and hypoallergenic. Borosilicate glass is better known as Pyrex. Sound familiar? It should! Because Pyrex is in a lot of your household cookware. Quite interesting, huh? This type of glass is resistant to chipping, shattering, and snagging.

The total length of Wizard is 6.75". The three bulges are 1.00", 1.25" and 1.50" in diameter, respectively and gradually increases in equal increments. The smallest bulge occurs at the tapered end, the largest bulge occurs at the rounded end. Because the Wizard is very curvaceous the size difference as you are going deeper from one bulge to the next, seems to be seamless. It is a smooth transition from one bulge to the next which is very important if you are the kind of person who likes things to be as gentle as possible.

After all that humping, I'm sure you're going to be tired. And the last thing you want to do after all of that work is spend a lot of time and energy cleaning up your play station. Well, with Wizard, cleaning is a breeze. And you have options, who doesn't like to have options! You can alcohol it down, use a toy cleanser, place in boiling water, throw it in the dishwasher, or just use plain ole soap and water- nothin' wrong with that. And since the Wizard has no grooves or crevices, cleaning the lube off of it is a cinch. You may use any material-based lubricant that you'd like. Make sure you inspect the dildo before each use to make sure there are no cracks present. In the event that there are, you are advised to discard the toy...and then go get yourself another one because this damn thing rocks!
Experience
I thought I should tell you guys...this is my first glass toy! Now, my impression would be that this toy would break if dropped and I was afraid this would have little nicks in it that might hurt when inserted; you know...being that it is glass and everything! Welp, I was pleasantly surprised! The Wizard is very durable! In the heat of the moment, my girlfriend dropped it a couple of times and it was damage free. As far as the nicks, there weren't any! It was as smooth as a baby's bottom, maybe even smoother. I was amazed!
Follow-up commentary
2 months after original review
I've had this dildo for a couple of months now, even though I just recently wrote my review and I definitely still love this guy! I have had so much fun with this baby and I will definitely recommend this to anyone looking for an introductory glass dildo.
This product was provided free of charge to the reviewer. This review is in compliance with the FTC guidelines.

Thank you for viewing
Wizard
– sex toy review page!