A Super Soft Delight (but Best for Size Queens)
This is a great toy, but it is too big for me for daily use; I have to use other toys first, or else it hurts to insert. It is very satisfying, and I love that I can clench around it before and during orgasm. My only reason for giving it 4 stars is that the head can hurt sometimes. Overall, a size queen who wants a realistic dildo with a soft core would love this toy, and a non-size queen (like me) may like it too.
Published:
Pros:
Soft, safe material, easy to clean, feels great if you are warmed up (or a size queen).
Cons:
Head not tapered well, head ridge can get "caught" on vaginal walls (painful), lint magnet.
I bought the VIP because I have been venturing into buying realistic dildos. I bought the O2 Mark, which I liked besides the firm core, and then I saw that this had the same soft material, inside and out, which was exactly what I wanted.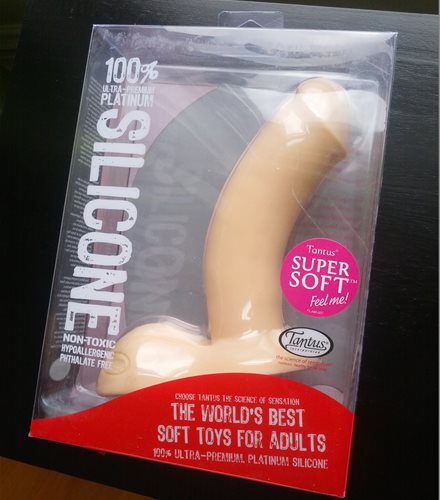 It arrived in a thin, plastic box (which is very difficult to get the toy back into, by the way). I found it very odd that it does not say "VIP Super Soft" anywhere on the box, only the Tantus brand name and that the silicone is "SUPER SOFT" on a pink sticker. In contrast, my (regular, not Super Soft) Mark box has a pink sticker that says "FEELS REAL." The VIP box is twice the size, and I think they package all of their toys in these two standard-sized boxes without labels of what specific products they are.
The first thing I noticed was the size. It is the thickest toy I own. I couldn't feel a hard core anywhere in the toy (in the base either, I mean), and I found that it was very flexible.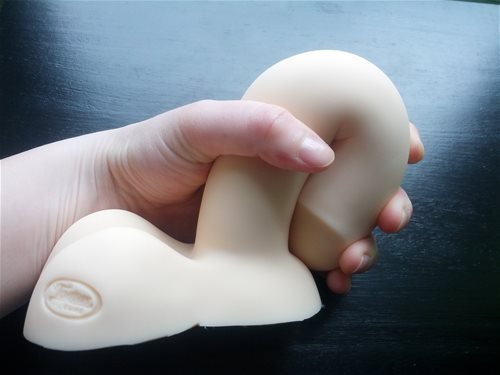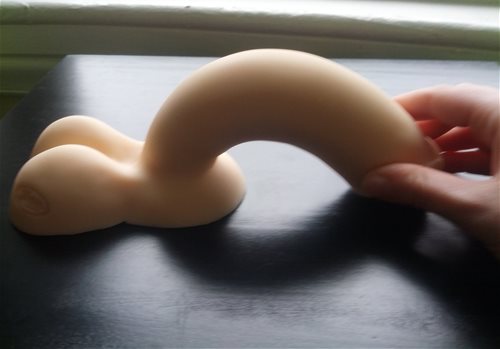 This toy is 100% silicone, which is velvety and soft (like my Ella). It collects a lot of lint and hair, and the biggest culprit is the shiny, draggy base.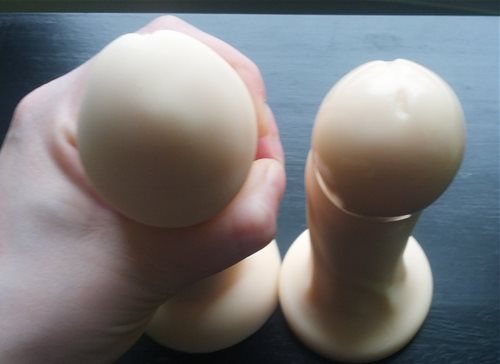 It has no vein detail and a smooth head with the same finish as the shaft (unlike the Mark, which has a shiny head made of the same material as the base). The head is separated from the shaft by a ridge that goes around the toy, which is the most pronounced on the side facing the balls. Even with a lot of lube, if I don't insert the toy fast enough, this ridge (which faces my frontal wall and my g-spot during use) gets caught on my vaginal wall and is actually really painful!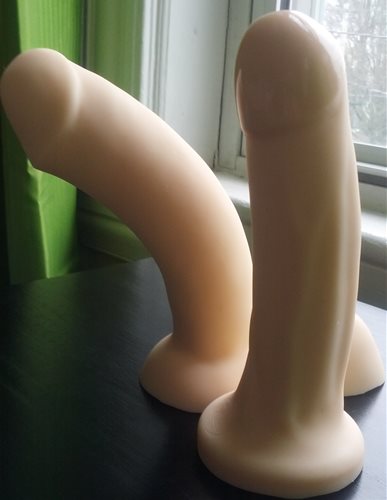 The head is my biggest complaint about the toy - how it can get caught, and how it's not tapered well for insertion. The Mark head is much smaller, and tapered better.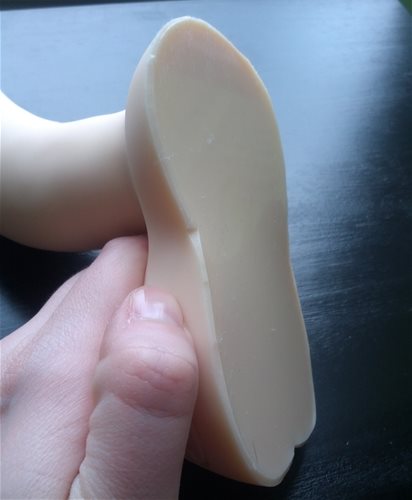 The toy appears to be smooth and high-quality, other than the base, which has a couple of jagged cuts. A small nick of silicone fell off the base when I first took it out of the package. Overall though, I am not worried about the small cut spreading. I think it only would extend beyond a couple millimeters if I pulled the toy in a way that would spread the cut. I am pretty careful with it.
I can't ding it for being too big because I saw the measurements. I knew that it might be too big for me, but I decided to try it since maybe it wouldn't feel so big with the squishiness. The measurements are as follows:
Length: 7" (The Mark is 6 1/4")
Insertable length: 6" (5 1/2")
Circumference: 5 1/2" (4 3/4")
Diameter: 1 3/4" (1 3/8")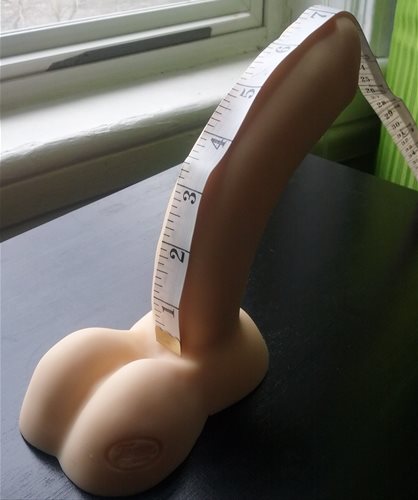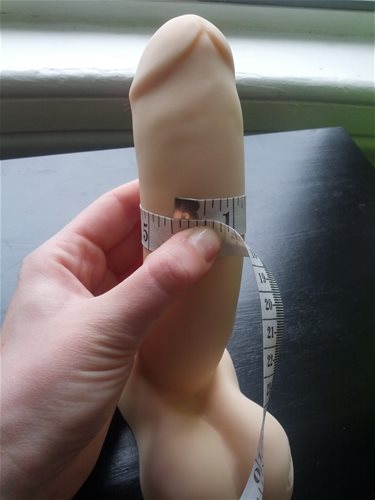 Vaginally, this toy is great. I hope to try it anally someday. The balls would make it perfect for anal play, but obviously only for advanced anal users because of the dildo's large size. Also, I think the head would make it hard to insert for the same reason it's difficult to vaginally.
My boyfriend and I don't do pegging, but I think this would be a good toy for it if you are interested in using a dildo with balls because the balls are flat on the bottom, so they probably wouldn't get in the way as much as other dildos. I don't know how well the toy would fit in some harnesses because of the balls, though.
I wash it with soap and water after each use, and it can also be boiled or put in the dishwasher. Rinsing before each use is also useful to get any fuzz or hair off of it.
It does retain temperatures a little bit, which some people may like for heating or freezing it. Personally, I wouldn't use it after boiling it because I would be afraid of leaving marks on it (I already have some little fingernail marks on the bottom from pushing on it while I'm using it).
It has no smell or taste, and I think some people would find it a great, safe choice for oral play.
The VIP is not very travel-friendly, and anyone who finds it will know what it is. In a way, the balls on it actually make it less discreet than similar dildos.
I like this dildo when I'm warmed up, but I wouldn't use it everyday because that takes longer than a smaller dildo would. I think a size queen who is looking for a soft core would love this toy. My only complaint is the poorly-tapered and ridged- head.
Experience
I didn't realize that the extra 1/8" in diameter would make much of a difference, but it really does. It feels noticeably bigger than the Mark, and it is harder to insert because of the size and the head.

The squishiness does make a difference in making the size not feel as big (I have smaller toys with firm cores that feel about as filling as this toy). For me, the hardest part is insertion.

I am used to using smaller toys that I can insert early on while masturbating, and with this toy, I really have to warm myself up, or else it is very painful.

Once I am warmed up, I'm able to move this toy by the base easily, and it feels amazing. I love that I can clench around this toy before and during orgasm.

It stimulates differently than my glass toys, as it sort of brushes against my vaginal walls and my g-spot, as opposed to rubbing directly against them. Some people may not like it, but I like the squishy, filling feeling of this toy.

You definitely need to use this toy with lube, since it's silicone and a little bit draggy. You should only use water-based lube with it (silicone lube will damage it), so it will stay slick fairly well. One weird thing that I noticed is that when it is exposed to the air for a bit, water or lube will kind of stick on the sides in little beads. The Mark does the same thing. Maybe a lot of silicone toys do this?
This content is the opinion of the submitting contributor and is not endorsed by EdenFantasys.com

Thank you for viewing
VIP super soft
– realistic dildo review page!