A Swirly Delight!
I loved the texture on this toy, and found it great for rocking and twisting and okay for thrusting. The ridges are definitely noticeable when you are using it, but they are not so raised that you would have to worry about hurting yourself with them. I'm definitely glad I added this to my glass collection, and I think this toy would be a great toy for beginners and advanced users alike.
Published:
Pros:
Amazing texture-not too raised, holds temp., no need for lube, can use any lube, easy to clean.
Cons:
I wish it were a bit more curved for g-spot stimulation.
This was my first textured glass toy. I didn't know how much I would like it (I had a textured realistic dildo and found the texture uncomfortable and hard to clean), but I have been really happy with it!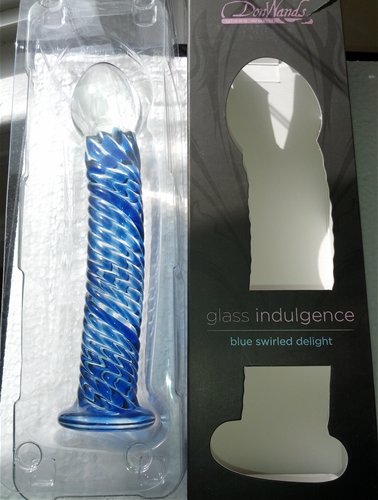 The Swirled blue dildo arrived in a flimsy plastic Don Wands box. Not very impressive, but certainly more tasteful than some box packaging, like with a couple California Exotics products I've bought (weirdly-lit pornographic pictures? No thanks). But I did find it annoying that the box isn't really convenient for storing the toy in (unlike the red velvet pouch with bubble wrap that my last two glass toys were packaged in). After I finished using it for the first time and washed it with soap and water and dried it, I was like, "uh, now what do I do with this?" I will have to come up with a long-term storage solution, like wrapping it in a towel.
Once out of its packaging, I thought the toy was beautiful.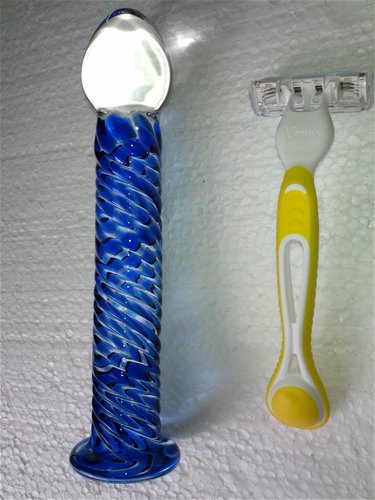 The measurements are as follows:
Length: 7 1/2"
Insertable length: 7"
Circumference: 4 3/4"
Diameter: 1 1/2"
Weight: 1 lb
It is an average width so I wouldn't suggest this toy for size queens, but it was a great size for me; it was filling, but it still gave me the freedom to move it around.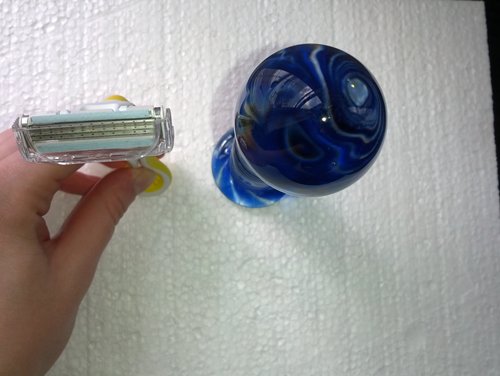 It is very intricate-looking and aesthetically-pleasing. love the bright blue and the swirled design. I did notice that it is not quite perfect --there are a couple places in the stripes where there is a slight gap or the stripe is flatter than the other ones-- but this did not really bother me.
The toy has a slight curve for g-spot stimulation, which I wish were more pronounced to be honest. It does hit my g-spot when I pull the end in the opposite direction, while it is inside me, but not as well as some of my other toys (like the Sweet Lola).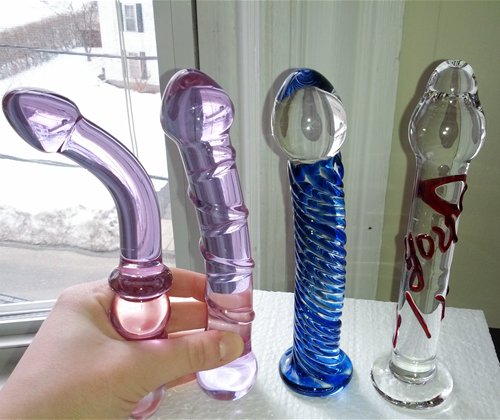 Here is a comparison of the g-spot curve of the toy compared to other glass toys (The Amethyst, The Don Wands Curved Purple Swirl and the Hearts Wand). The Amethyst is the most-curved, and the neck is narrower, the Don Wands is not as curved, the Swirled Blue is slightly less curved than the Don Wands and the Hearts Wand has no curve.
In terms of the textures, the Swirled Blue is my favorite. The Amethyst is nice for using the textured end and I do like the Don Wands, but I just love the way that you can feel the little ridges with every movement.
They are not raised very much, so you do feel them, but there isn't really much risk of hurting yourself with the texture by moving the toy around quickly (like twisting it), which is something I noticed with the Don Wands. It is great when you have control over it, but with a partner I can see it being more likely to hurt.
Glass is great because it holds temperature, it doesn't require much (or any) lube, you can use any kind of lube on it and it can be cleaned with soap and water or by boiling it.
Obviously, glass is very rigid, so you should be careful not to thrust too hard so you don't bruise yourself internally. I do love the texture, but I don't think this is the best toy for using with a partner, unless you give him/her specific instructions on how to use it on you.
The bottom of the toy is a flared base, presumably for use with a harness. My partner and I don't use strap-ons, but I would guess that the texture wouldn't be the best for thrusting or for anal use, unless you are an experienced user with textures.
The base isn't as convenient as a loop for your fingers, but it does give you a lot of control during use. And I'm sure that others will appreciate the versatility for anal use and use with a harness.
I think this toy would be great for travel, as long as you wrap it in clothes to protect it. I think it would be more travel-friendly than realistic dildos, but I still wouldn't leave it out on my coffee table (even though it is beautiful).
Overall, this is a gorgeous toy with a great, simple texture. When warmed up, the ridges feel amazing. My only complaint is about the lack of curve, but the texture more than makes up for it for me. I am very happy with this toy.
This content is the opinion of the submitting contributor and is not endorsed by EdenFantasys.com

Thank you for viewing
Swirled blue dildo
– g-spot dildo review page!