Large and in charge
I loved everything about this toy expect for the size. It is great for temp. play and g-spotting, its just too big for me. If you are good with bigger toys or are used to the filling sensation of glass I 100% recommend this toy. However if you are new to glass or to bigger toys you may want to look for something with a smaller head in order to ease yourself into its full nature.
Published:
Pros:
Subtle texture, Easy to clean, Great for temperature play.
Cons:
Doesn't come with the pouch any more
Larger than expected
First, let me say that I was disappointed that this toy no longer comes with the wonderful Don Wands pillow like pouch. Honestly, it is half the reason I got the toy and I am sad that it was not included. After contacting Eden, I discovered that it is no longer made by the company and no longer given to Eden to sell with the product. Because of this miscommunication and misinformation I had to take off a half a star in my over all impression of the toy because what I got was not what I expect. The other half of a star was taken off because this toy is simply too big to be my go to toy
The toy itself is bigger than I thought it would be. I know dimensions and understand that much, however, as someone who has had dildos and vibes of roughly these dimensions before this toy felt much larger. This is my first experience with glass and my eyes are obviously bigger than I can take. However, after some warming up I was able to take much of the dildo and did mostly enjoy it.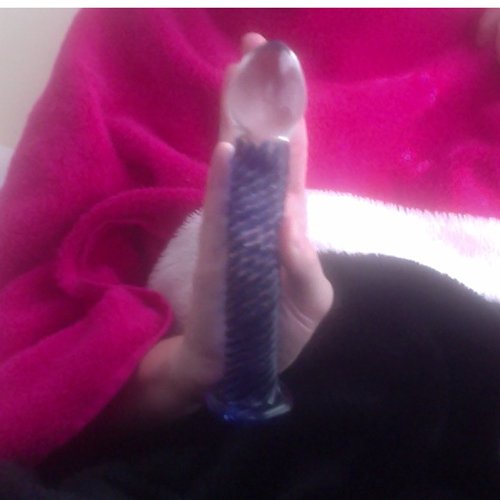 Uses:
This dildo can be used vaginally or anally because it does have a flared base. Though I do not recommend this toy to beginners simply because of its size and filling nature. There are other options to start with that are smaller or perhaps a material that is more flexible maybe a better place for a beginner to start. It does to a great job at hitting the g-spot and therefore would assume that it could do the same for the p-spot and could be quite enjoyable for someone who is familiar with larger more filling toys.
This toy can also be used for temperature play which I LOVE, and it is probably my favorite feature of the toy. You can change the temperature by running it under waters Hot heats it up cold cools it down. I know people have put it in microwaves and freezers I personally am not comfortable doing that but if you are go for it. I know my pyrex dishes can do both I just don't want to risk my dildo (and my roommates would hate me). But either way this toy is perfect for temperature play.
Texture/ Material
This is a
pyrex
glass toy. This means that it is hypoallergenic, nonporous, body safe, extremely easy to clean and safe with all lubricants. To clean the toy you have according to the box, three options: A Anti-bacterial soap and warm water, B: Toy Cleaner C: Dishwasher. If only I lived a lone I would totally be putting this thing in the dishwasher, but I use soap and water and it does the job. But it is nice to know that it can be totally disinfected if you do plan on sharing it. You can use any lubricant with this toy, water, silicone or oil based.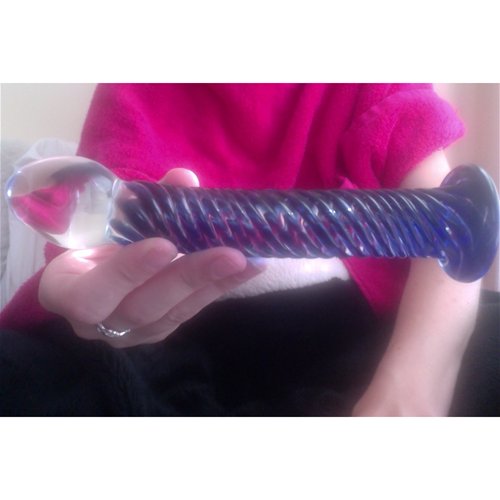 The texture on the toy is subtle. It is a spiraling set of blue cords of glass that wrap their way around the toy from the base until just before the head of the shaft. The head is obviously larger than the shaft and does pop upon insertion and removal. This is a sensation that I have not had before but look forward to acclimating to as it was enjoyable.
Packaging: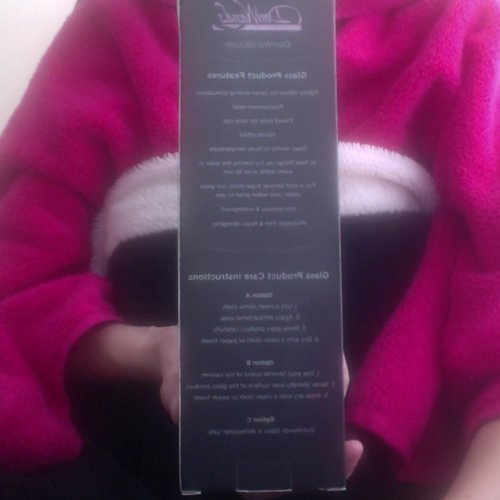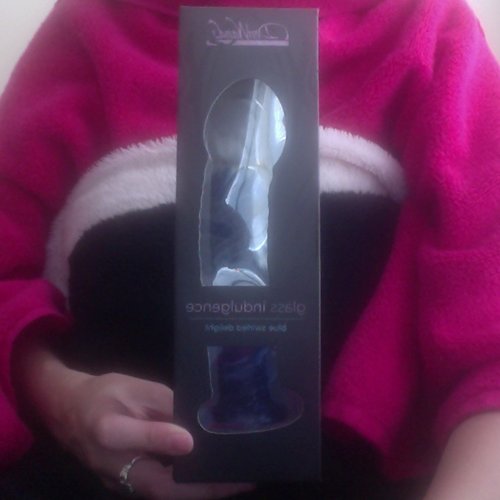 The packaging is simple and elegant. There is a clear film on the front so that you can see the toy, there is another photo of the toy on the side. The back has the features of their glass toys and the care instructions. Because though elegant it is obvious what the toy is, I would only give this as a gift in situations where that would be deemed acceptable.
Experience
This was a shock to my system. I have used silicone dildos and vibes this size before but this was a whole new ball game. The dildo is very filling and I struggled to insert it the first few times even with lubrication. I will say that I am thankful that I can use silicone lubricant with it or I may be at a loss to use it.
Follow-up commentary
2 months after original review
It still to big for me. While I know that for some people this toy has the potential to be amazing for me its just not a fit, which is to bad because it seems like a really cool toy, my body just cannot get past the size. I would suggest the Amethyst by SSA glass as a much better beginner toy if you are interested in getting into glass as the size will be less of a problem there.

I plan on continuing to try to use this toy, but play time should be fun, not painful.
This content is the opinion of the submitting contributor and is not endorsed by EdenFantasys.com

Thank you for viewing
Swirled blue dildo
– g-spot dildo review page!