big but fun
A great, natural dildo from California Exotics. Highly suggested for any experienced toy user, but because of the large size, not ideal for beginners. The fantastically smooth head is great lead up to the veiny shaft. Fun for solo play, or partner play, this one won't disappoint.
Published:
Pros:
satisfying, great length, and girth
Cons:
no vibration, jelly material, too big for beginners.
The Jelly Royales Dong by California Exotics is a larger than average realistic dildo great for advanced toy users or size queens for vaginal, anal or oral use. Designed with a suction cup base, this dildo offers the ability for solo hands free play, but it is just as easily usable, and even more enjoyable for partner play.
Material & texture:
Made of jelly this dildo rates as a 2 on the Eden Fantasy Safety Scale.The jelly material allows it to be firm but still a bit squishy. The large veiny shaft may be a bit over exaggerated, but feels incredible both in hand, and when inserted. The head of the penis is perfectly smooth, and the testicles have more of wrikle texture.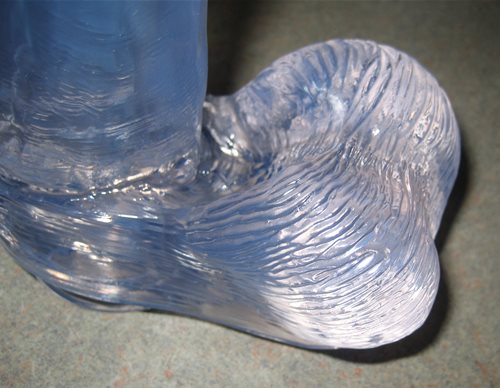 Upon receiving this dildo, there was a mild jelly/rubber smell, but it faded away after a few washings.
Design, shape and size:
This dildo is designed with the appearance of a real penis, although much larger than most women will probably ever experience. This super sized cock has a large, smooth, rounded head, 2" from tip to the lip of the shaft. The testicles hang about 2.25" from the shaft, are 2.75" wide, and act as a great handle either for you or your partner. With 1 pound, 4 ounces of weight behind it, this dildo can offer incredible feeling with the weight behind it.
The size of this toy may be a bit intimidating, and is certainly not for those new to sex toys, or masturbation exploration. With an overall length of 9", this will probably scare most off. It has an insertable length of 7.5", circumference of 5.75" and a diameter of 1.75"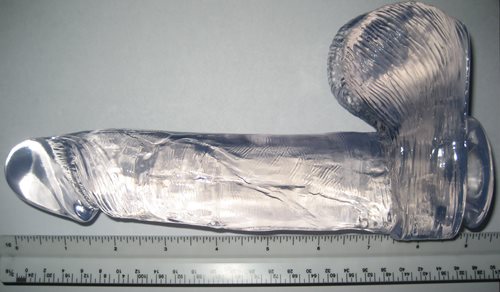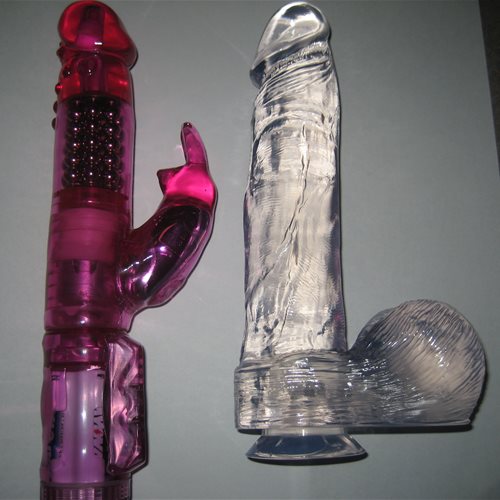 Comparison shot with my Cal Exotics Waterproof Jack Rabbit.
Care & Maintenance:
Since it is made of jelly, there is no way to fully sterilize it like silicone. The best method for cleaning it is with warm water and mild soap, or a toy cleaner. Since this toy can't be sanitized, condoms should be used when sharing with a partner, or switching between vaginal and anal sex. Personally, I have always used condoms with this dildo, because of how other jelly toys have broken down in the past. The condoms have helped prolong the life of this big boy for plenty of enjoyment.
Water and silicone lubes are the only ones suggested for Jelly toys. Because of the size, be sure to use plenty, don't be shy with it.
It's large size does make it a bit difficult to store. Since it is jelly it should be stored in a cool, dark place separate from other toys. If not separated, it may have negative material interactions with other toys, that could damage the dildo.
Packaging:
The dildo comes in a simple, clear clam shell case, minimal packaging, and fully recyclable.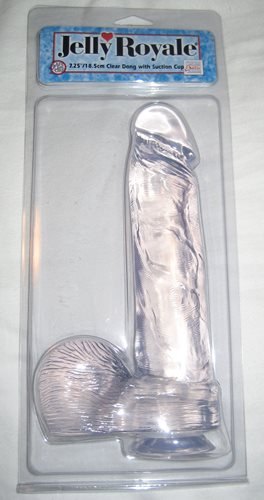 Personal:
I've actually had this toy for a couple of years, but wasn't sure of the name until hubby recently surprised me with one he ordered for my birthday. Since mine is still in great condition from generally using it with condoms, we decided to return the duplicate, but it allowed me to find out the name again so I can scream about how much I love the Jelly Royales Dong from the rooftop. We don't use it as much as some of my vibrators or rabbits in my collection, but hubby loves using it on me once in a while, or seeing me use it on myself. I'd highly suggest this for any experienced girls collection, but certainly not suggested for beginners (buyer beware).
This content is the opinion of the submitting contributor and is not endorsed by EdenFantasys.com

Thank you for viewing
Jelly royales dong
– realistic dildo review page!