Curvy Delights
Overall I was delighted with this toy. It is made from a high grade material and very well designed. If you have ever had a Tantus toy in the past you will know what to expect. We were delighted with this toy.
Published:
Pros:
Great material, Variety of colours available, Great value
Cons:
Poor packaging
-Packaging/Impressions-
I was delighted when I found out I would be getting the Tantus Curve to review. My partner and I are always looking to expand our ever growing (both in quantity and size) collection of Tantus toys. If you have ever ordered a Tantus toy before then you know exactly what to expect with regards to packaging.
The toy arrives is a see through plastic container with the toy held in place by a plastic insert. The outside of the box has the usual Tantus red. There are some facts and information about silicone on the back.
Overall I knew what to expect but I still found it to be lacking, the plastic is so thin that it can tear easily and leave some very sharp edges. I know the packaging isn't the primary reason you get a toy but it would be nice to see something a little different. On the plus side it keeps the toy clean en route and is free from anything pornographic or seedy. It isn't very durable so wouldn't be suitable for long term toy storage.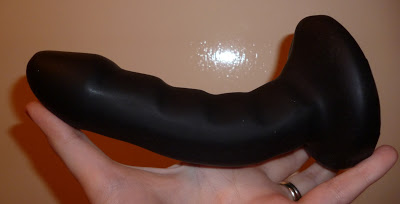 -Material/Specifications-
As with most Tantus toys the Curve is made from 100% medical grade silicone. This is a superb material for dildos as it is non-porous (doesn't take in bacteria). Latex and Phthalate free and can be boiled to sterilise. It is completely odourless and tasteless as well. My initial impression of the toy was that it was more solid than I had expected given the relatively small size of the toy. It is available in three colours purple, midnight purple and black. We chose black and I have to say I was delighted with it once out of the packaging.
The design is a bit of a departure from our normal taste in Tantus having ridges rather than being smooth all over. It has a matte look but not quite the matte finish/feel that some toys like the Anaconda have. It is by no means smooth or shiny either but somewhere in between. It has a slightly bulbous head but not very severe or pronounced and then there are three ridges along the length of the shaft that are designed to stimulate the g-spot. The ridges merge with the base to create a raised v shaped ridge that in theory would stimulate the clitoris during use.
As the name suggests the toy has a rather pronounced curve to it. Rather than the curve starting at the base it is rigid and straight for about an inch and half and then branches off into a severe curve.
The dimensions are as follows.
Overall Length = 6 Inches
Insertable Length = 5 ½ Inches
Circumference = 4 – 4 ½ Inches
Diameter = 1.2 – 1.4 Inches
-Use-
As described by my partner it is very pleasurable to use. It does have some drag when compared to some of Tantus's more shiny toys so lube is a must. With silicone toys make sure you choose either water or oil based lubricant as silicone on silicone can damage the toy and degrade the finish.
Once you are suitably warmed up the toy is very comfortable to use. The bulbous head makes for a nice "pop" sensation and the ridges along the shaft provide additional stimulation while thrusting. The base is nice and thick so it is easy to hold on to during use.
The curved design of the toy works well to hit the g-spot. And while it does have enough give to be comfortable during use it has a fairly solid head and is more than firm enough to get the job done.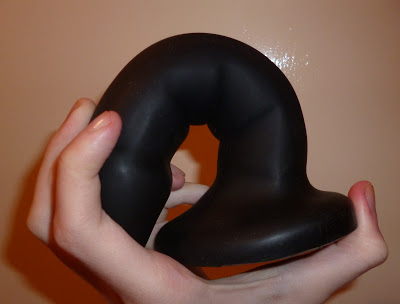 -Care/Storage-
Once you have finished playing with the toy cleaning is a breeze. The simplest way of cleaning is with some warm water and a mild antibacterial soap or toy cleaner. If you want to clean it more thoroughly you can boil it in a saucepan for three minutes to sterilise it. If privacy isn't an issue you can even throw it into the top rack of a household dishwasher.
Once it is clean make sure it is completely dry before storing it. As the material (like most silicone) is a serious dust/lint magnet you will want to find a way to safely store the toy. As I mentioned above the packaging is a bit delicate as well as taking up at twice the amount of space. The best storage solution we have found is a zip-seal type sandwich bag. These are great because as well as keeping the toy clean they also keep any of your other toys from reacting with it.
Experience
-Summary-

To be honest it is not a huge surprise to say we were delighted with this toy. Having had numerous Tantus toys in the past I have come to expect a high standard from them and this toy did not disappoint. While the packaging is very basic it is still better than some tougher cardboard packaging that is covered with overly made up women trying (and failing) to look sexy. The material of the toy is top grade and very safe. As to the design we were equally happy. As I said above it has a pronounced curve starting from about an inch up the shaft. It is great for g-spot stimulation but might be a bit pronounced for p-spot play.
This product was provided free of charge to the reviewer. This review is in compliance with the FTC guidelines.

Thank you for viewing
Curve dong
– dildo review page!