G-spot Pleaser
The Sweet Lola by SSA Glass is definitely a girl's best friend when she goes hunting for the ever elusive g-spot. With its angled head, its rigid material and smaller shaft the Lola really gets to your sweet spot and stimulates like no other. Just lube it up, relax, insert and rock your way to complete bliss!
Published:
Pros:
G-spotting, Material, Beautiful color, Angled head, Handle end.
Cons:
None for me.
Use:
The Sweet Lola by SSA Glass is designed to be used as a g-spot stimulating toy but it could also possibly be used to stimulate a man's p-spot so men and women alike can use this toy. This glass toy does have a large circular handle so using it anally would be safe. Always cover your toys with a condom if sharing with a partner who isn't fluid bonded with you or sterilize it in between uses.
Beginners could use this toy to aid in finding that sweet spot or it could just be used as a nice glass dildo with some careful thrusting. It's a great small sized glass piece so it would be easy to use, but size queens will not be satisfied with this toy.
Since this toy is completely waterproof taking it in the bathtub or shower is possible as is temperature play. Just soak it in warm or cold water before you use it to achieve your desired temperature.
Your partner using the Lola on you for some teasing foreplay could be fun and some solo sessions with it could be enjoyable as well but using the Lola during sex may be a little difficult unless you're an advanced toy user.
Material:
The Lola is made of Borosilicate glass, otherwise known as Pyrex, and it has a 10 out of 10 rating on the Eden materials safety scale. This means that it is non-porous, hypo-allergenic, latex- and phthalates-free and food-grade material. There are no odors to glass at all and this particular piece is a shiny transparent blue in color and very smooth to the touch.
Glass only grabs on skin a tiny bit but it's enough to be annoying so lubricate it with your favorite lube and enjoy. Be careful thrusting or being rough with glass toys, you wouldn't want to bruise a cervix or cause other internal injuries.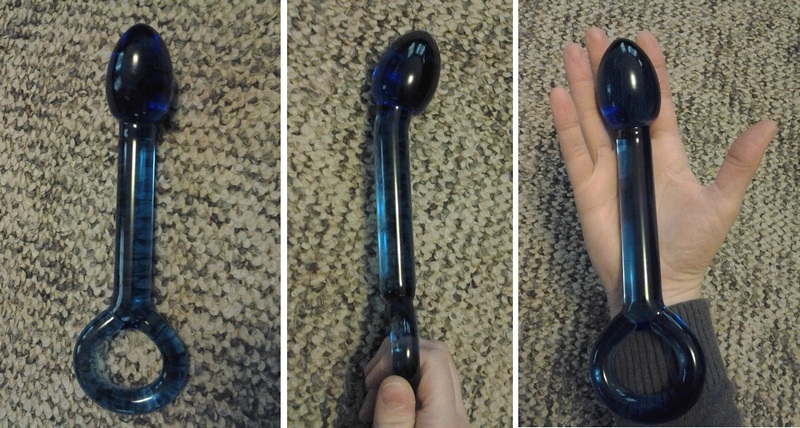 Design:
The Sweet Lola is very reminiscent of a tulip shaped dildo that is very commonly used for g-spot toys. The somewhat conical shaped head is about 1 1/2" in diameter and is set at an angle on the thinner 3/4" in diameter shaft. On the end of the shaft is a circular handle that measures about 2 1/4" in diameter and I can fit my pointer finger and middle finger comfortably inside it. The total length of the Lola is 8" with an insertable length of 5 1/2" and it weighs about one pound.
There are no gaps or seams in the glass toy but it is obvious where the separate pieces were connected together. It cannot be felt during use at those points of connection and there were no cracks, chips or scratches on the toy upon arrival.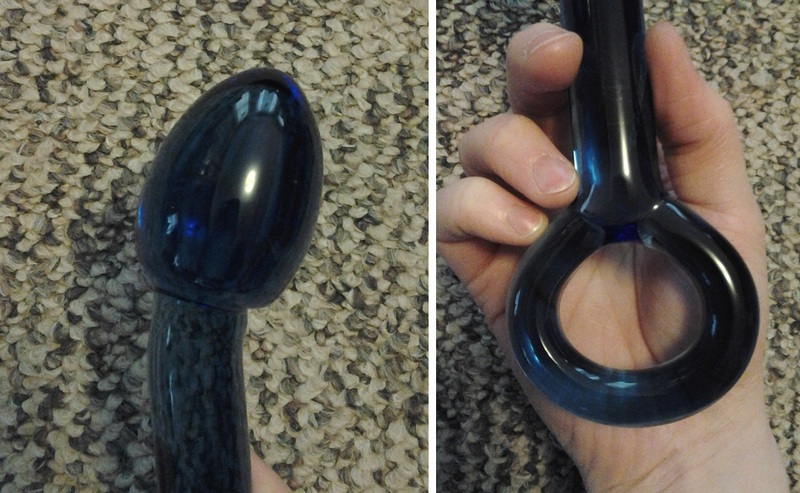 Performance:
Using the Lola is very easy due to the helpful handle on the end. It makes it easy to hang onto even when your hands are lubed up and slippery. The best thing about the Lola is the ability to find your g-spot quite easily with it. Being rigid and bent at the neck makes this dildo perfect for hitting the right spot over and over again.
I haven't found any downsides to this toy yet but I can imagine that maybe it'd be a bit too large in the head for some folks.
Care & Maintenance:
Cleaning the Sweet Lola is easy, just wash it with warm water and antibacterial soap or toy cleaner. You can also wipe it down with toy wipes, isopropyl alcohol or a 10% bleach solution. Be sure to rinse it off thoroughly to avoid getting harsh chemicals in sensitive body areas. Lola can also be sterilized by boiling for a few minutes or tossing it in the dishwasher without detergent.
To store the Lola just keep it in its red velvet storage pouch and place it with your other toys wherever they may be kept. If you feel that the pouch isn't good enough to protect your glass toy you can always purchase a padded one or make a padded pouch to put it in.
Packaging:
The Sweet Lola came wrapped up in bubble wrap and placed inside a red velvet drawstring bag. It's very minimal and not great for long term storage, especially if you get rid of the bubble wrap. Purchasing or making a padded pouch for this toy might be necessary if you're worried about it breaking in storage.
There were no instructions or warranties included in the packaging and it's discreet enough to give to someone without wrapping it beforehand but to be honest I'd use something else as the packaging and then wrap that so it looks nicer.

Experience
The Lola is a great glass g-spot toy and I love that it's very rigid and angled. This helps to hit my g-spot almost every time unless it's being elusive that day. All I really do is get comfortable, try to relax as much as possible, lube it up and insert. Once inserted I just use a rocking motion to get the stimulation going instead of thrusting with it. Most times this works and I can have a full on g-spot orgasm.

For those who are going to use this anally, remember to use lots of lubricant, relax your muscles as much as possible, concentrate on your breathing and bear down on the toy as you push it in. These are things that I've found help me out when using anal toys. Good luck and enjoy!
This content is the opinion of the submitting contributor and is not endorsed by EdenFantasys.com

Thank you for viewing
Sweet Lola
– glass g-spot dildo review page!