Sweet And Simple
Sweet Lola is a simple and sweet little toy to help stimulate some of the most sensitive areas of the body. With its wide variety of uses, this toy us sure to satisfy just about anyone. It might be a little too small and simple for some, and won't work with everyone's anatomy, but it should satisfy more people than not!
Published:
Pros:
- Great Design
- Safe Material
- Easy To Care For
- Temperature Play
Cons:
- Might Be Too Slim For Some
- Might Be Too Simple
- Might Not Work With Everyone's Anatomy
Use
Sweet Lola by SSA Glass is a simple looking glass dildo that's designed to reach some of the most sensitive areas of the body.
Unlike some glass dildos, this one was made to stimulate the G-spot with ease thanks to the curved head at the tip of the toy. The modest sized shaft keeps the focus on the top of the dildo, and the handle at the base makes it simple to gently thrust or move in a back and forth motion.
Lola can also be inserted anally thanks to the large handle at the bottom of the toy. This handle prevents the toy from slipping inside of you and causing an embarrassing trip to the ER. Though it may not be thick enough for a woman to use this toy to help simulate double penetration, the curved tip can provide great stimulation to a man's P-spot. Though it can be used anally, this toy cannot be used like a plug. The shape of the handle prevents it from comfortably resting between your butt cheeks. Whether or not this dildo stimulates the right areas of the body will depend on your anatomy.
Though this toy is great for solo use, it can also be easily used with a partner. The design of the toy keeps it out of the way during oral sex, and also leaves plenty of room should you want to use this toy anally during vaginal penetration, or vaginally during anal penetration. Always use caution to not thrust too vigorously since this toy is so rigid and could cause discomfort.
Whether you're on your own or are with a partner, this glass toy is great for temperature play! Run warm or cold water into the sink or a bowl and gently place the dildo under the water. Leave it there for 5-10 minutes and experience a whole new sensation! The dildo retains the temperature quite well, but if you're interested in extending your temperature session, put the bowl next to the bed and fill it with ice water, or use a thermos to keep your warm water and pour it into the bowl when you're ready. Never put your toy into the freezer or microwave to change the temperature and always check the temp of your toy before inserted it inside of you.
Design / Shape / Size
Sweet Lola comes in two different colors; blue, and the one I'm reviewing; purple. The blue is a rich, deep color, but the purple is very subtle. The color doesn't completely cloud the glass, it's still transparent enough that you can see through it.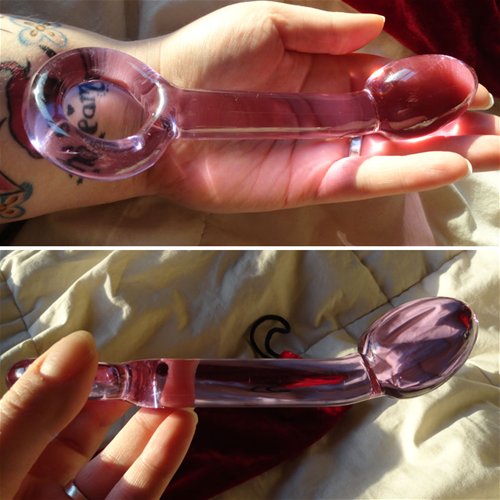 There are three main parts to this toy; the head, the shaft, and the handle. The largest area that is insertable is the head of the toy. This area is slightly bulbous and may create a slight popping sensation when gently thrusting. Even though this area is larger than the shaft, the oval shape and modest size make it a fine choice for beginners to use since it's so easy to insert. The shaft of the toy is very easy to handle, but might feel lacking if you're someone that prefers to have girthy toys. The handle at the base of the toy not only makes it safe for anal play, but also makes it easy to use and control.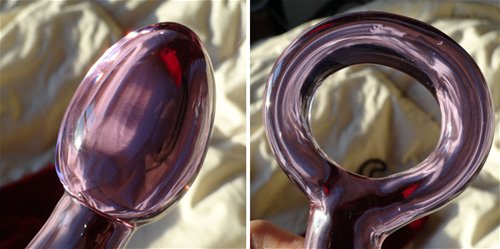 The size is very reasonable if you're looking for a glass dildo to travel with, but do use extra caution. Since this is a glass toy, you want to make sure it's appropriately protected to prevent it from being banged around and accidentally damaged. This toy would easily fit into a purse, backpack, or suitcase, and would be suitable for air travel. The design of this toy makes it a little more difficult to pass off as a piece of art, but not everyone would immediately guess that it's a sex toy if they just caught a glimpse of it.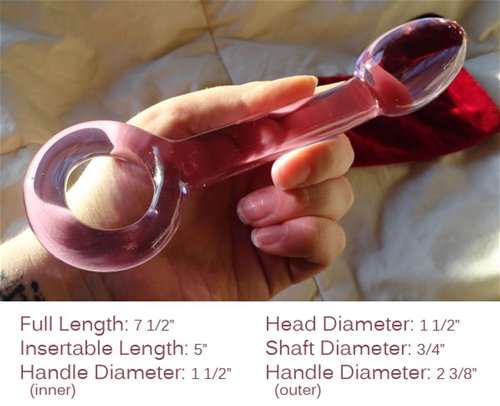 Material / Texture
Sweet Lola is made from
Borosilicate Glass
which rates a 10/10 on the Eden Material Safety Scale for being made from food-grade material, being hypo-allergenic, latex free, non-porous, and phthalates free. This type of glass is very strong and is much more resistant to breaking than regular glass. Should something happen to this toy, it would be far more likely that it would break into chunks rather than shatter into small pieces.
Experience
(continued...)
The surface of the toy is very smooth and has no texture at all. This is great for someone who doesn't care for textures and prefers a slim, completely smooth toy for their play time. However, someone who appreciates some texture might find that this toy is a little on the boring side and doesn't provide the stimulation they need. This will all depend on your toy preferences; but Lola is a very sweetly simple toy.
Being that this toy is glass, there was no scent when it first arrived to me and hasn't picked up a scent since.
Care and Maintenance
This glass toy is very easy to care for. For regular clean up, using an antibacterial soap and warm water, or your favorite sex toy cleaner works fine. Should you decide to share this toy with a partner or between orifices, you can sterilize by cleaning with a 10% bleach solution, isopropyl alcohol, or put it on the top rack of your dishwasher. While you could also boil the toy, extreme temperature changes makes it more likely for your toy to snap or break.
Glass is compatible with silicone-, water-, and oil-based lubricants. Just use caution, since the material is so smooth and non-porous, a little goes a long way and can get very slippery.
While there are no material compatibility concerns surrounding glass, you do need to be careful with how the toy is stored. This toy comes with a thin, red pouch that has no padding to it. While it works well to prevent small debris from scratching the surface, you do have to be careful about it clanking against hard toys and surfaces. Investing in a
padded pouch
isn't a bad idea.
Packaging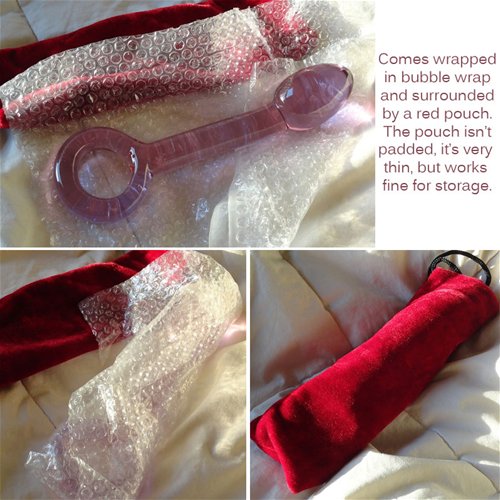 There's no box included with this toy and no care instructions.
Follow-up commentary
3 months after original review
Lola is truly a beautiful piece and seems like one that will work for a wide range of people. After playing with this toy a little more I've found that though it doesn't quite take me over the edge, it still is pretty stimulating. You won't find it sitting on the top of my toy box, but I could see how someone else would consider this one of their favorite toys. It's worth at least trying out, you never know how well it will work for you.
This content is the opinion of the submitting contributor and is not endorsed by EdenFantasys.com

Thank you for viewing
Sweet Lola
– glass g-spot dildo review page!