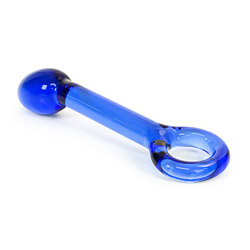 Sweet Lola
Glass G-spot dildo by EdenFantasys
Sweet Dangit! This is G-spot Heaven!
A thin shaft & bulbous tip make this a fantastic beginner's glass dildo, and the angled, bulbous head makes it an excellent toy for advanced users who want intense g-spot stimulation. This is a beautiful dildo for someone looking to find their g-spot. Besides that, it's also the perfect size/shape for muscle massage. "Sweet Lola" is a total understatement. A dildo that gives you orgasms that put your eyes in the back of your head and gives your body the shivers is a best friend for life.
Published:
Pros:
Handle, minimal size/weight, smooth, easy to use, suitable for most.
Cons:
Nothing!
Sweet Lola is a smooth, lightweight, hand-made, borosilicate glass dildo by SSA Glass that's designed mostly for g-spot stimulation. The bulged tip is the main show, while the shaft is thin and provides length but little girth. The 4 1/2" (at widest) bulged tip is slightly angled, and the end of the dildo features a pacifier-style handle with a large hole in the middle for holding onto while thrusting. This large end not only means Lola can be thrust to your heart's desire without slippage, but it also makes the dildo anal-safe. Both the function and gorgeous, transparent, almost-royal-blue color will appeal to most male or female users. The non-realistic shape gives it a more friendly appearance.

This 1 pound dildo isn't as heavy as other glass toys I've used, but the borosilicate glass is heavy-duty and won't easily be broken. Those of you who enjoy warm or cool temperatures will appreciate that a glass dildo like Lola will hold temperatures well -- by running it under cool or warm water -- and for long periods of time. It'll also warm to body temperature. Feeling the cold tip nearing my g-spot was a thrill.

Besides using this for its intended purpose -- for g-spot or anal stimulation -- it also serves well for a lengthy, deep muscle massage. Sweet Lola is made of non-porous, hypo-allergenic, latex and phthalates-free borosilicate glass, which rates a 10/10 on Eden's safety scale. 100% dishwasher safe, boilable and bleachable glass makes it an easy one to clean. The entirely slick surface gives you an easy glide with little to no need for lubrication, but if you did use lubrication, any type (water-based, silicone-based and even oil-based) is safe to use. A red velvet drawstring pouch is included.

It's a wonderful toy for a beginner as well, since the size and weight are minimal. I would have to recommend this to anybody who's looking for intense g-spot stimulation. You can use Sweet Lola to slowly and gently caress the g-spot, or use it to thrust and stimulate with more intensity. It does both incredibly well.

The best thing about Sweet Lola, besides its orgasm-winning design, is that guiding it to the right angle isn't necessary for me. All I need to do is insert and thrust. Neither I nor my partner has to pay careful attention to focus the tip on my g-spot; it seems to go straight to it.

While some may need to thrust with caution, due to the 5 1/2" insertable length being capable of bruising your cervix, I find that I or my partner can thrust roughly with this and, instead of causing pain to my cervix, it actually stimulates it enough to even provide a cervical orgasm.

Packaging
Lola came in the red velvety drawstring pouch, with nothing more than packing paper and thin bubble wrap taped around it.

*Note: The drawstring pouch will stay closed if you wrap the black tie around the toy after it's inside the pouch.
Experience
Sweet dangit! This dildo had me in g-spot heaven. For such a simple design -- slightly angled, bulbous tip, and smooth shaft -- I was surprised. My partner and I set aside the entire evening and night strictly for sex, and Lola happened to arrive on the perfect day. He used Lola on me, thrusting the toy in and out deeply, and it actually had me shaking over and over each time I orgasmed! I've had great g-spot orgasms from other glass dildos and toys, but none have done what Lola did to me. My Pure Wand hasn't ever even made me orgasm as much and as intensely as what this one did. Quite honestly, no toy has gave me g-spot orgasms to the point of thoroughly wetting the bed (just my partner's fingers have achieved that intense of orgasms) and this did it! I know most people rave about the Pure Wand, which is an amazing toy, but if you're someone who likes intense play and/or is looking to find your own g-spot, I honestly can't help but recommend this. It's one incredible experience. From the instant we had it inside, I was in heaven. We were able to continue using this, thrusting vigorously throughout several hours on and off, without me experiencing discomfort.

Lola became a big favorite instantly, as the thin shaft and perfectly angled tip causes it to firmly press against my g-spot without causing discomfort. Thrusting with the tip upside down allows the broader underside of the tip to hit my cervix, which creates an incredible mix of sensations!
This product was provided free of charge to the reviewer. This review is in compliance with the FTC guidelines.

Thank you for viewing
Sweet Lola
– glass g-spot dildo review page!