Oh my Lola lo-lo-lo-lo Lola
Would recommend this toy to anyone on the hunt for their g-spot. The pronounced, rounded, wide head will serve greatly for finding the g-spot. Amazing toy if you are a fan of glass and g-spot stimulating.
Published:
Pros:
Easy to hold on to, good price, great for finding g-spot
Cons:
Larger head may be intimidating, no texture
Lola is a tempered glass/pyrex dildo simply smooth in texture. Its large wide tip is made for some serious g-spot pleasure. At first I was slightly intimidated by the how large the tip of this toy is, it is largest of any of my glass toys. I thought for sure it would be uncomfortable and hard to insert but I was so, so wrong. With enough foreplay and lube the big tip of this toy gets in and right to work hitting the spot.
The rounded shape and overall size of the tip of this dildo should make it very easy to hit even the shyest of g-spots. I would recommend this dildo to someone looking for a beginner glass dildo for g-spot locating. As long as you are relaxed and go slow Lola will probably do all the work in finding the spot for you. Ever since I started using glass toys it seems like I have found my g-spot and can locate it a heck of a lot easier. I own 4 different glass toys (including) Lola now and I have found that no matter the shape or texture they are perfect g-spot toys for me.
The bigger head and very skinny shaft of the toy makes the head really seem to "pop" in and out. I find that the large head kind of makes thrusting with this toy not so easy/pleasurable. When I tried thrusting, even a slow thrust it was awkward to keep getting the head of the toy back on my g-spot where it feels good. Instead I discovered that once the toy is in the perfect spot, I kind of relax, keep still, go slow, and use a slight up and down motion to stimulate my g-spot instead of the usual "in and out" I would usually. Definitely a new and different technique than I have used with any other dildo, it's amazing.
I love the handle on this toy, it's was initially drew me to it. It makes it easier to grab a hold of when your hands are slippery. I have a big problem with my hands slipping all over with glass dildo and love the handle idea. Although once I discovered my above mentioned technique of not really thrusting it is a lot easier for me to hold on to Lola either by the handle or the very end of the skinny shaft. I do not insert the entire length of the toy due my G-spot being closer up so I find it easy to hold the toy anywhere.
This is the first glass toy I have gotten that has no texture at all. While I do love the toy as is, I am a huge fan of texture and would love to have a toy similar to this but with a few bumps on the shaft for added sensation maybe. Plus side is it is much much easier to clean then my textured glass toys. Wipes down clean with a few swipes instead of having to clean off a bunch of little bumps and ridges.
The color the toy is quite unique as it changes depending on the lighting. In the picture on Eden of the purple it looks light pink/slightly purple toned. When I first got it and looked at in the bright light it looked very pink and not purple at all. From certain angles/different lighting it looks anywhere from completely clear, lilac, bright pink. It's pretty neat how the light reflects on the glass and changes the colors.
The little bag it comes in: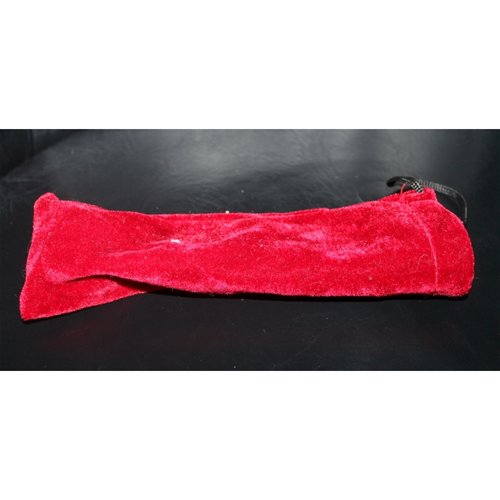 How it looks purple tinted against black in lower lighting: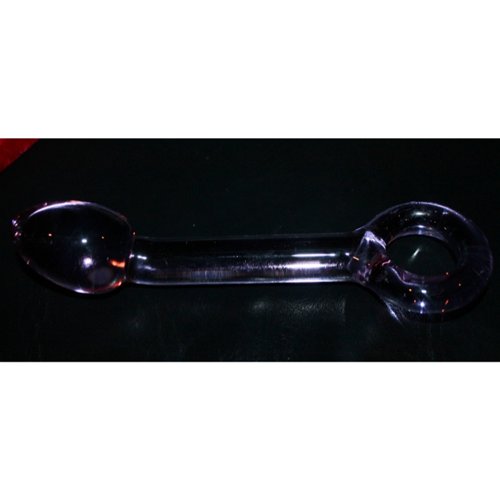 How it looks pink against my hand in brighter lighting (plus my hand for size comparison):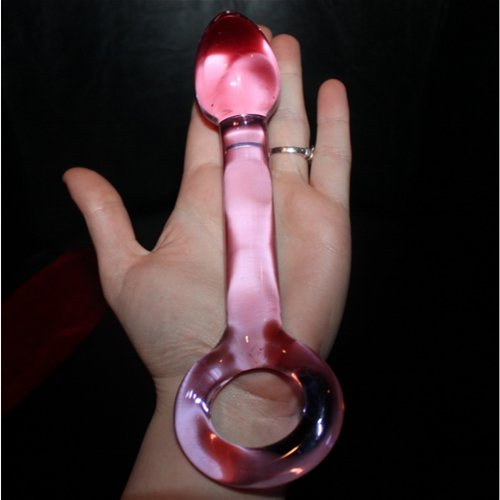 This product was provided free of charge to the reviewer. This review is in compliance with the FTC guidelines.

Thank you for viewing
Sweet Lola
– sex toy review page!