G-whiz, what does this remind me of?
The Nubby G is a versatile surprise for minimal investment that comes out ahead of the pricier competition. SSA Glass has disappointed me in the past, but I'm very happy I kept an open mind and gave this one a try.
Published:
Pros:
+ Very pretty
+ Double-ended
+ Can be sterilized
Cons:
- Pouch is inferior (and rumor has it, not always included)
SSA Glass and I do not have a pleasant history given their sudden surprise changes to their designs, but during one of EF's fabulous glass sales I decided to give them a chance to redeem themselves.
The Nubby G arrived in bubble wrap and the usual thin red pouch from SSA Glass (not the padded Eden Fantasys pouch pictured in the product page photos):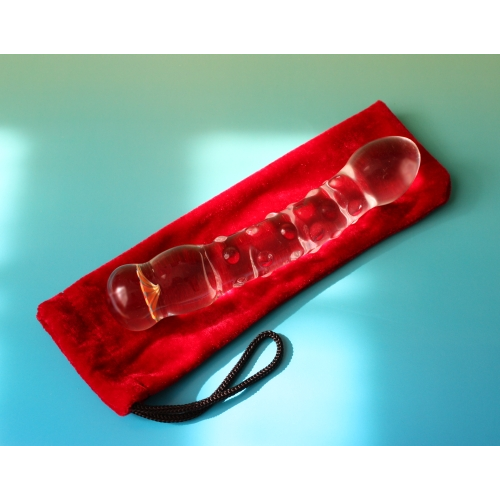 I wouldn't trust the pouch to keep a glass toy whole if it was dropped from a significant height, but it serves for keeping away dust or dirt.
My
clear
Nubby is definitely made of glass which means it is hypoallergenic and can be used with any silicone-, oil- or water-based lubricant. Eden says it's made of Pyrex glass — and I believe them since I've sterilized it via boil several times without a problem — but there is nothing on the toy or elsewhere bearing the Pyrex trademark.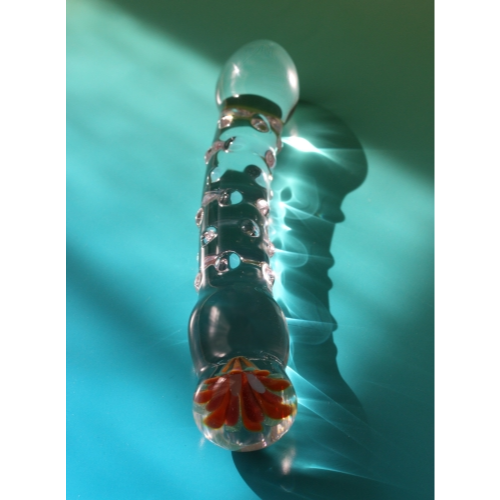 Brand name or not, the Nubby G has an all over smooth feel, and I have no complaints about the craftmanship. The head is softly rounded and nicely proportioned, the nubby shaft is uniformly patterned and smooth, and the double-bubble end is comfortable and has the beautiful touch of a 3-D flower inside the glass.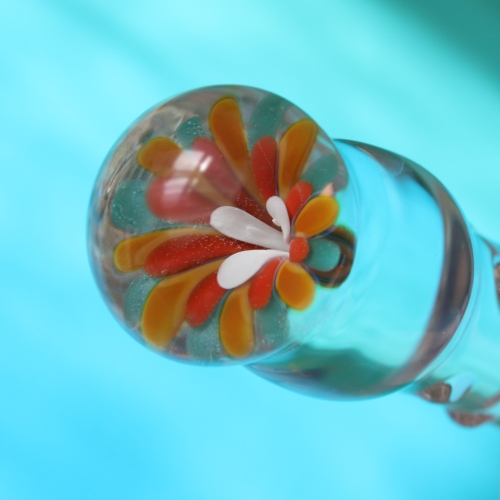 I didn't have many nice things to say about SSA Glass after their
Ocean Breeze redesign
, but the design of the Nubby G gets only compliments,
even if it is reminiscent of another toy…
Clearly SSA was keeping an eye on Phallix Glass when they developed this one. There is no doubt the
Clear Ribbed G-spot Wonder – Glass G-spot Shaft
was an
inspiration
, to put it politely.
Measurements will vary with glass toys, and my Nubby G's numbers are slightly different from those on the product page. Mine weighs
8.5 ounces (240g)
, and measures about
7 inches long (18 cm)
. The tapered head has a diameter of approximately 1.35 inches (3.4 cm), while the shaft — including the nubs — has a diameter of 1.1 inches (2.8 cm). The two bulbs on the end are roughly the same diameter, 1.3 inches (3.3 cm) each. Its length is somewhere between the
Silicone Bliss
and the
Pink Performer's Lust
, though it is less girthy than either of those silicone toys.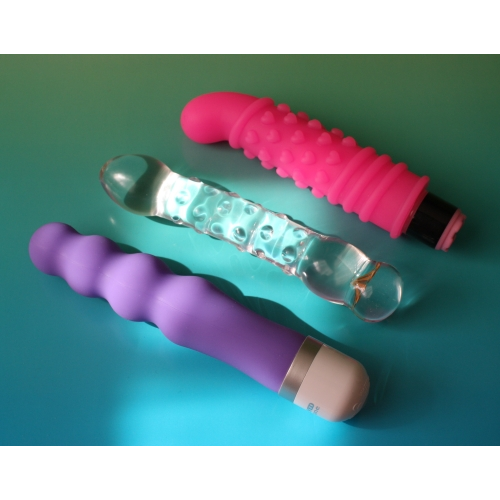 The Nubby G can be used however you like: the smooth and textured glass is great for teasing, and penetration is possible with either end. It's perfect for vaginal use though I wouldn't qualify it as a G-spotting toy. It's also acceptable for anal use, though you better maintain a firm grip on it. Personally, I don't believe it's likely that a solid, 7" glass toy would get "sucked in" but sometimes the human body can surprise you —
better safe than sorry
.
Whatever way you use the Nubby G, a bath of soap and water, or a rubdown with rubbing alcohol is recommended for a quick clean. To return it to a
sterile
state — which you should do if you share between openings or with a partner — you can boil it, or run it through the dishwasher (remember, no detergent!) or use
a 1:10 solution of bleach and water
(I recommend a second rinse after it dries to make sure all chemicals are removed).
Experience
The Nubby G is low-cost competition for
Phallix
, so the question is: is it worth doling out the extra cash for the Phallix version? It might have been once upon a time, but according to
Brandonn
the Phallix G-Spot Shaft is
not the toy it used to be
, whereas, for its price point, the Nubby G is impressive.
It's pretty, it's durable (I've dropped it a few of times on the carpet and it's still in one piece), and it has stood up to temperature play. Of course it's hard and unyielding, like every other glass toy, but of all the glass I've tried, I like the versatility of this one the best. Textured glass is also so much easier to clean than textured silicone — no scrubbing necessary!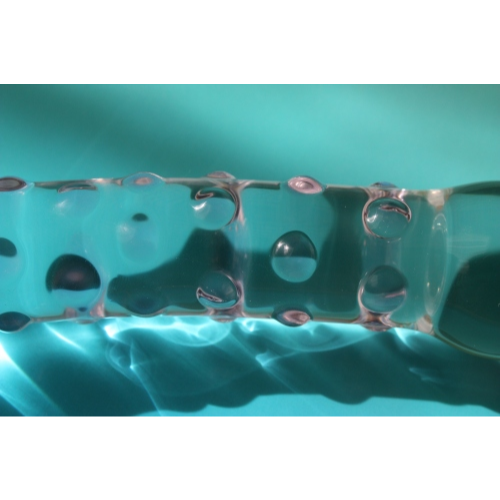 If you want to try glass for a reasonable price, I don't think you can do much better. Just don't get too excited about the pouch, it is really cheap and from what I've read, it's not always included.
This content is the opinion of the submitting contributor and is not endorsed by EdenFantasys.com

Thank you for viewing
Nubby G wand
– sex toy review page!