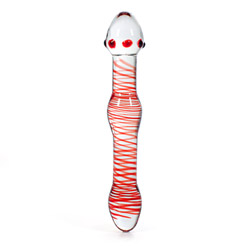 Red cyclone wand
Glass double ended wand by EdenFantasys
Get it Straight
Keep it Simple Stupid. With all the bells and whistles available it is easy to over look the simpler things. Basic and effective is a good niche to fill. So if you don't already have a straight wand in your kit than fill your niche with this.
Published:
Pros:
Two heads to choose from. Basic. Thickened waist. Pyrex. Discrete. Classy. Cost.
Cons:
Basic. On the slim side.
This glass wand pairs enjoyment with a very unassuming appearance. This makes it a good fit for anyone seeking a classy looking toy and may be quite appealing to the more vanilla crowd. It is not fool-proof discreet, but could be pass as glass art, a paper weight, etc.
Average in size- it would suit the beginner to intermediate crowd the best. It is not small, but not nearly robust enough to be perfect for my liking. It is clear pyrex glass with red accents. It has a double headed design with two different shaped heads on each ends, which is a welcomed variety in this relatively simple tool. The smaller head is a smooth slimmer spade shaped phallus. The larger is a plumper head with little red bead-like bumps which can provide interesting sensations upon entry and inside by providing a subtle friction on an otherwise slick surfaced ball. The shaft itself has increased bump of thickness midway down around its waist. This adds some stimulation to the hole itself during the in-out motions.

It is a straight shaped toy which has its perks and challenges. Curved toys which can ergonomically be easier to hold during manual use- requiring less effort to use by reducing odd posturing when targeting g/p spot. This toy sacrifices that quality, but has other benefits. Unlike curved toys, the straight shape is consistent, making it easier to maintain constant pressure on hot spots during the heat of the moment. Whereas curved toys can sneakily slip off target. It can require more efforts during solo posturing, but with couples its improved control and precision easily makes it the right choice. Since external visual of penetration provide an accurate map of the behavior of the toy you can focus on geometry and reactions rather than wondering what direction the toy is aimed inside.

Being glass it has a cool feel to it, but can be adjusted for temperature play. Cleaning and washing is a breeze. I use soap and water normally, but will submerge it in boiling water before sharing with partners. A velvet like case is included, but does not provide any real protection for it. Overall this toy surprised me. It seemed so basic I had low expectations. But it demonstrates the value of keeping it simple. Its as basic and useful as a hammer. It has no frills, and doesn't need any to do a good job. I really enjoyed its precision to deliver rock solid pressure on my prostate. Its simplicity takes the guess work out of anatomy. For all the toys I have, I had nothing that was simply straight and solid. So if you we're like me, you and your toy box will welcome this addition. If you already have something that fits this bill than I'd say skip it.
This product was provided free of charge to the reviewer. This review is in compliance with the FTC guidelines.

Forum
| Discussion | Posts | Last Update |
| --- | --- | --- |
| nubs | 2 | |
| Oh | 7 | |
Thank you for viewing
Red cyclone wand
– glass double ended wand review page!