Least your eyes be bigger than your vagina....
The Hoss is indeed a VERY impressive toy. I cannot knock that one simple fact. If you are searching for a toy that will take a lot of time and patience and vaginal/anal training to take, this is the toy for you. It is not something I'd recommend though. Take a good look at a can of pepsi/coke, and if you think you can take that... then meet the Hoss!
Published:
Pros:
HUGE!!!!! He's an impressive toy!
Cons:
Ummm... he's huge?
Experience
Hoss is made from 100% silicone. The total length is 12¼ inches with and insertable length of 10½ (I wonder if anyone could possibly take all of him? Should they get a medal if they could?). His diameter is 2¾ inches and has a weight of 2.5lbs.
Pros: he's friggen HUGE! waterproof, and body safe.
Cons: he's a giants mutated monster cock. For the price, I think he should have come with a storage pouch or some nicer packaging other than just a plastic bag and cardboard tag. He's really, really, really, really, really big. Don't let your eyes fool you for a moment. He's MASSIVE! He is going to sit for the rest of his days in my Toy Box. Or become a lamp post. Or a door guardian. Or a door stop.
Use: I'd only ever want to attempt this vaginally. Though, I have heard stories of people taking this beast anally. I say… take it up your ass if you dare! I'd be uber impressed! Please share!
Cleaning: Antibacterial soap and hot water. It is dishwasher safe, and boilable if you'd like.
Lube: Water based, or do a silicone lube test if you'd like to use silicone lube.
Storage: he is a silicone toy, and silicone+silicone is not a good idea. Store him in a sock, in your toy chest, or in your closet. He is a magnet for hair, but not so much for lint.
Level of play: BEYOND ADVANCED! WAY, WAY, way, way BEYOND ADVANCED!
Would I recommend it? No. Honestly, this toy is a lamp post and is huge. If I ever heard of anyone saying they want to be stretched, I'd suggest it. But otherwise? I'd say buy it as a gag gift!!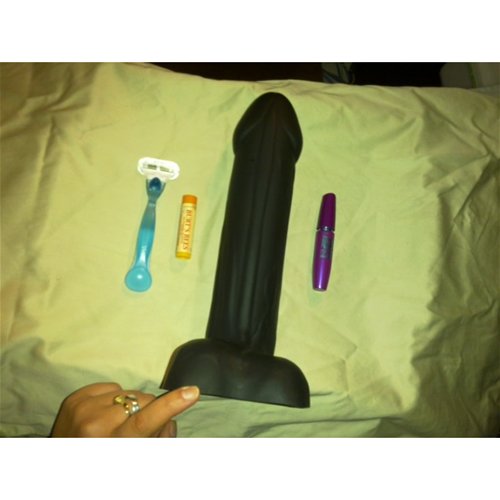 If you take a look at the picture, you'll see a Venus razor with an original head on it, a tube of Burt's Bee's Original Lip Chap, and a tube of Maybeline's Falsies.
My experience with The Hoss is that it broke my vagina. Well... not broke broke... but darn near close! It stretched it so far that I was aching (worse than when I played with fisting) for about two days afterwards.
I've tried to find other purposes for him, but the only thing I have found that makes him pay off his price is to straddle him so he is along the length of my slit while riding over him. In this way he is an okay toy and the length and his girth come in handy. But other than this? I cannot really find much use for him other than as a gag gift.
Since I have used The Hoss, I have bought
The Big Boss
and
Crystal Jelly Royal
, and if you find these two toys somewhat girthy and just enough for you... The Hoss is just a little bigger than the girth of a can of coke/pepsi/sprite.
I am giving him a five star rating because my eyes were bigger than my vagina. I cannot fault him for that. He is just like many of the other silicone dildo's with balls, only giant sized.
Follow-up commentary
2 months after original review
Well, after breaking my vagina (ok, ok, ok... stretching it beyond all recognition) trying The Hoss out a few more times trying to find a use for him... I have decided to wrap him in a towel and put him in the back of my closet till I move. And then? I shall chop him into little peices and dispose of him.

I have tried many different ways to use him, I've tried a few different ways to find a use for him but with no luck.

This is one of those toys where I would only suggest it if you are keen on lots of girth. And if you are not??? Cross your legs and look the other way!! Or in my case? I am going to run away... just like Monty Python teaches.
This content is the opinion of the submitting contributor and is not endorsed by EdenFantasys.com

Forum
| Discussion | Posts | Last Update |
| --- | --- | --- |
| um | 19 | |
Thank you for viewing
Hoss
– realistic dildo review page!