Mission impossible? Maybe, but it sure is fun trying!
As one of the two biggest dildo's that Eden has to offer, Hoss stands alone as far as quality and thus value. Tantus thought fit to use only the best silicone for Hoss, it has a matte finish that holds the onto the lube, has firmness while still being soft and somewhat supple, and will definitely provide the "stretch" and "full" sensations that only a toy of this size can...IF you can get it in.
Published:
Pros:
High quality silicone, Tapered tip, Holds lube well, Stands on its own.
Cons:
Hard to store, To big for my ass!
Hoss. The name to me brings back memories of the old show Bonanza and Hoss, played by actor Dan Blocker. He was a big man and despite his teddy bear demeanor, most feared him due to his size. This carries over into the Hoss dildo from Tantus; he's big but has a soft side that only Tantus can deliver with their awesome silicone.
Hoss is realistic in shape (Ya, like if King Kong had a human cock) complete with Meatus, Glans, veins, Raphe and balls; mighty big balls I might add. These rather large balls hold him standing proud with a 4" X 4 3/4" size base. If perchance you wish to use this in a harness, you will need 2 3/4" O-ring. Since the top side does not have anything to hold the ring, I am not sure how good this will work though.
So, how big is big? Try 12" long with a whopping 2 3/4" diameter (8 1/2" cir.). Imagine using a pop can with a tapered top, add another can and a half and that's about what this bad boy is like. He is quite hefty as well, at 2.5 pounds he has the mass to go with the girth. Thankfully the base will hold him upright, for me that is the only way I can use him; stand him up and lower myself down. Needless to say a few different sized toys will be needed for warm up in order to get Hoss in.
A couple of pictures to show the size.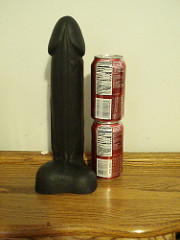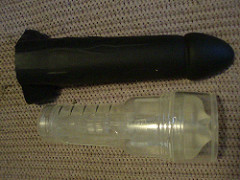 Silicone is THE best soft material that money can buy when it comes to cleaning. 100% non-porous and totally safe for internal use. It is one of the few toy materials that can be fully sanitized, hell you can toss this toy in an autoclave of you happen to have access to one. For the rest of us, boiling it, 10% bleach solution, anti-bacterial soap, mild soap/water or a dishwasher will all work just fine. I am not one to use a dishwasher as I don't have one, but those that do might consider this alternative, Hoss is big. Bigger than any pan I have that could be used for boiling. I just trust in my Climax Burst toy cleaner for routine cleaning and a bleach cleaning when needed.
Some silicone lubes may be suitable for use but most are not, I have yet to find one that works with Tantus's silicone. Your best bet is to just stick to water and oil based lubes. Oh ya, you may want to order an extra bottle with Hoss, you'll need it.
Hoss comes to you in a plastic bag with a cardboard top, while not the most elegant, it does serve its purpose. Both parts can be recycled or you may wish to keep the bag for storage. Silicone does attract hair and dust like a magnet so something to store it in is a must.
Experience
For me, Hoss is a work in progress. I can only get to the edge of the Glans where the girth is the biggest, no matter what I do. I am starting to thing my anatomy is just not made to take a toy this big, it feels like it hits my leg bones. Even turning the toy sideways (it is oval in shape at the head) does not help. I have tried various positions to no luck and even the
Mr Ease
anal spray I reviewed doesn't help any. I guess it is just not meant to be. But that's OK, I love trying and he still stimulates my anus. I also get a lot of pre-cum so it seems he also does something for the P-spot as well.
So, are you up to the challenger? Size Kings and Queens will not find a bigger dildo here on site nor will you find on with the same quality.
This product was provided free of charge to the reviewer. This review is in compliance with the FTC guidelines.

Forum
| Discussion | Posts | Last Update |
| --- | --- | --- |
| um | 19 | |
Thank you for viewing
Hoss
– sex toy review page!