Mondo Kahuna
From the folks at Fun Factory comes the New wave, a silicone double dong suitable for couple play or solo time. Two wonderfully shaped ends, a flexible center section, plenty of length and a sanitary material all come together to make a unique and stimulating toy.
Published:
Pros:
Two shapes, Flexible center and stiff ends, Length.
Cons:
May be to flexible for some positions.
In the world of double dongs you do not find much variety, you get the dongs that are just two headed straight dildos and the kind where the wearer try's to hold a bulged section while thrusting into a partner. While each has their uses the New Wave gives you something of both worlds. Come with me as we catch this New Wave and ride it for all its worth.
When you first see this toy you undoubtedly will notice this is no regular double dong, the shape alone screams UNIQUE, right? One of the first things you can't help but notice is the size; the box it comes packaged in is 15 1/2" long. Can you say "
Big Kahuna
"? Ya, this is not your average toy.
Like most folks interested in toys like this, I wanted something that the wife and I could use together. Being a texture lover I figured I could use the wavy end anally while she used the smooth end vaginally. I was also thinking that the flexible center section would allow for different positions, not just both of us lying on our backs. Here the New Wave did not disappoint, the flexibility lent itself well to Cowboy and Missionary style positions. About the only way it did not work was in a doggie style position where the wife was pegging me. The smooth end does not provide enough of a grip for her to hold onto the toy.
Let's take a look at both ends shall we? First up, the smooth end.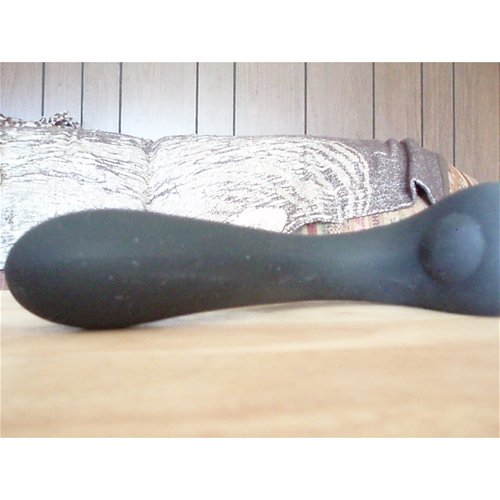 This end is similar to a lot of toys out there; the tip is a bit blunt so insertion may take some warm up before hand. But once in the overall size makes it filling assuring stimulation of the orifice of choice. The slight curve may lend itself to G-spot stimulation as well although this will require the toy to be used upside down. I say "Upside down" because towards the center there is a bump that is designed for clitoral stimulation, thus my thinking. Interesting to note that when used upside down it seems to work better in most positions. This end is 1 1/2" diameter (5" cir.) at the largest part and tapers down to 1 1/8" diameter (3 3/4" cir.) for the remainder of the 6" insertable length.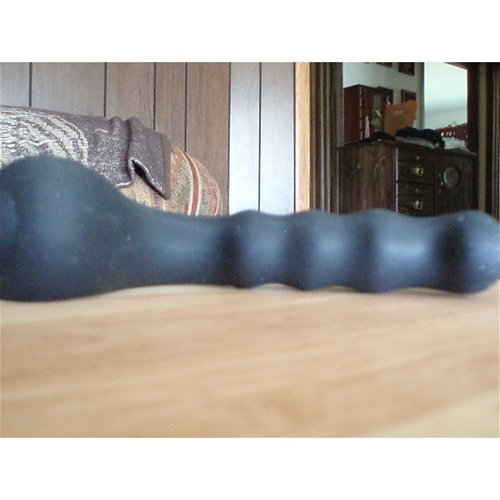 On the other side we find a wave like texture. This end has four 1 3/8" (4 1/4 cir.) "Waves" spaced 1" apart for a 5" insertable section. The tip is blunt like the other end but it is easier to insert due to the smaller size. This tip also has a nice curve that may also reach the G-spot, as a man this end provides great P-spot stimulation for me.
Connecting the two ends we find the center section. Here the shape changes from round to a flattened oval shape that is 2" wide by 3/4" thick. This provides flexibility and a stopping point for each end. We can't have one partner getting more than the other, eh?
Both ends are pretty firm but do have some give to them so there is no problem with insertion or feeling the stimulation. The whole toy has a matte finish which does have some drag, use of water or oil based lube is a must. Female bodied uses may want to just use water based.
Standard silicone cleaning practices apply to the New Wave. Toy cleaners, antibacterial soap and water, 10% bleach and boiling will be fine. Although, boiling may be hard unless you have a BIG pan.
Storing is also standard for silicone, use the provided packaging, a large toy pouch or gallon size zip top bag. Silicone is a lint magnet and every dust bunny and hair will find its way onto the toy. A quick rinse before use is assured.
As stated before, the packaging is rather large. You get the outer sleeve that slides off revealing a box. Inside the box is an extra flap, open this to reveal the toy.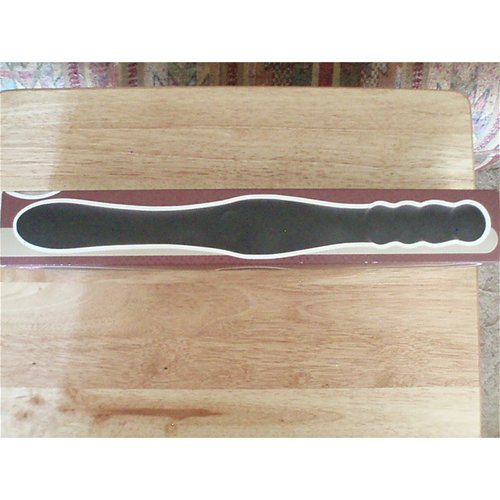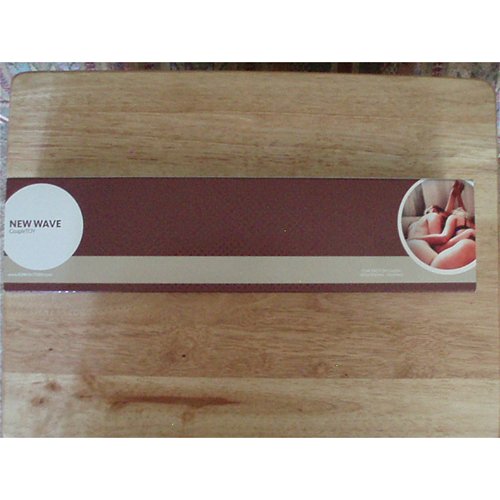 The sleeve is not really discreet but the box is suitable for storing out on a shelf. There is only the fun Factory logo and the words "You perfect moment" on one side.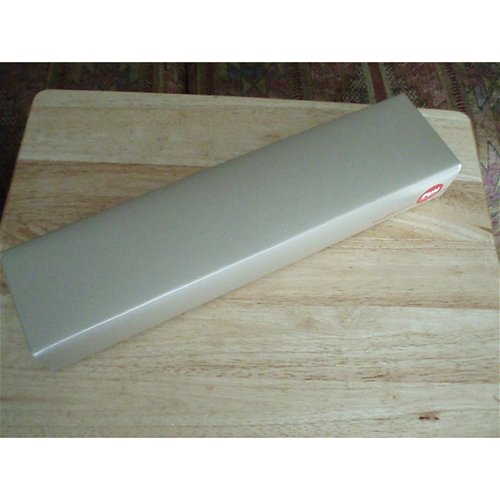 Inside you will also find a care pamphlet that includes other Fun Factory toys with pictures depicting care and use.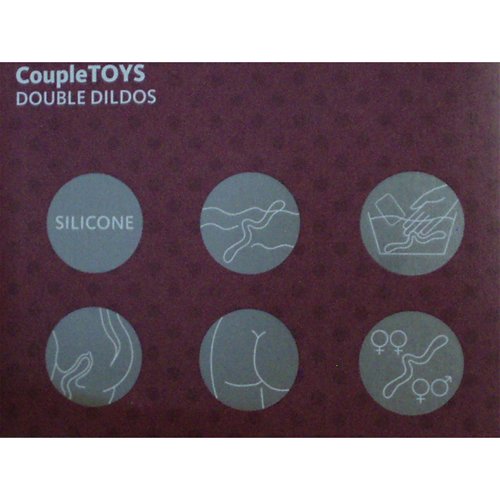 Experience
As a couple this was not the best, the smooth end is a little too big for the wife to use comfortably even though my penis is larger than that end. Probably because I am more of an oval shape versus more of a round shape. The wave end did not work at all as it aggravates her pubic bone too much. Sadly I don't think the New Wave will get much use during our play time.
All is not lost though, during solo time I find it a wonderful toy. The length is perfect for wedging between cushions for a doggie style like position. I also used it with the
Noches latinas big ass and vagina
and was able to do some dual penetration with it. The flexibility of the New Wave really helps in giving you new ways to use a double dong. I think having two different ends also makes it a wonderful toy for providing different stimulation without having to use different toys. I will say that the waved end is by far my favorite.
I can also see this toy being used solo for a female bodied person for DP as well. This is truly a multifaceted toy, just let your imagination run wild and catch a New Wave of pleasure.
This product was provided free of charge to the reviewer. This review is in compliance with the FTC guidelines.

Thank you for viewing
New wave
– double ended dildo review page!