My rainbow-colored amazing nubby!
The Rainbow Mega Nubby provides a perfect amount of texture combined with an easy to use shape and design. Not too large, since the texture adds quite a bit to the toy, and excellent color choice!
Published:
Pros:
~Plenty of texture
~Pretty, rainbow colored nubs
Cons:
May have too much texture for some
Don Wands
'
Rainbow Mega Nubby
is a beautiful glass dildo primarily crafted for internal, vaginal stimulation. It may also be used to tease externally around the anus, clitoris or nipples. It is not recommended for anal play, as it does not have any type of flared base or grip.
This colorful wand is made out of
pyrex glass
, a non-porous material which can be sterilized. Glass toys are meant to last a lifetime!
Glass is a smooth material which is easy to run across skin, but because of the nubs on this toy, it is a little more rough. Glass in general also needs to be used with care, as it is very hard and unforgiving, unlike some other materials. Care should be taken so as not to bruise the cervix during use.
The nubs do add quite a bit of texture to this toy and can definitely be felt during use. They add additional stimulation from all sides and feel very good.
The rainbow mega nubby is a long wand, 7 1/4" long and 3.5" in circumference. The nubs are spaced through the entire length and circumference of the toy, minus about .5" from one of the tips. We usually use this end as the "handle" end. The nubs make using this toy a whole other experience! This toy may not be great for beginners with texture, because it is a lot to take in at once!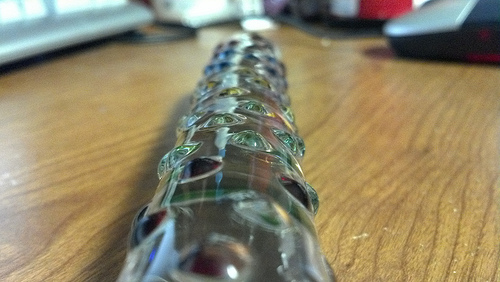 Size comparison to the
Icicles No. 08
: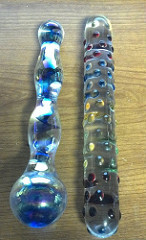 Personally, I love rainbow colors, and this toy really caught my eye with its rainbow nubs. It is a very different, pretty looking toy. It is simplistic enough in design yet still eye-catching! Because of this, you will want to store your toy out of public eye if you are living with children or snooping relatives/roommates. Those who stumble upon this toy will know what it is, and it does attract attention!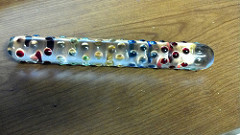 Glass toys are very easy to care for. To clean your rainbow nubby, simply use warm water and antibacterial soap, toy wipes, isopropyl alcohol or toy cleaner. If you choose to share this toy or just want it to be extra clean, you can sterilize it by placing it in a 10% bleach solution for a few minutes, or boiling for a few minutes. If you do not sterilize this toy, it is best to use a condom when sharing. Before each use, you should check your toy for chips and cracks. Bacteria can grow in crevices, plus cracks can make glass toys unsafe.
Glass toys are great for temperature play because they hold temperatures for a very long time! To try this, place the glass toy in a bowl of hot or cold water for a few minutes. Don't ever put it in the microwave or freezer, as this could do damage to the toy and cause it to become brittle or break!
The Rainbow Mega Nubby came with its own storage pouch. The entire set came in a plastic shell complete with instructions on how to best use this toy, a small packet of silicone lubricant, the toy, and the pouch. The pouch is pink and very padded. Personally, I wish that the pouches all glass toys came in were as thick and padded as this one is! Kudos to you, Don Wands, for your excellent storage! The only issue I have with this, is my pouch is frayed on the opening end!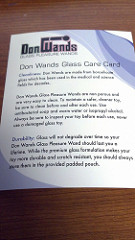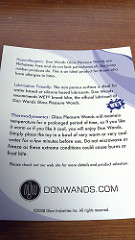 You may also feel free to use any type of lubricant with this wand, no fear of any particular type of lube interacting with the material and causing it to break down as you would with some materials.
This toy may be used in the shower as well, as long as you are careful. Glass gets very slippery when wet, of course, so you will want to take extra caution with this!
Experience
I really love the texture on this wand. At first, I was a bit worried that it would be far too much for me to handle, since it was a huge step above what I was used to, but it turns out that it wasn't too much at all! It was very comfortable and I enjoyed using this toy!
Here were some additional photos of the pouch! I love this pouch!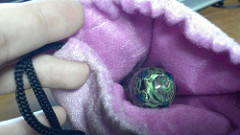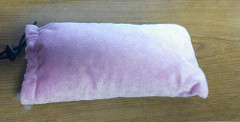 This content is the opinion of the submitting contributor and is not endorsed by EdenFantasys.com

Thank you for viewing
Rainbow mega nubby
– sex toy review page!