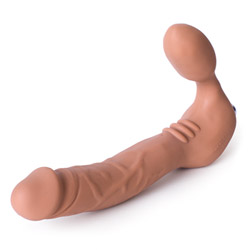 Real strapless strap on
Strapless strap-on
by Tantus
Real Feel for Two
The Realdoe is a realistic, double-ended dildo that's great for feeling closer to your partner during penetrative intercourse. While it cannot be used completely without a harness, it gives an excellent amount of internal pressure to the wearer for a stimulating sensation on both ends. Since it's made of Tantus's own silicone, it's bound to last for a lifetime.
Published:
Pros:
Made of pure silicone, rubs against the pubic mound, internal pressure from bulb, filling.
Cons:
Not dual-intensity silicone, bulb is a bit large, a bit too rigid.
Considering that this is my first time owning a double-ended dildo (or prosthetic, for me), I have many mixed emotions when it comes to the Realdoe. The Realdoe is, like the other double-ended toys in the Feeldoe line, a realistic, phallic piece of silicone that can be worn internally during play, with or without a harness. It's not a design that's for everyone's penetrative or pegging play, and some might even dislike it because of the plug-like internal piece. Similar designs are the
Nexus
,
Share
, and the newer
Love Rider
and
Toy Four
dildos. While the majority of the others are phallic in shape, none are as realistic as the Realdoe. Sadly, it's only available in a beige tone; it does not come in any other colors.
I was a little disappointed when I felt that the Realdoe was not a dual-intensity silicone; it is a firmer, more rigid blend. If compressed, it only will indent slightly. It is not the same plushness as Tantus's other silicones, like the silicone used for their Purr or Silk, but it can bend slightly (though it springs right back). Because of the firmness, it can sometimes be uncomfortable during insertion and penetration (especially since most people are very sensitive to firmer insertables). However, the shape of the head does allow for a more uniform physique along the shaft, meaning that it won't catch or grab in any way.
For the Realdoe's sizing, the phallic portion is about 6 1/2" in length and has a diameter of 1 1/2" along the shaft. Underneath the head, it dips down to a 1 1/4" diameter, but quickly increases back up to its regular 1 1/2". This is a good size for most individuals who enjoy penetration or a bit of a filling feeling; it won't please size kings or queens, but it's enough for the majority. On the wearer's end is an insertable bulb that's 2 1/2" in length and has a diameter of 1 1/2" as well. Neck included, it's a total of 4" long.
The bulb does stay inserted because of the added neck, but it is possible that it will slip out during intercourse. Make sure to be prepared for that, and don't count on wearing it without some form of aid. I do want to note that there is a seam along the length of the Realdoe (both on the bulb and shaft); it cannot be felt in use, but it is noticeable.
Between the shaft and bulb is a saddle piece that curves around the wearer's body. The saddle has a few bumps that sit against the wearer's pubic mound and rub against their external genitalia. This sensation can be obtrusive for some, but for others, it's just the right mixture of texture and pressure to orgasm from. The main possible problem with the saddle is that it won't work as intended with some individual's anatomy. For my body, it doesn't really sit as tightly against me as it should. Because of this, there are times where it will rub against me in the right way, and others where it does absolutely nothing for me.
Tantus includes a small bullet vibe with the Realdoe, but mine did not work. Since I didn't have any other bullets to put into the hole on the saddle, I did place a vibrator against the saddle to see how it transferred both through the shaft and the bulb; it felt really damn good on both ends, so I would say that this transfers vibrations nicely. Of course, it wasn't as intense through the shaft (sadly), but it was very intense in the bulb.
Aside from the fact that the bulb is rather large for my tastes, I feel that the Realdoe has been a successful addition to my arsenal. It's what I generally use now for intercourse (yes, my Goodfella is currently in storage). The shape of it is a lot more comfortable, and because the head is not as pronounced as others that I own, it makes it easier to become accustomed to. It's also excellent for masturbation too, it allows me to get more into it. Yes, the price tag is high, but it's a good purchase if you're looking to feel more connected with your partner while using a prosthetic/dildo.
As per the majority of Tantus's toys, the Realdoe is indeed pure silicone. It can be boiled for three minutes, bleached, or put into the dishwasher for sanitation. As always, use a condom when moving between anal and vaginal and clean properly when using with multiple partners. I store my Realdoe in a plastic bag in a box with my harnesses and other prosthetics after cleaning it so that it doesn't become stained by anything that it's stored next to.
Experience
Lubricant works wonders with the Realdoe; being prepped before use does, too. The bulb is extremely difficult to get used to if you're not someone who engages in receiving penetration often. I found that it was easier to keep on while wearing either a pair of trousers or underwear over it, it helped with control and ease of use. That being said, the experience was not the same as using a prosthetic in a harness. Because it is inserted, the pressure and external saddle make for very intense stimulation, which allowed me to feel more connected to the person I was engaging in intercourse with. I actually had an excellent scene while using the Realdoe, so perhaps my opinion of it is rather skewed.
This product was provided at a discounted price in exchange for an unbiased review. This review is in compliance with the FTC guidelines.

Thank you for viewing
Real strapless strap on
– double ended dildo review page!