Rolling In The Deep
The Deep Water G had me rolling in the deep. For a beginner to glass AND G-spot toys, this one was very gentle to me. The curve is very subtle yet functional and the weight of the glass isn't heavy. The only con for me is the last nub on the toy is too prominent. Non-beginners may dislike the small curve and thinness of the Deep Water G. Beginners, on the other hand, may love it for those reasons. The thinness and small curve worked for me and for that I give it 4 stars.
Published:
Pros
-Beginner Friendly
-Nubbed & Smooth
-Subtle G-spot Curve
-Light
Cons
-Last nub is more prominent than the others
The Deep Water G came in a red velvet drawstring bag wrapped in a thin layer of bubble wrap. The bag alone is not padded to prevent it from damage so I still use the bubble wrap along with it for safe storage. You can stuff it with fabric or newspaper if you don't have bubble wrap and still get good protection. If you have another storage method in mind, the bag can be used as a gift bag or storage for another item.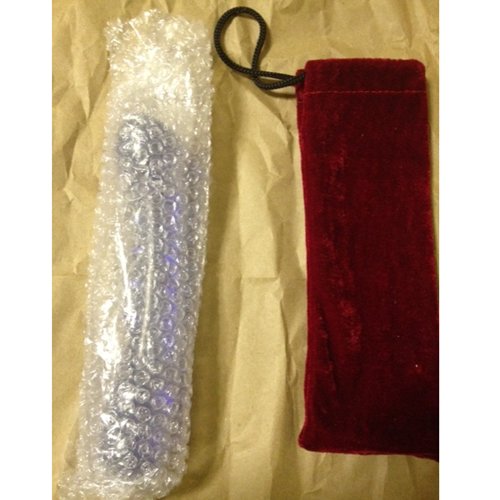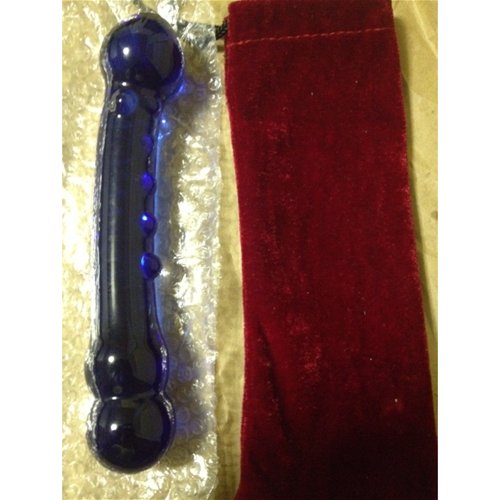 The Deep Water G would be perfect for beginners who are searching for their G-spot. The subtle curve is more beginner friendly in comparison to some G-spot glass dildos that have a more prominent curve. I'm pretty sure I have a low pelvic bone (or whatever it's called) because when I use more prominent curved dildos penetration is difficult and I hit bone. The Deep Water G makes exploring much easier for me because of this. The head is what makes up for the small curve because it is rather bulbous and hits the G-spot nicely. It isn't overly stimulating and I can apply the amount of pressure I need to. If I want to change the feeling up, I can just switch to the other end of the dildo and use the double-bulbed end. The nubs that line the dildo are also beginner friendly. They're not very high, except for the one at the end, and won't be an abrasive. I believe these dildos are all hand made because I haven't seen one that's exactly alike in other reviews. The bulbous ends and curves may differ slightly if this is true.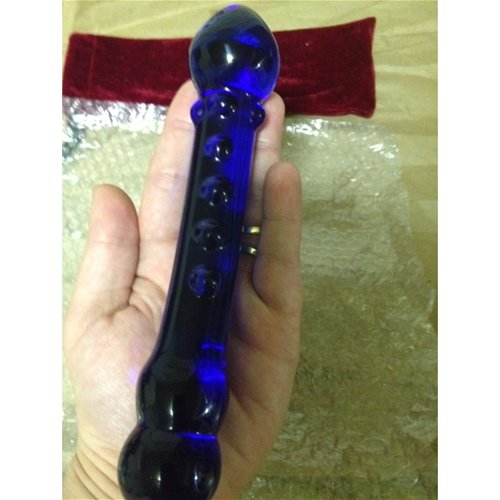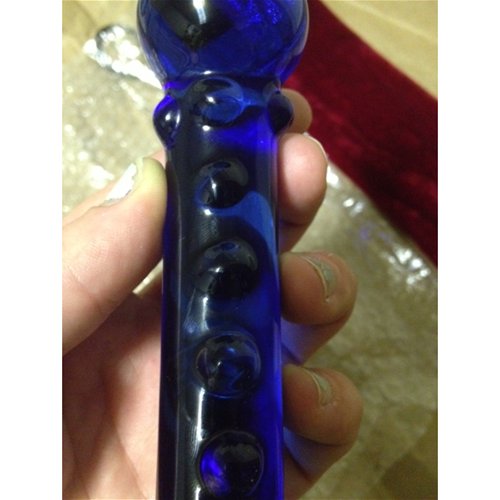 The last nub at the end of the dildo is the most prominent and can be a bit of a nusaince. The first time I used it I felt a bit of numbing due to that nub rubbing against me hard. After some practice, I can now angle the dildo to where that nub is less noticeable inside of me.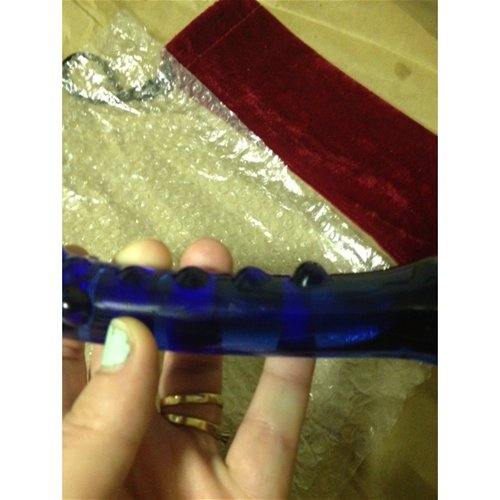 Another thing to note about The Deep Water G is the girth. It's a thin glass-dildo and won't fill you up. The shaft is only 1" thick. The girth comes from the heads which are about 1 1/4" thick. I'd say the dildo is about the thickness of two fingers. It's much smaller in girth in comparison to a penis. I didn't mind this because I'm still pretty new to glass dildos, so the thinner the better until I get more accustomed to them and require girth. The bulbous heads and nubs made up for the lack of girth because they provided amazing stimulation.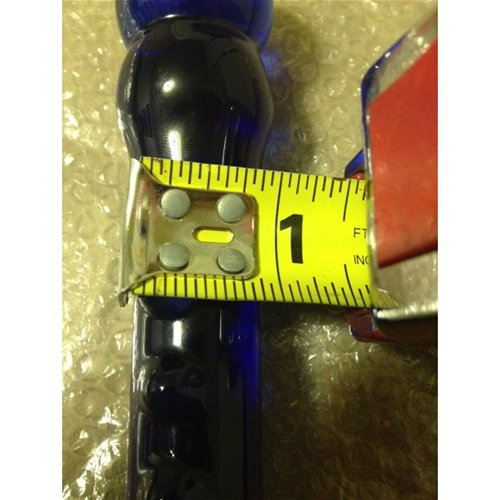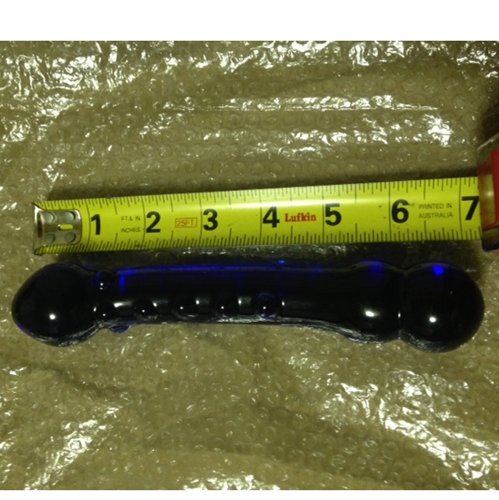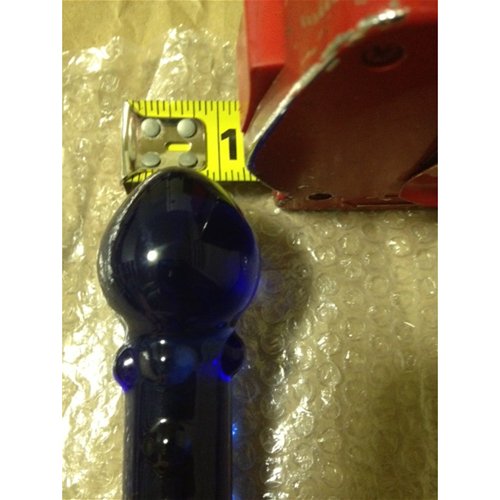 I didn't warm it up before I tried it because I'm just too impatient. When I entered it inside of me it was a tad bit cold but the great thing about borosilicate glass is it will warm up to your body temperature when it's inside of you. It held heat pretty well and I didn't feel cold after just a few seconds. When I washed it with toy cleaner and hot water I noticed how warm it got when submersed in water. I got super excited about the temperature change, but fair warning, don't go extreme with the temperature. You can run it under cold or warm water to cool or heat it down. I strongly advise against using any other method of heating or cooling it as you can seriously burn or hurt yourself. Make sure it is not too cold or too hot before you insert it. Of course, I let mine cool down until it was just right and gave it another go! Again, it held its temperature pretty well.
This can be cleaned with toy cleaner and warm water. Since it's non-porous this can be shared with a partner, after cleaning. The best thing about borosilicate glass is it can be boiled! You can stick it in the top of your dishwater and boil it that way, or on the stove if you wish, and it won't harm the toy. Again, make sure you wait for it to cool before you touch it because it retains heat and you may get burned.
I was really impressed with the Deep Water G. It's super beginner friendly and also provides stimulation that texture-less toys just can't compare with. I'm not big on girthy toys and found this to be an excellent dildo that didn't rub me the wrong way. I was also pretty shocked at how light it was; it wasn't bulky or heavy. It was an awesome ride and the perfect stimulator for my G-spot. It's firmness was just what I needed to enjoy G-spot stimulation and it's textures brought me over the edge. I love my Deep Water G!
Experience
When the Deep Water G arrived I scurried along to my bedroom, ripped open the package, and just stared at the beauty of the dildo. I mean, this thing is super pretty. It wasn't long before I would have it in me! I applied a tiny bit of lube to the tip and gently eased it in my vagina. I'm pretty tight and can experience issues when trying to use some toys but this one was thin enough to fit me nicely. The curve is very subtle but the head was just thick enough for me and it didn't take but a couple of seconds to hit my g-spot. It rubbed me in all the right places; I've never experienced as much G-spot stimulation as with this toy. I mean, I felt like I was gonna gush. It was so gentle with me though. I came hard. I normally have a hard time cumming on my back. Like, it can take an hour of clitoral stimulation to cum on my back. I used a clitoral vibrator with this as well and I came in just a few flat minutes. This was an intense orgasm. I put my pants on, washed the dildo, went to put it up then decided I had to give it another go! Again, I came much quicker than usual. I've already used it twice today but I can't wait to use it again, and again, and again!
Follow-up commentary
3 months after original review
I still love the Deep Water G dildo. I'm IN LOVE with it, as a matter of fact. For a glass dildo this can be one of the most comfortable, low maintenance, pleasurable toys that I own. One of. The Curve sends me over the edge everytime I use it and the nubs are extremely pleasurable. Great for beginners or the experienced, it's sure to make you cum. It gets me everytime. I can't begin to express how much I love this one.
This content is the opinion of the submitting contributor and is not endorsed by EdenFantasys.com
Thank you for viewing
Deep water G
– sex toy review page!