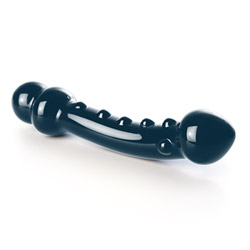 Deep water G
Glass G-spot dildo
by EdenFantasys
In Over My Head (in the best way) with the Deep Water G
Hands down my favorite G-spot toy. I squirt almost every time I use this dildo...which is something I can't say of most toys. It is functional and gorgeous...compatible with any lube and amazingly easy to clean. The provided storage bag could use an upgrade, but is fine if you aren't too worried about breaking or chipping the toy. If you have a G-spot, you should seriously consider this toy.
Published:
Pros
Absolutely gorgeous, delicious curve, dual ends for variation of sensations, durable, inexpensive
Cons
little nubs could be a turnoff if you hate texture, crappy storage bag
I love-love-love glass. And I love my G-spot. Luckily, my G-spot is also a big fan of glass. And this dildo.
The Deep Water G by SSA Glass is a gorgeous cobalt blue dildo made of
Pyrex glass
. The measurements on the product page are accurate...this dildo is almost eight inches long and about four and a half inches around at the thickest part of the head (for the purposes of this review, I'll be referring to the curved end of this toy as the head and the rounded end as the handle, although either end may be inserted).
One of the things that I love about glass is how amazingly easy it is to keep clean. It is completely sterilizable. It can be cleaned with soap and water, toy cleaners, wipes, it can be boiled...you can even toss it (or gently place it) in the dishwasher. Glass is non-porous and doesn't retain odors. It can be used with any type of lube. Glass is just pretty friggin' awesome.
The photos on the product page show a curve that is gradual and runs the length of the toy. My Deep Water G is relatively straight, only curving right at the head of the dildo. Both the curve at the end and the shape of the head are very similar to that of the
Honey Wand
(another favorite of mine). The head of this toy is a bit girthier than that of the Honey Wand. The Deep Water G is just shy of an inch shorter and has to bulbs on the handle end of the toy as opposed to one. There are five raised nubs that run the entire length of the shaft, starting just under the head of the toy (where it curves) and terminating just before the first bulb of the handle. There is also a raised nub on either side of the toy, just below the head. I like texture...and these are noticeable, but subtle. If you absolutely hate even mild texture, I'd say you're out of luck. But if you can handle something mild, you'll be golden.
As I stated earlier, either end of this toy can be inserted. When the tapered end is inserted the Deep Water G provides fabulous (and I do mean fabulous) G-spot stimulation. The double bulbs on the other end, when inserted and thrusted, provide a unique and satisfying 'popping' sensation. I prefer the G-spot action from the tapered end, but the bulbs provide a different feeling that is interesting...and it's nice to switch it up once in a while. Glass is a very hard material...there is no give to this (or any other) glass toy. Exercise care when thrusting. If you want to use this toy with a partner, make sure you communicate and take things slow...if thrusted too vigorously, things could get uncomfortable.
This toy is safe for anal play...if you are careful. If you or a partner know what you are doing and exercise caution, I say go for it. The bulbs on the handle are not exactly a 'flared base'...if you are concerned about the toy getting lost, I would say err on the side of caution. I personally won't use this one anally, but I won't say that experienced anal players shouldn't.
This toy came with a storage bag...and that is the only thing that disappointed me. My Honey Wand came with a storage bag, and it was the
un-bedazzled version of the Eden Toy Pouch
. The storage pouch that came with my Deep Water G is a very thing velvety drawstring bag. It provides absolutely no padding for the toy whatsoever. However, I'm not counting that against the toy itself...I just wish I had gotten the nicer, plusher storage bag along with it.
Experience
Deep Water, indeed! I practically go swimming every time I use this toy. That's to say, this toy is one of very few that I own that consistently makes me squirt.

I adore the way the tapered end of this toy hits my G-spot in the most amazing way. The bulbed end is incredibly comfortable to hold onto. It fits perfectly in my hand and I can thrust with ease.

Glass is a perfect material for temperature play. I actually find that sitting this toy on my windowsill for a few minutes before I get down to business gets it nice and cool...I love the feeling of cold glass...it intensifies everything for me. A fabulous gushing G-spot orgasm turns into an ohmyfuckinggodohgodoooohfuck display of waterworks when I cool this toy down before use.
This product was provided at a discounted price in exchange for an unbiased review. This review is in compliance with the FTC guidelines.
Thank you for viewing
Deep water G
– glass g-spot dildo review page!