Add some ruffle thrill to your style!
If you're looking for something to add a special element to your look, these lacy ruffled gloves will do the trick. You can wear them with a plenty of things and they are durable enough to give you a lot of time to experiment.
Published:
Pros:
- trendy accessory
- goes with anything
- cheap
Cons:
- one size only
- a bit itchy
Fingerless Ruffle Gloves are lace gloves with separate open-ended columns for each finger and the thumb. They have ruffled cuffs with a comfortable elastic wrist-band.
Material, quality and care
These gloves are 90%
nylon
and 10%
spandex
. The fabric is thin and breathable, with a floral woven pattern. Unfortunately, they feel a bit rough and itchy, so I can't wear them for a long time. I suppose that a fabric softener might help, but I haven't tried it yet. Also, due to this roughness the lace noticeably crinkles, so I gave it 1 "bee" on the noise scale.
When it comes to durability, Fingerless Ruffle Gloves look rather promising. They also don't need any special care. If they ever get dirty, you can simply wash them in lukewarm water with any black-color-friendly soap or washing powder.
Size
As any "one size fits most", these gloves will look different on a different person depending on the individual proportions. To make it easier for you I measured them. Here are the results:
- the circumference of the widest part of the glove is about 8.5" (22 cm)
- the circumference of the wrist is 5.9" (15 cm), but the elastic band is very, very stretchy
- the full length is 8.2" (21 cm)
- length of the ruffled cuff is about 1.9" (5 cm);
- the length of each open-ended sheath is approximately 1.1" (3 cm)
- the width of the sheaths narrow to the end and varies a bit from finger to finger. This is comfortable enough except for the index finger, where the circumference is less than 2.4" (6 cm), so fabric hugs mine very tight; also mind that the lace here is absolutely NOT stretchy!
So if your hand is size 8-8.5 these gloves will fit you just perfectly. I have size 6.5 hands and I wish these gloves were smaller and not that baggy. But - again - mind the fingers!
And finally, here goes the photo.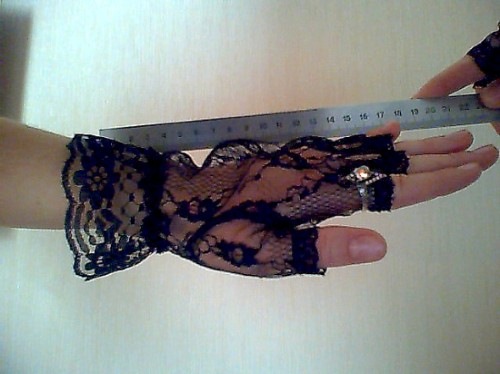 Experience
Sexual-related
I've already mentioned that these gloves feel a bit itchy to the person wearing them. As for the one you are touching, like my partner said, it's not as enjoyable as silk or satin, but not unpleasant. So it's better to be careful with some sensitive areas, but there will hardly be any real harm. It's also worth mentioning that Fingerless Ruffle Gloves have one unbeatable advantage over the full lace gloves like
these
. During a nipple play, for example, you can switch from touching your partner with the bare fingers to teasing him or her with somewhat scratchy lace.
Style-related
In my opinion, the primary purpose of these gloves isn't sexual, so I decided to cover the fashion part of their use as well. I've browsed the Internet a bit to find out some advices or trends concerning lace gloves and there was a multitude of variants. Honestly, you can combine them with anything from the party dress to the most sexual lingerie! On a petite hand, these may not look as neat as desired, but they would nevertheless be great as a touch of elegance to the looks that normally lack one. For example, casual or rebellious. Here are some inspirational pictures that I found, but the only limitation if any is just one's imagination.
Click
Click
Click
Also, if you like handmade, you can always add some bows, beads, pearls or anything to decorate the wrist area.
This content is the opinion of the submitting contributor and is not endorsed by EdenFantasys.com

Thank you for viewing
Fingerless ruffle gloves
review page!