Little Frills
All in all I truly believe that these gloves are worth the inexpensive price you pay for them. They aren't top of the line, but they are an attractive little accessory to use for your play time. They aren't the best quality and are a little rough on the skin, but for short term wear, these work just fine.
Published:
Pros:
- Inexpensive
- One Size Does Fit Most
- Attractive Design
Cons:
- Lower Quality
- Scratchy Material
Fingerless Ruffle Gloves from Leg Avenue are a 'one size fits most' accessory that's made to add a feminine touch to your hands. These gloves can be worn for a variety of occasions; with your regular lingerie, in addition to a costume, during role play, for a boudoir shoot, or even out on the go. The simple lace gloves are a nice addition to just about any outfit, or completely on their own!
Unlike regular gloves, these won't cover your whole fingers. They're designed so that the top part of your fingers are exposed. Where the top of the gloves stop on your fingers will depend on your own anatomy. The bottom of the gloves have a small area that has some stretch for around the wrist, and then flares out for another two inches where it then ends in a sort of scalped design. There's also a thicker lace that covers 1/2" at the top of each of the fingers. The lace pattern is mostly floral but does have some other designs in it as well. The fabric is very open and breathable; the areas that show your skin are totally open, not just transparent fabric.
These gloves are on the scratchy side, they aren't a soft lace like some products you'll find on Eden. For that reason, they aren't a great choice to wear while engaging in actual play. They're best worn during your pre-sex experiences; let the gloves come off for the action! Unless you enjoy the feeling of something rough on your body or against your partner, stick with wearing these for show only.
These black 'lace' gloves are made from 90%
Nylon
and 10%
Spandex
. The material is quite rough, but also very durable. For this being a 'lace' product, do you don't have to worry about the gloves snagging and tearing as long as you're cautious around things that could catch on the fabric. Both materials are resistant to oil and grease, so there's little concern about something staining these gloves. When you need to give the gloves a wash, they should be hand washed in tepid water (perhaps even using a special
lingerie wash
) and left to air dry.
Don't let the fact that this contains 10% Spandex fool you. There is only a very small amount of stretch to these gloves. If you have very large fingers/hands, these won't work for you since the material isn't at all forgiving. I am on the larger side of the scale, and for the most part, these fit me very well. The 'one size fits most' is actually quite accurate for this item, but someone with very thin fingers and small hands might feel that these gloves are simply too large to wear.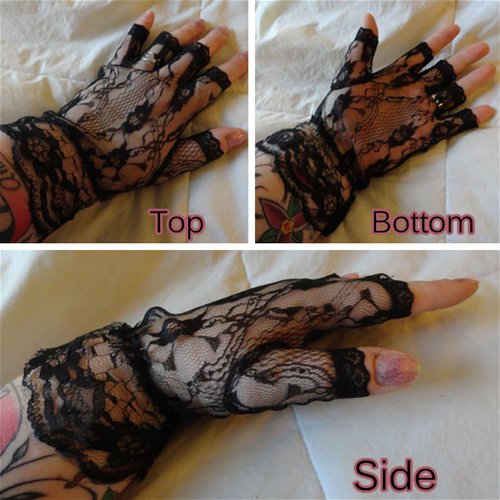 Length from the tip of my middle finger to the top of my wrist: 7"
Width of my hand: 4"
Width of my wrist: 3"
Length of gloves: 8.5" at longest
Width of gloves: 4"
Finger length: between 1 1/4" and 1 1/2"
The fingers all vary in width. I found that all of the fingers on both gloves fit me fine other than the pointer finger of my left hand. That
one
finger was a little more snug than the others. That was the only sizing issue I noticed with these gloves. The quality isn't the very best either, but for such an expensive set of gloves, you can't expect for them to be high quality. There's a little fuzz around the bottom of the gloves and some random threads around the fingers that aren't trimmed the way they should be. There were no tears or poor stitching other than these issues.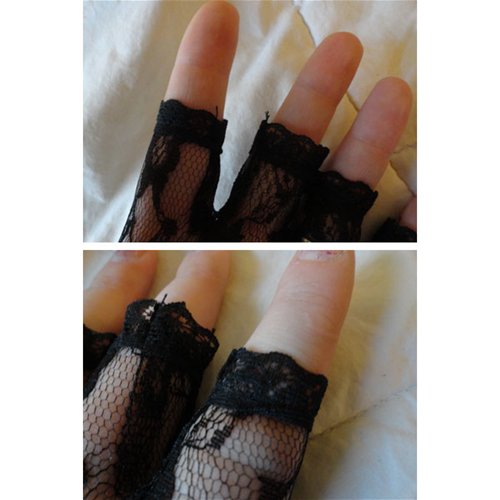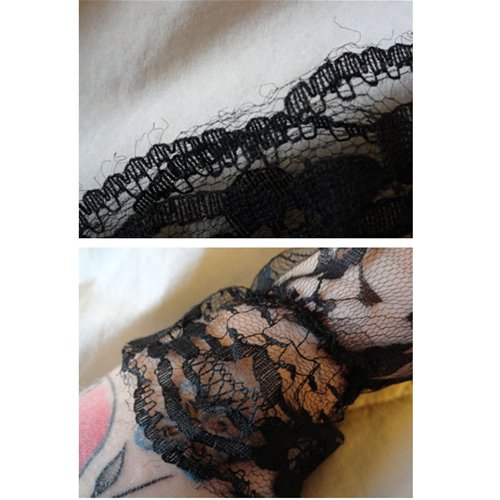 The packaging is a simple clear plastic bag with a cardboard hanger on the top. The package isn't discreet since you can clearly see the gloves through it and there is a full color image of them on both the front and back of the hanger. Despite not being discreet, it's really not a big deal for this item. Nothing about it makes it seem like it would come from a sex toy shop; it looks like a typical costume accessory. On the cardboard is only a small amount of information about the gloves; what they are, the company name, the materials, and that they are one size. It can be recycled since there's no reason to keep the packaging.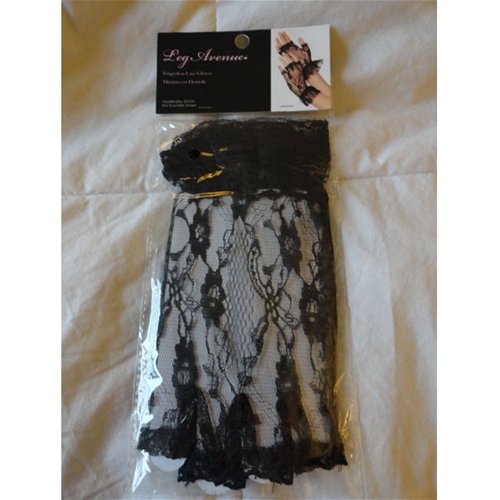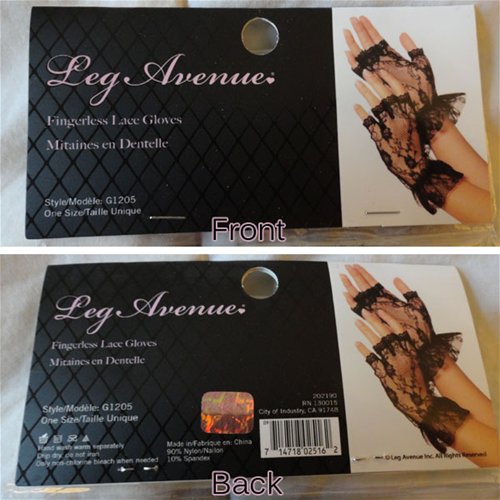 When you pull the gloves out of the plastic, they are each on their own piece of cardboard that is made to look like four fingers. The cardboard keeps the gloves laying flat and easier to see through the packaging. These can also be recycled since it's not necessary to keep the gloves on them.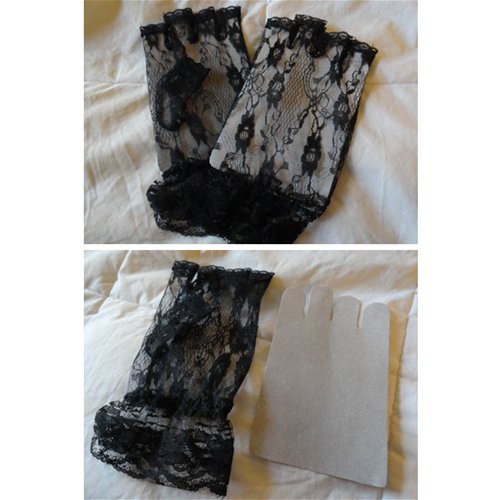 Experience
These gloves are small enough that they are simple to travel with and are easy to store. The only concern about storing is that you keep them in an area where the material won't snag. If you're really concerned about it, they will easily fit inside of a small plastic bag, or you could keep the packaging as storage; but really, storing them in the same area where you keep your other lingerie is totally acceptable.

For being such an inexpensive pair of gloves, I'm fairly pleased with these. Being a plus sized lady I always have concerns about purchasing OSFM items, even if the area of concern is only the hands. These actually seemed to work better on larger hands as I could understand why someone with small, thin hands would find that these would swim on them. Do be aware of the top that the fingers might be a little fitted though.

The lace is a little scratchy, but didn't irritate my skin. As long as you wear them for shorter periods of time, it shouldn't cause much of an issue. The lace is attractive in design and should appeal to a wide range of people.
Follow-up commentary
2 months after original review
Though these aren't the best quality and can be a little scratchy when wearing, they are fun to bring out here and there. Considering the inexpensive price tag, you can't go wrong! While there are much nicer and higher quality options, this is still a really fun item to add to your lingerie/costume collection.
This content is the opinion of the submitting contributor and is not endorsed by EdenFantasys.com

Thank you for viewing
Fingerless ruffle gloves
review page!