So Itchy!
These fingerless ruffle gloves are a pretty cute addition to a costume, but beware, the material is not stretchy at all. The fingers fit very tightly on my slim fingers and the rest fit pretty loosely on my hand. The material is also extremely itchy and can be pretty uncomfortable.
Published:
Pros:
cute, inexpensive
Cons:
itchy, weird size, one size fits most
When I decided what I wanted to do for a Halloween costume, I decided on ordering some fingerless gloves to match my costume. Unfortunately, the site I ordered my costume from was out of the matching brown lace fingerless gloves. I decided instead to order the black ones off of EdenFantasys, since I could combine them with another order.
These come packaged in a cellophane plastic bag with a cardboard tag stapled to the top. The tag shows pictures of the gloves and states these are a one size fits most item. It also says to hand wash in warm water and leave these out to drip dry. The fabric is 90% nylon and 10% spandex. Inside the bag, the gloves are set on cardboard forms of hands so they keep their shape and probably for presentation of them as well.
While the fabric content is nylon and spandex, these aren't really stretchy at all. The first thing I actually noticed upon putting these on is how tight the fingers are. The black floral print lace is actually pretty sturdy, even though it doesn't stretch. The wrist has elastic around it so it stretches to allow your hand to fit inside easily. Around the wrist, after the elastic, there is a 2 inch cuff. This has a floral border with a scalloped edge. Around the ends of the fingers, there is a 1/2 inch lace border that has smaller flowers. The thumb of the gloves has been sewn on to the rest of the hand, so there is a seam all the way around it. This can kind of dig into the palms and feels a little uncomfortable. Most of the gloves feel itchy against my skin.
The overall length of these gloves is about 7 1/2 inches. 4 1/2 inches of this covers just the actual hand from the wrist up. Each finger measures a little over 1 inch long, with the thumb being closer to 1 1/2 inches long. Each glove measures about 4 inches wide.
As far as fit goes, these fit me pretty well. The hand portion of the glove is quite a bit bigger than my hand, which means there's some baggage to the lace. The fingers are a bit tight on my fingers. My fingers range in circumferences from 2 inches to 2 1/2 inches. My thumb is also 2 1/2 inches around. My ring finger size is 5 1/2. I probably have smaller fingers than the average person, so these aren't exactly very accommodating for most people's fingers. Compared to the generous hand size, it's a little weird. So is the extra length for the thumb, since people tend to have thumbs that are shorter than their other fingers.
Here are some pictures of one of the gloves on my hand. As you can see, the hand has some extra room.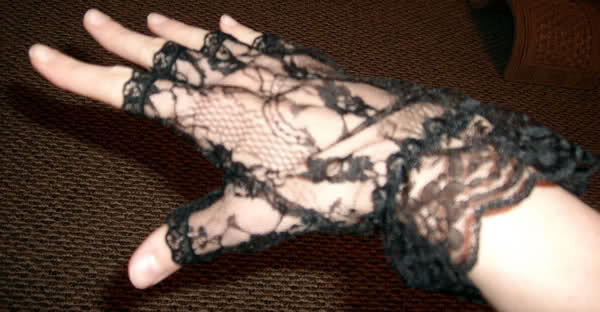 The overall look of these is pretty cool, though it doesn't really outweigh the itchiness of these right out of the package. To fix this, you can try hand washing these in some laundry detergent and then soak them in some water and liquid fabric softener before rinsing them. It doesn't fully fix the problem, but it helps.
I haven't really noticed any irritation to my skin after wearing these, even though they aren't comfortable. I wore them with my costume for maybe 3 hours before I got tired of wearing them and took them off. It was mostly the tightness on my fingers and the area where the thumb portion is stitched on that got annoying.
I keep my gloves in a drawer with other miscellaneous bits of lingerie, like stockings and pasties. You might want to keep them in a bag or something in case they snag on something and get a hole in them. I haven't noticed any color running from them into other fabrics, even with sweaty hands.
Overall, I don't really feel I can recommend these to everyone. For them to fit best, you'd definitely need to have thinner fingers. Hand size doesn't matter as long as you don't mind the thumb area digging into your palm. The biggest fingers I can see fitting in this would probably have measurement of 2 3/4 inches around and thumbs of 3 1/2 inches around.
Follow-up commentary
2 months after original review
I still kind of like these, even though I don't wear them anymore. I really don't have any lingerie that these would look nice with. They served their purpose well with my long-sleeved Halloween costume.
This content is the opinion of the submitting contributor and is not endorsed by EdenFantasys.com

Thank you for viewing
Fingerless ruffle gloves
review page!