As beautiful as a tweezer can possibly be
If you've never tried nipple clamps before, but really want to figure out whether they are your thing or not, these clamps might be a good option. Affordable and adjustable, they are just screaming about being beginner-friendly. More advance users, though, might still find Beaded tweezer clamps a nice addition to their toy collection as they are beautiful and well-made.
Published:
Pros:
- inexpensive
- beginner-friendly
- well-made
- adjustable
- beautifully decorated
Cons:
Hardly any. Probably, not very interesting for advanced users.
Warning:
this review is the beginner's POV on her first clamps ever.
Prologue
After a huge success with some restraints and
floggers
that my partner and I had, I was pretty confident I should proceed to explore the world of light BDSM toys further and further. Soon my wishlists were getting filled with fur paddles, new types of restraints, ticklers, blindfolders and... nipple clamps.
What did I know about nipple clamps? Quite a little. Mostly, that a nipple clamp is obviously a clamp that can be attached to the nipples. At first, I thought that the only way to derive pleasure from wearing the clamps was to be actually fond of pain. After some further Internet browsing and research I found out that causing enjoyable amount of pain is not the only purpose of the toy. Much more exciting was the fact that after nipple clamps are removed, your skin there might become so sensitive that even the slightest movement can cause you pleasure. We both like nipple play and my partner also likes when I get a bit rough on him, so I didn't hesitate much. But I didn't want to engage in actual tit torture either. Thus beaded tweezer clamps by Spartacus seemed to be the right choice for a first timer because of being adjustable, non-intimidating, with rubber tips for additional safety and comfort. Moreover,unlike some other tweezer clamps, these didn't look way too girlish, so I assumed that a guy could use them. And all that for 12 bucks only!
Packaging
Well, so I ordered my first clamps and here they are, black, beaded and lovely, in the original plastic package.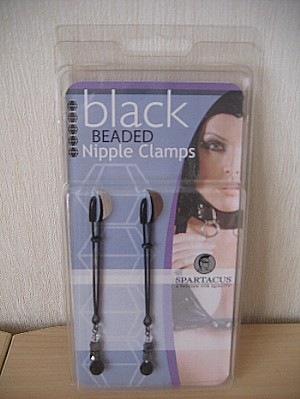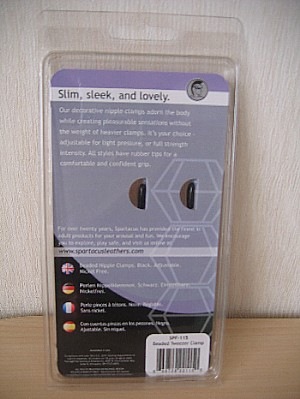 It's probably way too big for storage considering how relatively small the clamps are. But it gives a good idea of how they might be stored: piece of thick paper or cardboard with two pop-ups for attaching the clamps. This way you can keep them together end prevent rubber tips from slipping off.
Construction
Beaded tweezer clamps are obviously tweezer clamps which means they consist of two short lengths of metal fixed together at one end and open at the other end. Each length is 7 cm (2.75") long. The open ends are slightly curved and have rubber tips for a more comfortable grip and less slippage.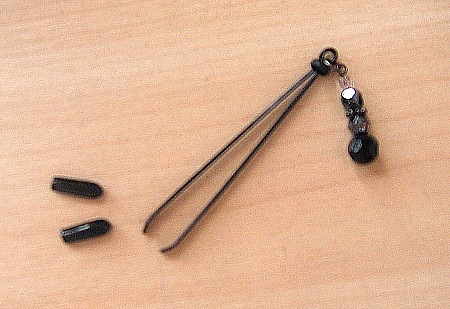 There is a small ring that wraps around the lengths of metal. It is used to adjust the tension as sliding the ring towards the nipple forces the two halves together. Thus you can adjust the pressure from very light sensations to full strength. Metal ring can scratch the paint off the metal shafts over some time, but you can avoid it by pressing them together while moving the ring along.
The other popular nipple clamps styles are clothes-pin clamps (like [|these]) and clover clamps (for example,
these
). Clover style clamps don't clamp down on the tissue as aggressively as clothes-pins or tweezers, so they can stay on a bit longer. But they are not beginner-friendly as there's no way to adjust them.
Beaded tweezer clamps are also adorned with really beautiful prismatic beads. The beads are made of high-quality plastic and seem really durable and sturdy.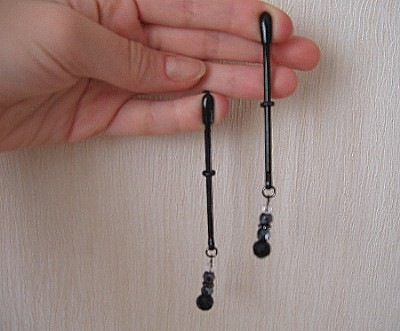 Use
So how to use them? First of all, I would recommend to discuss what you and your partner expect from this experience. As with any painful or potentially painful device, it's important to establish the rules here. There can be various reasons for clamping:
- enjoying painful sensations;
- making nipples more sensitive;
- enjoying the relief after the clamps are taken off;
- decorative purposes... and most probably others.
As soon as you figure that out - go to the next step. Usually some nipple play is needed before applying the clamps. Personally, I think that erect nipples are better for clamping as there's more area to attach the clamps to. Be ready that the first minute after attaching and adjusting the clamps is going to be very intense for the wearer, but then it gets better. If this is necessary, moving or readjusting the clamps will intensify the sensations again. And of course, taking them off is not very pleasant either. But hey, we're not expecting it to be vanilla, right?
Safety rule!
Always be careful about how long you use nipple clamps, though! As they cut off the blood circulation to the nipple, you should be very attentive to your sensations and stop wearing the clamps when you feel like it's too much. Or if the nipples are turning blue. For the beginners the recommended time limit is 10 minutes. Once you've become more experienced you can more to 15 or 20 minutes. Personally, I still can't stand them for more then 3-4 minutes.
Experience
Everything about these clamps is just great! They are definitely beginner-friendly, well-made, convenient and freaking beautiful! We haven't got enough time to experiment with them enough yet. We've tried putting them on several times, but haven't fully incorporated them into our play. I really like the sensations that Beaded tweezer clamps provide and the kinky look that they give me even being so nice and cute. So there's no wonder why I'm giving them no less than 5 stars. The only thing that might be considered a con is that they might slip off on the looser settings, which haven't actually happened to me yet.
This product was provided at a discounted price in exchange for an unbiased review. This review is in compliance with the FTC guidelines.

Thank you for viewing
Beaded tweezer clamps
review page!