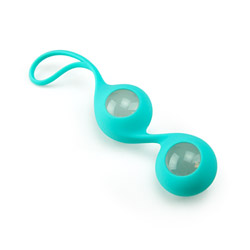 Prana
Vaginal balls
by EdenFantasys
BEST BALLS I'VE EVER HAD INSIDE ME
It's pretty flexible, so it doesn't pinch or anything and isn't uncomfortable. It can be used with other people and on your own. Plus you can use it to have an orgasm
Published:
Pros:
Easy to use, multiple uses, loop to pull it out, and super easy to clean
Cons:
It's a bit difficult to get the glass balls back in after you take them out
Okay, so these vagina balls are great for toning your vaginal muscles especially if you have had any vaginal births. They are also great if you want to surprise your man by squeezing your muscles during sex. Once you get used to having it in you can start controlling different muscles.

To read the hot, sexy, and steamy part, READ EXPERIENCE.

Once you've started controlling those muscles, you can take the glass ball out of the latex case and insert them inside you for more muscle control. Once you've tried both inside of you, you can try just one and control it by moving the ball up and down in your vagina. Think of your vagina like an elevator, each muscle can make it go up and down.

One thing to remember is when the balls are in the case if you're not wet with your juices you should use a water-based lube. Also, there's a loop you can pull to take them out. When you are just using the glass balls, you can use lube, but I found that my juices were perfect for this. Now they don't have a loop to get them out, so you'll want to squat down and push, kind of like laying an egg. They should pop right out no problem. They did for me.


This is a wonderful toy to have if you've had kids naturally. You want to tone your vagina to the point of surprising your partner to make him cum with a different feeling (he said it was so awesome how I could tighten around the base of his cock, the middle of his cock, and the tip of his cock all at the same time or one at a time. It was a totally different experience for him).


Clean up is so easy! Soap and water... Just be sure to take the glass balls out when you clean it because juices get caught in the case. Dry everything very well before putting everything back together.
Experience
Now for the hot and steamy stuff.... If you leave the balls in the case, after toning your vagina for 5-20 minutes (depending on what's comfortable for you) you can get very very VERY horny and if you leave them in and rub your clit or put a vibrator on your clit (I recommend the Flexi Power with 30 different vibrations, rechargeable and waterproof, it's my favorite toy) it's a BLOW YOUR MIND ORGASM!!!!!
I INCLUDED A LINK AT THE BOTTOM to the FLEXI POWER toy. You wouldn't regret buying that one too.

Try putting the glass balls inside with clit stimulation or vibrations as well, also an amazing orgasm! It's really fun to have your partner insert them with or without the case. My husband played with me, and he was putting them in (inside the case) then pulling them out slowly while he held the Flexi Power vibe on my clit. He did this for so long that I lost count of how many orgasms I had!!!!! It was AMAZING!!! The whole time he was playing with me he was hard as a rock, and we had sex for another hour after that.... This isn't just for toning your vagina, but you can have so much fun with your partner too.

https://www.edenfantasys.com/vibrators/g-spot-vibrators/flexi-power
This product was provided free of charge to the reviewer. This review is in compliance with the FTC guidelines.
Thank you for viewing
Prana
– vaginal balls review page!