Certainly Slim and Smooth, not too much of a Delight!
Overall, this toy is worth the money if you want something for foreplay or are very sensitive to vibrations, but may not be for everyone, as the vibrations are not very powerful. It does have some nice features, and a very unique shape!
Published:
Pros:
Good for foreplay and arousal, a lot of different settings, good battery life.
Cons:
Not powerful enough unless you are more sensitive.
I received this item as a free gift from EdenFantasys with my order and was interested to try it out. I had seen a few negative reviews on the product, but I certainly went into it with an open mind!
This item came shipped inside of the package in a sleeve made of bubble wrap as you can see in the photo below. I first took a couple of photos of the toy and then gave it a good cleaning. Because it is not porous and it is made of plastic, I chose to wash this toy with warm water and antibacterial soap, as is my normal routine with toys of this type. Before washing, I took a quick smell, and it was 100% odorless.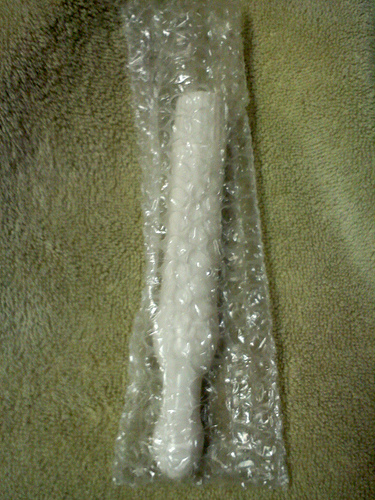 After a good cleaning I looked it over and easily figured out how to open up the battery compartment, which just consisted of simply unscrewing one end. It opened up fairly easily and to operate takes two AAA batteries. I quickly inserted them and screwed the top back on. The toy did not come with any instructions, but it was easy enough for me to figure out how it worked but may not be as easy if this is someone's first toy.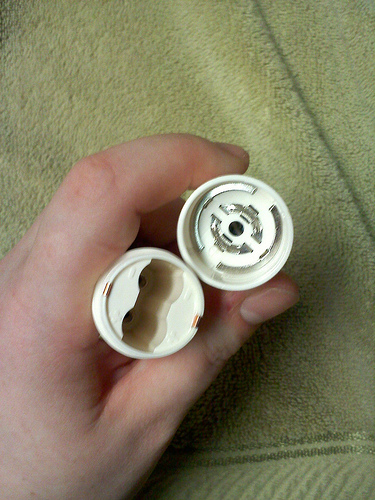 The top where you unscrew it to put in the batteries has a button, around which are the words "Doc Johnson" (the manufacturer) in black lettering. You simply press the button and the toy turns on. You press the button for each of the seven different settings.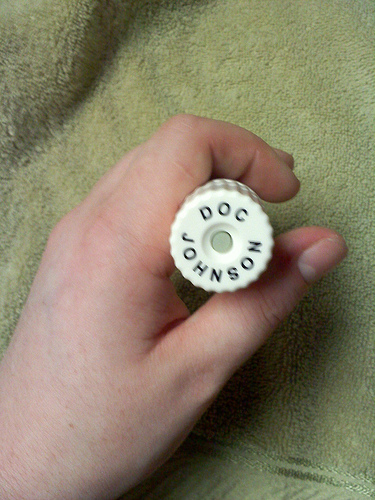 This toy has a unique shape to it, aside from the base which is the compartment for the batteries and the push button for operating the settings. It has a base, and the last inch or so consists of a larger nub than the base, followed by a more thin shaft and an oval tip.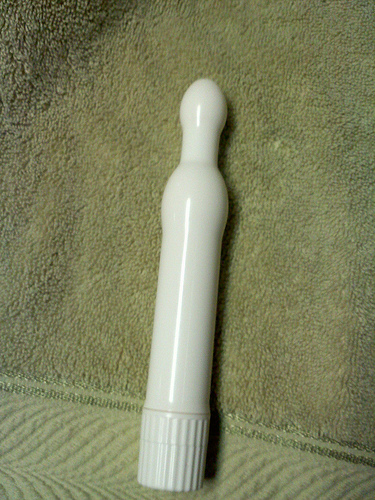 The description on the site (which, as I said, there were no instructions, so you wouldn't have any packaging to refer to for this) says that this toy is latex-free, hypoallergenic, and also does not contain phthalates. It also claims that this toy is waterproof, although I did not test this out just yet. It seems that with the design, it would be fine to use in a bathtub or shower, though.
Once I knew for sure how to work the toy, I grabbed one of my favorite lubes. Because this toy is made of plastic and does not contain phthalates, you can really use any type of lubricant that you prefer. Because of how smooth this toy is, it really didn't require much lubrication at all for insertion.
I always choose to turn on my toy and play around with the settings before I actually use the toy, and although most of the settings seemed almost the same in my hand, the last setting was a pulsating vibration. After playing around with it in my hand for a few moments, I used my lubricant and inserted the toy, trying it on the lowest setting first. Inside of me, the toy itself managed to hit some really good spots, but the vibration on the lower setting seemed minimal. I tried the rest of the settings, and they didn't really seem too different from the first, aside from the pulsating setting, which did give me a more unique experience.
None of the vibrations were powerful enough to get me to the big "O," and I did have my partner play around with it for a bit in me to see if he had any better luck, which he didn't. He had a better idea; he used the toy externally on the pulsating setting, clitorally teasing me with it, and I'll admit that this did give me a lot of stimulation, although it still wasn't enough to finish me off and bring me to ecstasy.
We decided to just use this toy for foreplay, and it certainly worked wonders on getting me turned on and ready for intercourse! After use, the toy is easy enough to clean, just simple warm water and antibacterial soap, or whatever else you may use to clean your plastic toys. Lubricants didn't stick to the toy either because it is smooth in texture. Storage was a breeze; after it dried off, I decided to just slip it right back into its original confinements until I find a pouch for it, although because one end is open I will give it another washing before its next use. After being placed back inside of the bubble wrap pouch, I just placed it in my box along with my other toys.
Experience
Although this toy was not able to bring me to orgasm, it did provide a nice toy for foreplay and is best, at least in my opinion, for clitoral stimulation. I also decided to try it on my guy in a few sensitive areas and he seemed to enjoy it as well for stimulation before sex.

I rated this toy 4 out of 5 stars because although this toy is quite loud, it was also fairly low on vrooms and did not bring me to orgasm. The battery life was better than expected; I worked with this toy on its many settings and also used it on my guy, so I know that it does not drain the battery for at least thirty minutes, I am sure much longer than that if given the chance.
Follow-up commentary
3 months after original review
I have only tried this toy a few times since my initial review, trying different sets of batteries and trying to work with different positions and angles for the toy. So far, I still have yet to fully enjoy this toy. It is unfortunate that I did not like it more, so it is going in my "retired" box.

This toy may be fun for someone else, but just not for me!
This content is the opinion of the submitting contributor and is not endorsed by EdenFantasys.com

Thank you for viewing
Slim smooth delight
– sex toy review page!