Didn't Quite Ring My Bell
Although this is cute idea, it's not practical. It's too big to wear during sex, and unless your thighs don't make contact with each other when you move, it's too big and awkward to use as sensual wear or around the house.
Published:
Pros:
Adjustable
Rubber nubs for comfort
Cons:
Rubber nubs come off
Too big
Not long ago, I received the
Asian Hearts Nipple Rings
and was in love. It was my first piece of non-piercing body jewelry and got me hooked. When I found the Bell Clit Clamp (also called the Tweezer Clit Clamp), I thought it was the perfect next step. This metal clamp is made to attach to your clitoris and allow the bell to dangle down between your legs. It has a sliding ring to adjust the tightness and small rubber nubs on the end for comfort. I imagined myself loving this just as much as my nipple rings, but the reality fell short of my expectations.
Let's start with the packaging. The Clit Clamp comes in a black cardboard box with white and silver accents. It's minimal without being tacky, but at the same time you won't mistake it for something that's high end.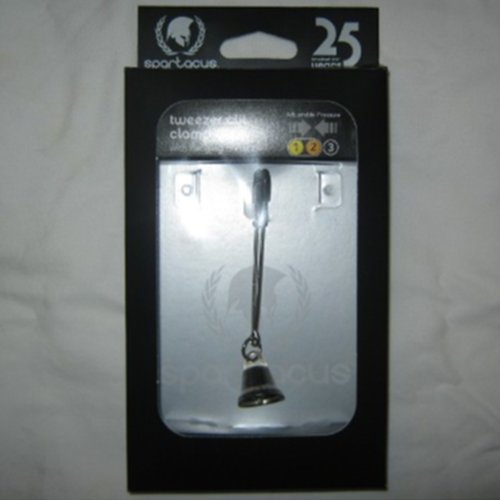 Once I got it out of the package, I was struck by how big it was. I didn't study the dimensions before ordering, but I expected something made to attach to the clitoris to be fairly small so it doesn't get in the way. At about 4 inches long, the clamp seemed so big that it would be in the way no matter what, but I was determined to try it anyway.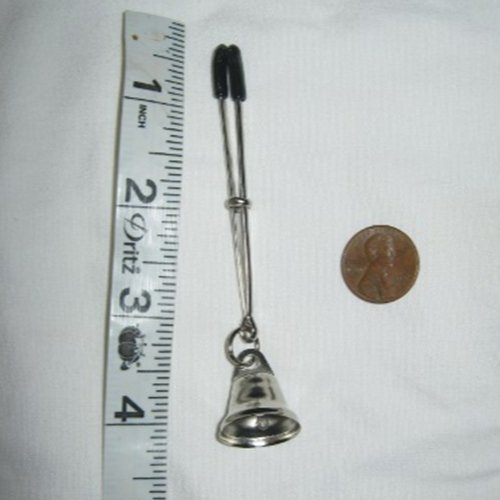 The next thing I noticed was the sound of the bell. It makes a high, but quiet, jingle that really is very melodic. Inside the bell is a perfect little bell clapper like you would find inside a full sized bell. I was expecting just a little metal disk like you would find in a cheap bell trinket, so I was pretty pleased that the little clapper made this a real working bell. The bell, however, is fairly large, with a 2.5 inch circumference around the widest part.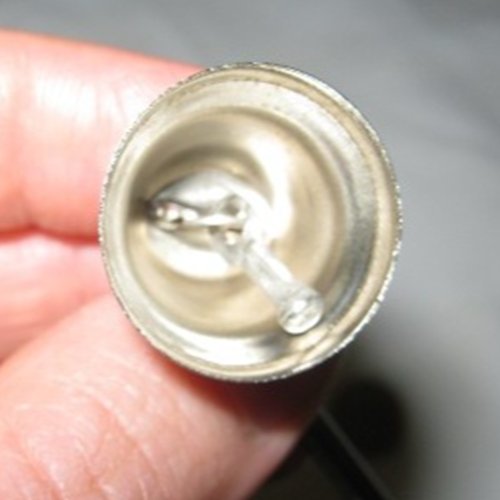 Once it was out of the package and inspected, of course it was time to clean it before the first use. A wash with soap and water and immediately drying is enough. I should note, though, that this is the point I found out that the rubber nubs on the end are not glued on and came off in my hand as I was cleaning them. Can we say "easily lost"? And if you think you're just going to use the clamp without the rubber ends, forget it. Underneath those ends is squared off metal with sharp edges.
It is important to note that even though the clamp is adjustable, it does squeeze. A squeezing action on any body part for an extended amount of time is not a good idea, so remember to give yourself breaks instead of wearing the Bell Clamp for long sessions.
Experience
This is the part of my reviews that I generally call "the fun stuff." I can't do that here. To be perfectly blunt, the Clit Bell Clamp was not fun. I had decided to put it on and leave it on while I finished just a few evening chores and let my husband hear it ring. The clamp was hard to put on in the first place without help. Trying to hold the clamp end in place while trying to slide the adjuster ring while trying to make sure I didn't drop it was not exactly easy, but I managed. Then I began the short walk down the hall. OW! Not a "Mmm hurts so good" ow, but an excruciating pain. My legs were catching on the bell as I walked, pulling it, and therefore pulling painfully on my clitoris. I tried to arrange it in different positions to see if it would help, but to no avail.
Moving awkwardly down the hall, I eventually reached my husband to get his opinion, which I found to be the same as mine. We decided the clamp was cute and a novelty, but pretty much pointless. It's too big to have sex with it on unless you very, very carefully (and I do mean VERY carefully) attempt doggy style. In any other position, it's just in the way. It's not even fun sensual wear since I can't even WALK with it on unless I move like an injured duck. I did find it's fun to use on my nipples, but since there is only one of them, it's annoyingly asymmetric. Because of this I would consider looking into the
Bell Nipple Clamps
.
I'm sorry to say this cutie will be headed to the bottom of the toy box and only pulled out on rare occasions.
Follow-up commentary
3 months after original review
To be honest, this thing never makes it out for play time. Not ever. It's so big it gets caught on my legs and tugs my clitoris, so I feel less than sexy, and very immobile, when wearing it. And there is no way to wear it for sex. I will think long and hard before I get another item like this.
This product was provided free of charge to the reviewer. This review is in compliance with the FTC guidelines.

Thank you for viewing
Bell clit clamp
– clitoral jewelry review page!