I just love my purple balls!
Doing kegels is very important and these weighted balls will make doing them even easier! Made of one of the safest materials and using interchangeable weights, this is excellent for just about everyone!
Published:
Pros:
~Comfortable
~Beginner friendly
~Easy to insert and remove
~Easy to clean
Cons:
Can sometimes be heard while being worn
Touche the Dukes
is a set of
vaginal exercise balls
made to assist in kegel exercises. This toy is not meant for anal insertion, making this more appropriate for the ladies. Kegel exercises are very important for all women, especially those who have given birth or who are losing muscular strength in their vaginal walls. Kegel exercises tighten those muscles, preventing or improving incontinence and enhancing the sexual experience.
Shots Media
, the manufacturer, offers these balls in one of two colors: pink or purple.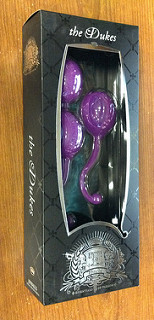 WHAT YOU WILL GET
With your purchase you will receive this product in two separate exercise ball options. One allows only one weight to be placed inside and the other allows for two. This will allow you to choose the weight that is appropriate for you. There is a "shell", which the weights are inserted into and then 3 weights. The single shell is 4.5" long while the double shell is 6.5" long. Both will be anywhere from 1.5-1 3/4" wide, depending on the weight that you are using. Each of the shells is sperm-shaped with cut-out slits in the front to insert the weights. The weights come in 30g and 40g.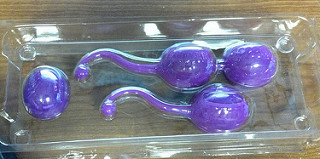 MATERIAL
The outer shells of the exercise balls are made of
silicone
, while the balls themselves are
plastic
. The silicone is smooth and does drag against the skin, while the balls are smooth and just glide across.
The silicone allows flexibility while still keeping its shape. There is no odor and they are completely tasteless, rating a 10 out of 10 on the safety scale. The plastic weights also have no taste or odor, and are solid in shape. The material is hard and there is no flexibility to them. The lighter weights are simply oval, while the heavier weight has a bit of a tip to it.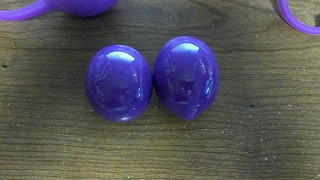 PREPARING THE TOY FOR USE AND HOW TO FIGURE OUT THE WEIGHTS
The first thing you will want to do is experiment with the weights. One of the shells gives you the option of holding one weight while the other gives you an option to hold two. You can use any combination that you'd like. This means you can have up to 80gm, should you insert two 40gm balls into the double weight exerciser.
Simply pull apart the opening of the plastic casing and slide the weighted balls inside. They should fit snugly, the outer shell will hold the ball inside. You should be able to hold the toy with the slits facing down and shake it with no worry of the balls falling out. Inserting the balls takes a little bit of work, though you should have no problem removing them.
At this point you can apply your lubricant for easier insertion.
INSERTING AND REMOVING THE TOY
To insert the toy, you may want to use lubrication so that it slides in more easily. Because of the type of material that this toy is made out of, you will want to stick to
water-based lubricants
only. In addition, you can use one of these lubricants to assist you in putting the weights back inside of the shells more easily. Again, you will want to only use a water-based lube for this. You can also turn the shells completely inside out, place the weight the way you want it, and then pull the silicone casing back into place.
Once you have chosen your perfect weight (which you may want to experiment with), simply slide the toy into your vagina, leaving the little "tail" or "string" hanging outside of the body. This will allow you to grab onto the toy for easy removal. When inserting, think of it as inserting a tampon.
To remove the balls, you will want to slowly pull them out by the handle or "tail". Pulling them out too fast might be uncomfortable. Though you
can
urinate while wearing these exercise balls, leave this up to your best discretion. Because of the way the muscles push downward during bowel movements, you may not want to keep this in, as it might come right out!
Inside of the body, the weights should not cause any discomfort or pain. You will be able to feel them at first, though after wearing them for a while you will most likely forget about them all together! If it is too uncomfortable or if it is painful, remove the balls. This may mean the weight is just too much for you or that your body just might not like the way they are facing! Once you find a way they are most comfortable for you, they will feel comfortable inside. You may also be able to hear the balls when you are wearing them.
Experience
CLEANING/STORING/PACKAGING
Once you've removed the balls, you can give the whole thing a quick rinse to get any excess body fluids and lubricants off of the toy. The balls can be washed with warm water and soap. The outer shells can also undergo the same cleaning method or you can sterilize them with a 10% bleach solution or by boiling.
Once cleaned, you will want to allow the outer shells to dry, by leaving the weighted balls out of them. Once they are completely dry you can either re-insert the balls or leave them out. These will easily fit inside of your drawer, a toy box, or pouch.
HOW THEY WORK
Mayo Clinic
gives some very good information on why kegel exercises are important and how to do them. The great part about exercise balls like these are that you can do your kegels without really even realizing or trying some of the time! You can give extra squeezes to really get a good work-out!
The point of these weighted balls is to force your vaginal walls to hold them in place, so you are doing part of your exercises by just wearing them. A body builder can't build up muscle strength without lifting weights, and your vagina can't build up strength without some form of resistance! The balls create the resistance and your body does the rest!
The great part about balls like these are that you can wear them while you go about your normal daily activities. While doing the dishes, folding your laundry, walking around the store, making a cup of coffee at your work, helping the kids make a fort out of all of your Eden boxes - you're doing your kegels!
Here are some bonus pictures of the product: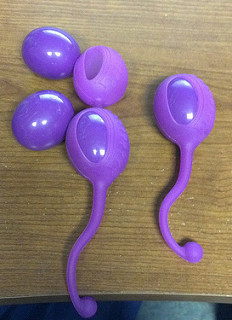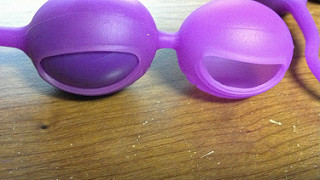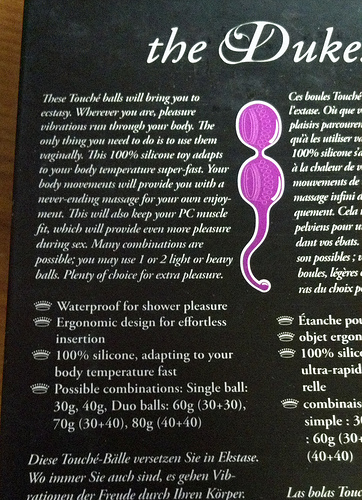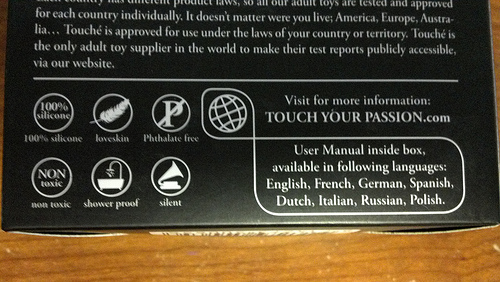 FIT & EXPERIENCE
This was my first experience with vaginal exercise balls, and I must say, it was a very good one! I did notice them inside of me at first, but as I wore them a bit longer I stopped noticing them. I was able to hear them while I was wearing them, though if you aren't listening for it, you may not notice at all. They were fairly easy to insert, though it took me a couple of tries, and I am still playing around with the weights a bit to see what I like the most. So far, I am fine with the single shell with the lighter weight inside of it, but as I wear them more and more I may move up to the heavier weights!
The tail, which is used for pulling the weights out, does stretch about half an inch, allowing you to position it just the way you like and does not risk tearing during removal. It is very flexible, but you would have to pull with a great deal of force to actually tear it. You don't even feel the tail while you have the weights inserted!
With lighter weights inside, it is not too big for smaller women, but adding extra weights slightly bulks it up so that you will feel full if you like larger toys.
This product was provided free of charge to the reviewer. This review is in compliance with the FTC guidelines.

Thank you for viewing
Touche The dukes
– exerciser for vaginal muscles review page!