I've Got 99 Problems, and This Vibe Is One
I gave this toy two out of five stars just to give props to Doc Johnson for the idea, but those other three stars that are just floating out in the cosmos speak volumes. The design of Lucid Dream No. 99 is interesting, for sure, but it's really not worth the money. If you're looking for a comfortable fit, good vibrations, and a rotation that gives you goosebumps, don't waste your time here, you're not going to find it.
Published:
Pros:
Color, smell, smoothness
Cons:
Rigidity, size, weak vibrations, too loud
A friend of mine told me to try this toy out to see if I liked it, and I'm starting to think that she was playing a practical joke on me. Honestly, the only thing I found appealing about No. 99 was the way it moved when I turned the rotation on while I wasn't using it, and the color.
As far as how well Lucid Dream No. 99 works, I'd say it's a big flop. The design is just too rigid for me, and the dips in the toy made insertion and removal really painful. I'm not sure if there is another way to use this toy, but I knew that after one go-round with this thing that I would never use it again. That being said, I was genuinely disappointed to find that I didn't like it, because I wanted it to work for me so badly. I liked the way the design looked and the way it felt in my hands, so I was really gung-ho about it. Alas, it was a major let down, to put it politely. But, hey! It's waterproof. That's got to be worth something, right?
I really liked the way that the toy looked and felt when I first laid my eyes and hands on it; the jelly feeling is really comparable to the real thing when it's warmed up. I thought that it would be a nice fit when I was holding it in my hands, but actually putting the toy to use proved that I was sorely mistaken. The smell was a lot better than I thought it would be. I thought it would have a strong smell, but it's actually not so bad and almost likeable. The sounds that this toy makes are really obnoxious. As a person who lives with roommates, I felt like I needed to wait until they were all asleep or gone for the day, because it's just that loud!
To be quite frank, I was honestly wondering what in the hell I was supposed to do with this toy once I started using it. To move the toy in or out was painful, the vibrations are hardly worth speaking of, and the rotation is extremely weak. Overall, I would not share this toy with another person, nor would I recommend it for anyone, beginner or advanced toy user. However, if a person were to try out this toy and toss it out like I did and decide they wanted to let someone else use it to see if maybe it's suitable for them, make sure that the person you're lending/giving the toy to knows about jelly toys. Jelly toys aren't as easy to clean as they seem, and boiling the toy would completely ruin it. So make sure you clean the toy thoroughly with warm water and toy cleaner (do NOT use strong soap), and advise the person you're passing it off to that it would behoove them to use a condom to avoid sharing bacteria.
Experience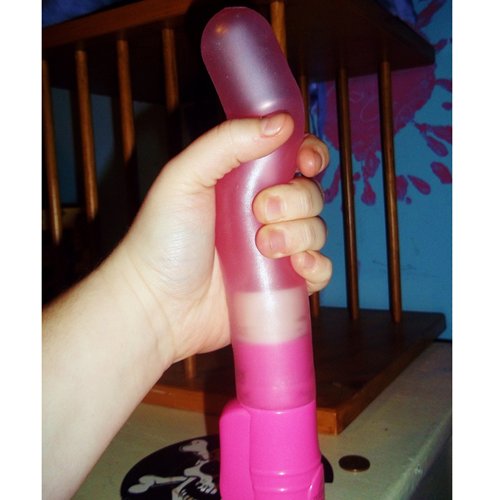 I mentioned my one night stand with No. 99, but I figured I would share just how horrible the experience was.
A few nights ago, I decided it was time to put this big boy to use, as all of the roommates were gone and I could turn this thing up as loud as I wanted it to be. I was extremely excited about it. So, I get into bed and I start trying to insert it and realize that it's ridiculously large. A LOT larger than I thought it was. At first I thought I was doing it wrong, and nearly considered calling up my friend to ask how the hell I was supposed to use it. But, I didn't and decided I would just keep trying. After about fifteen minutes of trying to get this thing inside of me, I finally succeeded and started trying to move it in an out. No dice. It hurt like a sonofabitch. So I decided to try just leaving it in and just turning on the rotation; it was the most underwhelming thing I have ever had in my vagina. Five minutes later, I was cleaning the toy and tossing it out, and going back to my old vibrator. I almost felt the need to apologize to my old vibrator for cheating on it.
So there it is. That is my one and only experience with Lucid Dream No. 99. I'm really glad I tossed it out. Now I only have 98 problems.
Follow-up commentary
4 months after original review
I was in a sex shop the other day and actually saw this toy. I thought to myself, "WHY? Why are you still selling this thing?!" Yeah, I still hate this toy, and always will. I trashed it not long ago, because I couldn't find anyone who actually liked the poor thing. The design is pretty cool, I'll give it that, but the delivery is sad and unsatisfying. Too bad, though. I really wanted to like you, no. 99.
This content is the opinion of the submitting contributor and is not endorsed by EdenFantasys.com

Thank you for viewing
Lucid dream no. 99
– g-spot vibrator review page!