Kinda like an big egg with a handle.
This egg on a stick or the Zenith by Extase, as it is called, is a great tool for your adventures in G and P-spot exploration. The angled head zeros in on you spot of choice and the long handle makes it easy to hold and control. A triangular shaft, egg shaped head and seven different vibration patterns means you can have all the stimulation you want in a classy looking package. It even comes with two different ways to store it, what more could you want?
Published:
Pros:
Angled for G or P-spot, 7 vibe functions, Unique triangular shaft. Lighted on/off button
Cons:
None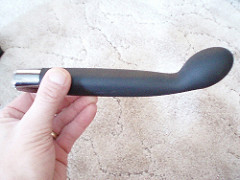 I was very excited to receive the Zenith for my wife. She likes when I put an egg inside her while giving her oral, so I though this new vibe from Extase would work great. It worked better than I thought!
The Zenith is best described as an egg with a handle that can be used many different ways. The egg portion is mounted at an angle, this makes hitting the G-spot easy and it lies across the wife's clit nicely when she is holding it during intercourse. Of course what is good for the Goose is also good Gander. This can be used for stimulating the cock, balls, nipples and exterior anus as well. With a good grip, it can be used for P-spot massage as well. Although I could not get it in much more than 4" down the shaft, care should still be taken if used anally due to the lack of a safe base. Furthermore, I found it works well for massaging those sore shoulder and neck muscles.
PU coated ABS plastic makes up the material with this one. That means that it has a thin layer of PU (
Polyurethane
)over an ABS (
Acrylonitrile butadiene styrene
) frame. The Zenith has a matte finish that has a just little bit of drag to it. It feels, to me, like silk. You have your choice of colors; black, pink or magenta. The cap of all three is a smoke chrome color, and is made from the same ABS material only it has a metal coating.
Cleaning is a snap; soap and water or a toy cleaner will work just fine. I use a condom when I use it on myself, you should do the same if you plan to share. It will make cleaning easier and prevent transferring ickies back and forth.
Silicone and water based lubes are suitable for the Zenith but stay away from oil/petroleum based lubes and lotions as they will degrade the PU coating. This vibe is splash proof but not waterproof. I found that regular cleaning is fine as long as you do not submerge it or let the water run directly on the cap. The cap comes off with a quarter turn so you can insert two AA batteries. The cap will only go on one way so you have to turn it until you find the right spot.
The shaft has a triangular shape to it, which is different from most vibes. We found this very stimulating when turned back and forth.
Measurements are as follows -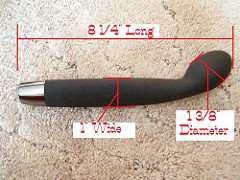 As you can see, it is on the small end in diameter and has a good handle area for griping. One problem I always have when the controls are on the end of vibes is I always end up pressing the button during use. The extra handle area helps with this significantly.
Speaking of controls, they are pretty simple to use. On the end is the push button that is used to control the settings. You need to press and hold for a few seconds to activate it, them a quick press will allow you to cycle through the seven levels of vibration. These consist of constant vibration, different patterns of pulsing and one escalating. There is three constant settings; low, medium and high. The pulsating levels give you; a short then long, two shorts - a long and then a short low - short long high. The last setting goes very slowly from low to high with a constant vibration. All of them can be felt throughout the vibe but are centered on the end. To turn off the vibe you simply hold the button down for two or three seconds and it will turn off. This can be done anytime you wish.
Another nice feature of the push button is that it has a blue light behind it. This gives you a visual confirmation that it is on and provides a light when I am under the covers using it on the wife. Our room is on the cold side so we need to be under covers, a "Night light" is nice to have so I can better see what I am doing.
The Zenith comes in a nice hard cardboard box that is suitable for storage.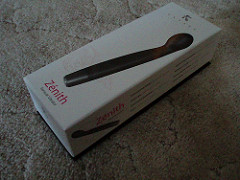 Inside you will find the vibe held firmly in a piece of foam.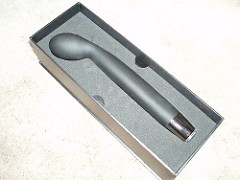 Under the foam is a instruction booklet and a storage pouch.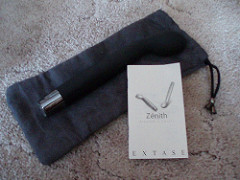 So, for storage you can use the box or the pouch. I am using the box because I need the pouch for a glass toy that did not come with one.
Experience
When used on myself I found that it homed in on my prostate with ease and the vibrations were nice, but not overly stimulating. The best use for me was on the head of my penis and the perineum. It also worked well on the base of a butt plug to add some vibration.

I found it work way better for the wife. After some oral to warm her up, I used it on her clit first. She enjoyed the different vibe settings; the escalating being her favorite to start, then the high, constant setting worked the best for finishing. She did not care for heavy pressure though, it was too just much. A light pressure worked best for her.

Used internally she did not care for the higher settings as they aggravated her pubic bone. (Most high vibrations do) Furthermore, she found it quite comfortable to use (Thankfully) and a small stroking action worked best against her G-spot and a-spot equally. Using it this way brought on great orgasms with a bit of gushing being the result each time she has used it.

I found it to be very quiet. I can not hear it on the highest setting under the blankets. Other reviewers have said that it IS loud, so I am not sure if mine is just quiet for some reason or my hearing is going out. I leave it as a mystery.

So, overall this was a big hit for the wife and pleasant for me. I would recommend it anyone that enjoys great G or P-spot stimulation over a wide area. If pinpoint stimulation is what you crave, you might look elsewhere. I found no cons with this vibe and rate it as such.
Follow-up commentary
4 months after original review
Out of all my vibes that I use the Zenith is by far th best. The shape is very pleasing and the angle finds my prostate with ease. I have been enjoying turning the Zenith around and around just inside the opening of the anus. This provides a massaging effect and this allows the anus to relax in preparation for bigger toys.

I have only needed to replace the batteries once so they last a good long time. I do wish the vibes were a bit more thumpy but the wife thinks they are just right.
This product was provided free of charge to the reviewer. This review is in compliance with the FTC guidelines.

Thank you for viewing
Zenith
– g-spot vibrator review page!