Oh! How Elegant You Are
Put some elegance in your toy box with Extase Elegance. A multi-speed, multi-function, stunning vibrator that is sure to tickle your fancy.
Published:
Pros:
2 motors, rechargeable (USB or outlet), silicone, splashproof
Cons:
Only splashproof
USE:
Elegance by Extase is a stunning traditional vibrator. It does boast a slight curve to better fit the woman's anatomy. It is made of luxurious silicone and has an easy to use control pad. Although it may not hit your g-spot the way you want it to, that is fine. It was not made for that. It is made as a internal thrusting toy and it does its job well. With 2 motors and rumbly vibrations it takes me over the edge and makes me beg for more.
It does lack a flared base but, if you are experienced with anal play and you know to hold on tight, there is nothing stopping you from using this anally. Just so long as it gets disinfected well before the next use.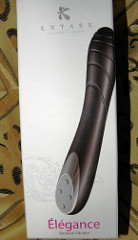 MATERIAL/TEXTURE/DESIGN/SHAPE:
Elegance is made mostly of silicone with the control pad portion being plastic. It has a slight curve to it and there are a few ridges along the top. They are not really deep enough to do much as far as texture is concerned (for me anyway) but they look pretty. It does have drag (like all silicone) so you will want to have some lube handy.
The total length of the toy is 9 inches. At the widest, insertable end it is 1 3/8 wide and the smaller mid section sits around 1.25.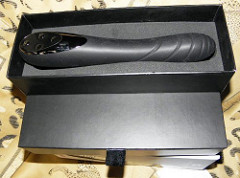 FUNCTIONS:
So you turn this bad boy on by hitting the + button. The vibrations are deep and rumbly. Pressing it again and again ramps it up in speed. I counted 10 levels of vibration. There are then 5 pattern modes that are adjusted by hitting the side arrow buttons on the control pad. The patterns are not your regular pulse or roller coater. Instead they bounce between the 2 motors.
There is this lovely quick roving between both, a slow bounce back and forth, a faster bounce back and forth, bottom motor only and top motor only.
At anytime you wish to lock your device you can by holding the 2 arrows down (while the toy is off of course) for 5 seconds. The back-light will dim indication the lock is on. To unlock you do the same.
CARE AND STORAGE:
Be sure the little charger flap is closed before you wash this toy. Once that is done you can carefully wash it with warm water and anti-bacterial soap, your favorite toy cleaner, or a 10% bleach solution for a deep down clean. There are the ridges there so you will want to pay close attention to them to be sure not to leave anything behind (Do not submerge Elegance. It is not waterproof - only splashproof). It warns in the manual against using alcohol based cleansers so do not use alcohol on this please. As for lube, keep to waterbased.
Although the box it comes in is lovely, with a nice cut out in the top to keep the toy in place and a drawer type pull out underneath to store the charger and instruction manual, it is just too much for my liking. Luckily there is a beautiful microfiber pouch in there as well so you can ditch the box and keep everything in its pouch. The silicone does collect lint and cat hair so you will want to keep in in something for sure.
Charging this toy is easy. Open the port and slide the charger in. It takes 3 hours to charge and that yields 4 hours of play time. It has a standby time of 90 days. You can charge it either by outlet or by USB port in your computer. It should not be used while charging and it is recommended you do not leave it plugged in for over 24 hours.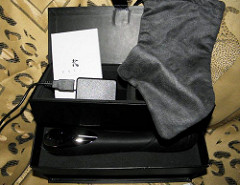 HOW DID IT WORK?
Using this as an internal toy is phenomenal. The various patterns of the two motors rolling back and forth felt incredible. Externally it was amazing as well. The vibrations are deep and there are so many combinations you can put it on, well, lets just say I was pleased as punch. Elegance has made it into the regular rotation over here.
This product was provided free of charge to the reviewer. This review is in compliance with the FTC guidelines.

Thank you for viewing
Extase Elegance
– traditional vibrator review page!