Retro Sexy
Over all even without the underwear I still rate this chemise 5 out of 5. This Retro Mesh Cupless Chemise is just beautiful. I think the design is simply sexy. I recommend all those in the size range to try this piece out. Another great thing about this piece I think it was inexpensive. Has great qualities like removable garters and fully adjustable strap. Unfortunately this piece doesn't come in a plus size so it wont fit every body type.
Published:
Pros:
Soft texture, Beautiful design, Adjustable straps, Removable garters.
Cons:
No underwear/thong, can be a little short in the back, No plus sizes.
Use
- This Retro Mesh Cupless Chemise by Coquette is a cupless chemise designed to be worn. Wear in the privacy of your own home. You can wear this Chemise before sex. When you wear this piece you're going to feel beautiful and sexy.
Material/Texture
- The material is mesh and it's made up of 82% Nylon and 18% Spandex. Together these make the texture of the Chemise extremely soft and smooth. It is a very light weight piece that doesn't weight you down. Which is a nice quality to have in a piece of lingerie. I love wearing this Chemise it feels great against my skin as well as the hubby's skin. He enjoys the lingerie pieces as much as I do!
Design/Shape/Size
- I love the design on the Retro Mesh Cupless Chemise. The straps(1/2in)are fully adjustable and they have a very cute design of their own. They have black lace with a pink ribbon going threw them, it wraps up from the top of the underwire(by your armpit)than over your shoulder to the back and stops where they adjust. The straps also have two little pink bows were they connect to the top of the underwire. They are(10in)all the way down and (5in)all the way up. It is a cupless piece and the cupless part has underwire for your breast. On the underwire you have a black ruffle that starts from one side to the other side under lining the breast. Then you also have a pretty pink lace that goes along with that black ruffle. There is a (5in) pink bow right in the middle of the breast. Then in the middle of each breast you have a pink strip (1/4in) wide and (14in) long on each side. They go almost all the way to the bottom. At the end of each pink strip are two (5in) pink bows. The bottom is a mini skirt style. Those two pink strips they stop where two cute layers of black ruffles start,they finish off the Chemise. From under the breast to the ruffles is a solid mesh/sheer pattern as well as the back. The back isn't every open, it is like wearing a tank top. The shape of the dress is straight down and hugs my curves. Chemise comes in S,M,and,Lg no plus sizes I got the L.
Coquette's Chart
Size Bust(in) Waist(in) Hip(in)
Small 4-6 B 34-36 26-28 36-38
Medium 8-10 B 36-38 28-30 38-40
Large 12-14 C 38-40 30-32 40-42
My Measurements
Size 11/12/13
Bust(in) 36 C/D
Waist(in) 28
Hips(in) 41
21in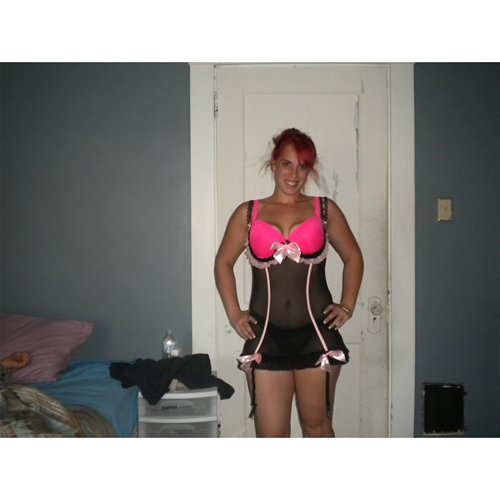 18in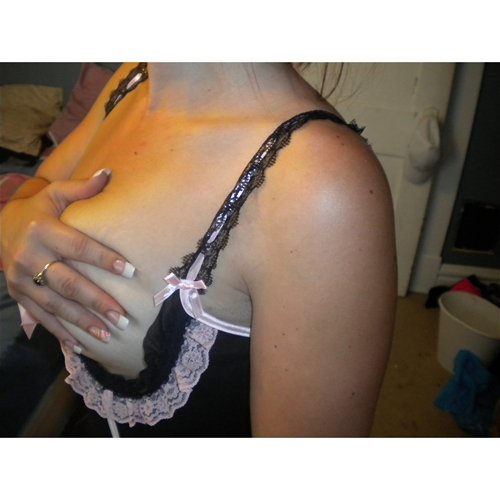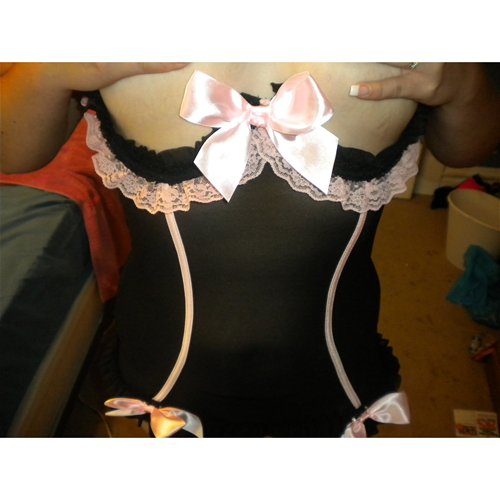 21in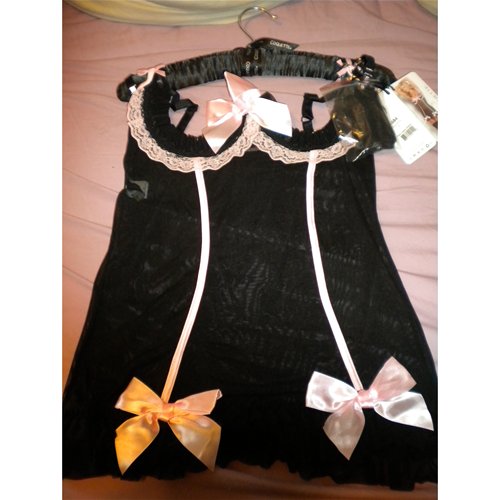 14in wide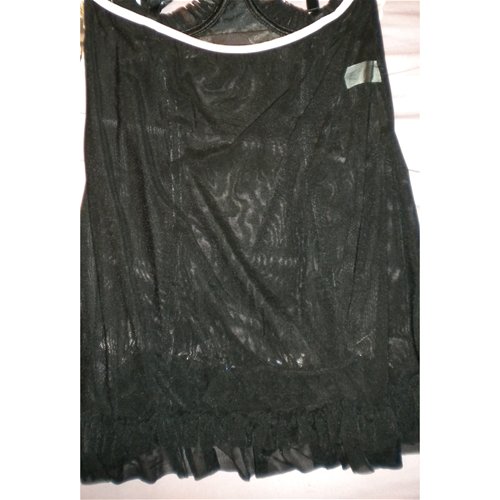 18in
Functions/Performance
- For the ones who don't like bows your in luck with this piece. Now all together there are 5 bows 2 are really small, I really didn't even notice them,and the other 3 are big. Those 3 big ones they are 5in but they're removable. They are attached by a brooch type pin that I didn't noticed until closer inspection. Now those of you that like them like me will keep them on. Those of you that are unsure whether you like them or not play around with them and try both styles then decide for yourself. The Chemise also had four adjustable and removable garters, personally I don't like them. Since they are adjustable you can adjust them to you height or shortness which ever you need. Performance if you take care of this piece I think that it will last along time. I only had one issue and that was with the first one, this one I looked over it, and there was nothing wrong with it. I didn't find the underwire hanging out, no loose threads,and no bad stitching.
Care/Maintenance
- For this piece the tag says to hand wash and hang dry. The tag was the only care info I could find but honestly just looking at this piece you know to hand wash and hang dry. This Chemise is also going to be high maintenance and that is due to the lace, underwire,and the ruffles. It is a very delicate piece. You should take very good care of it if you want it to last. So hang it up in your closet.
Packaging
- So I like what Coquette did with the Retro Mesh Cupless Chemise. They hung it on this thick padded black hanger with two little pins on each side. This helps it from falling off the hanger. Then they put it in a bag about the same length as the Chemise and had the end sealed so nothing could get into the plastic bag to damage the items. Also the garters are in a little bag beside the tag which is attached to the Chemise by a little safety pin.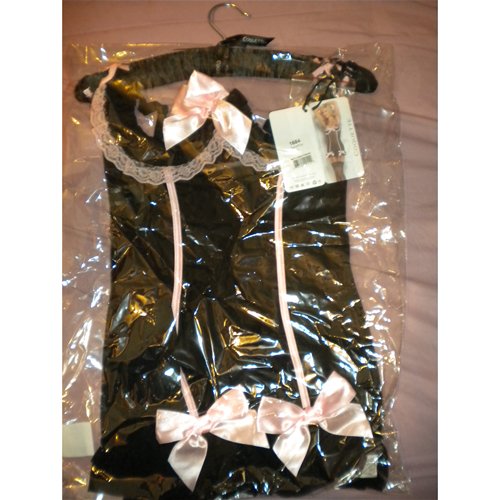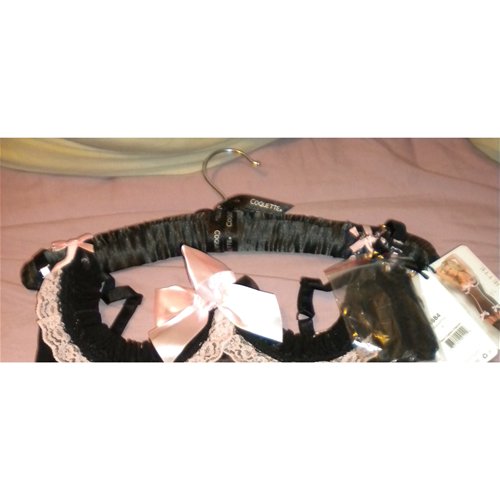 Experience
So this is my first piece of Coquette Lingerie. It is the Retro Mesh Cupless Chemise. I have a many different types but never a cupless/openbust. I really liked the way this piece looked. So I showed the hubby, since he's a boob and butt guy so he was all for this piece. Easy access for him less tugging on my lingerie for me. When I got this I was surprised that it came on a cute little black hanger in a plastic bag, I've never had that, most items just come in a little cardboard box or fold up in a crappy bag. You can tell Coquette cares about their products but then again I have only read good thing about them. When I tried it on I felt incredibly sexy in this chemise. The open bust with the two layer ruffles and the sexy little bows. The whole piece was just stunning up close, but I did have to send it back the under-wire was sticking out of the one side. Not a huge problem for me. By the time I got this review done I already had it back. I will say though when I got it I kept looking for something but couldn't quite put my finger on what I was looking for than it hit me the thong or g-string. To my surprise there was none and I usually read over the product carefully before I buy it. I never notice it didn't come with one but no biggie I guess I'll have to buy one. I couldn't fit this in my summary so I'm going to add it here. I think this will fit women with bigger breast sizes due to the cupless, they wont have to worry about fitting the cup or falling out.
Follow-up commentary
3 months after original review
My hubby say's this is still his favorite piece. He thinks this looks the sexiest on me out of all the pieces in both of my drawers (and their completely full). He loves the way it shows off my curves while hugging my body. Still in love with the easy access to my boobies. :)

We did take off the big bow in the middle of the breast, he didn't like it there while he was there, but he didn't mind the other two staying. I did find a sexy g-string to match that I really liked. So all in all I still love this piece and the fact that the hubby loves it so much is an add plus. So I still give it a 5 out 5 and also recommend it to both men and women to buy. Women can buy for themselves to show to their SO/partner, and men can buy it as a nice sexy gift for their SO/partner.
This content is the opinion of the submitting contributor and is not endorsed by EdenFantasys.com

Thank you for viewing
Retro mesh cupless chemise
review page!