Yummy retro cupless dress fits like almost nothing else.
This cute little chemise is totally body-friendly in the way that many lingerie pieces are not. Being cupless and stretchy it fits you regardless of the proportions. Having curvy hips but relatively small breasts is not a problem anymore as well as having a hourglass figure with a very small waist. Despite that it's stylish, comfortable, versatile and sexy - all that for less than 30 bucks. And of course... breast-fans, rejoice!
Published:
Pros:
- easy access to breasts
- no cup size issues
- comfy stretchy material
- great quality and price
Cons:
- may be a bit short
- underwire sticks out occasionally
- thong not included
- only in 3 sizes
My personal lingerie collection is quite small so far, but is rapidly expanding. As I was looking for something new to buy, Retro Chemise looked like an obvious choice: it's not expensive, it looks gorgeous and the problem of having small boobs and relatively curvy hips is nonexistent with it.
I received my Retro Chemise wrapped in a soft bright pink paper which I liked more than getting another boring standard cardboard box. You don't actually need this box anyway because you would probably want to hang this chemise for storage and all the necessary information is written on the tags. The tag claims that this chemise is 82%
nylon
and 18%
spandex
. Nylon is a rather strong synthetic fiber which is resistant to oils and greases, so if things get messy in a bedroom you don't have to worry about your Retro Chemise so much. And spandex is what adds this nice extra stretching to the material. However, being synthetic it requires some special care. Never boil or bleach this chemise. It also shouldn't be tumbled and dry cleaned. I would recommend to hand-wash it delicately in warm soapy water and lay out to dry.
Design and construction
Overall, Retro Chemise looks absolutely true to the picture. It is made of sheer black mesh which is very soft and stretchy. It is accented with several large satin pink bows - one right under the bust and two at the bottom. The bows are about 4.5" wide each.
The adjustable straps are made of black lace with pink ribbons going through and have very small pink bows where each strap is attached to the bust area. The straps are about 8" long and 1.25" wide. As you can see on the picture, there are also two pink stripes going from the middle of the busts to the large bows at the ruffled bottom. Both of these stripes are about 12.5" long, while from bust area down to the very bottom of the chemise it measures 18".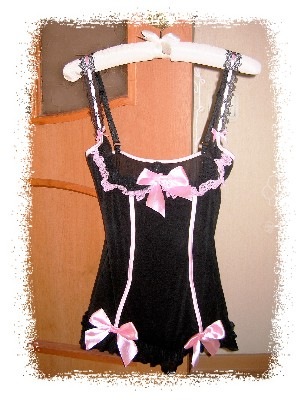 The cups are accented with beautiful ruffled lace, which is luckily not itchy at all. There is also metal underwire, which is the only thing I dislike about this chemise. It provides some necessary breast support but moves around too much and sticks out sometimes.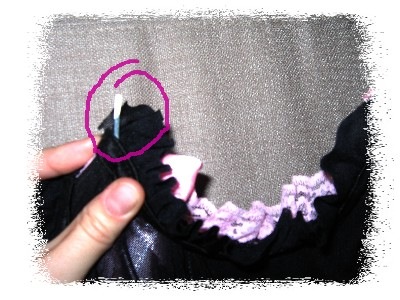 There are four garters which are both adjustable and removable. As for the clips, they consist of two parts, silicone and metal and are hidden under the small ribbons.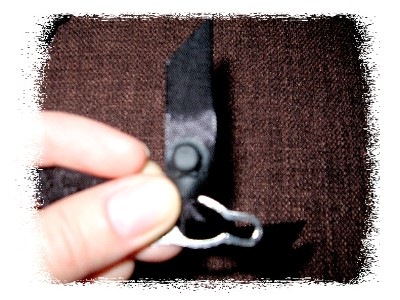 So in general, the quality of this piece is amazing, especially for the price.
Fit
A huge advantage of this chemise is it being both cupless and stretchy. It means that your choice of a proper size can be based only on your regular dress size and the underbust circumference. I ordered
size Small
which, according to
Coquette size chart
, requires
4-6 dress size
. The chart doesn't give underbust measurements, so I measured Retro Chemise myself and its upper part has circumference of about 31" unstretched. However, the size chart also includes other sizing details which are not deadly important, but still can be helpful:
- B cup;
- 34-36" bust;
- 26-28" waist;
- 36-38" hips.
Personally, I'm within all the mentioned ranges and Retro Chemise fits me perfectly fine. The sizing is amazingly correct - partly thanks to stretchy material and cupless design, but still. Just for the record, I have 24.5" waist, 36" hips and normally wear 32A bra. There are some pictures below, not the best pics ever, but I was alone at home and it is what it is.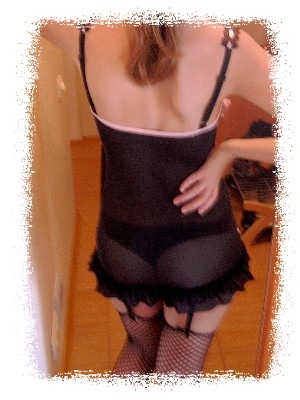 There is however, the possibility of some
issues with height
. If you are 5'6" like me or around this number Retro Chemise may appear shorter than desired. In this case the problem can be solved by wearing it with garters and stockings - it will keep it from rising up. If you are smaller, this chemise will most likely cover your buttocks but the garters may be inconvenient to use due to being way too long for a usual stockings' height.
Retro chemise also comes in Medium and Large sizes. You may want to look at some
other reviews
to find out more, but as far as I know the other sizes are also very true to the size chart. Unfortunately, there are no plus sizes as well as extra small ones.
Conclusion
I'm giving this Retro Chemise 4 stars. It's not 5 mostly due to those things listed in the Cons section above. Don't get me wrong, it is absolutely great - just not the greatest.
Experience
Here are some of my
suggestions
on how to use this chemise at its most. Let's start with some
sexy stuff
. First, it is cupless and thus allows your breasts to be easily accessible. You don't have to take off your sexy outfit (or some parts of it) anymore to engage into some nipple play or other breast-oriented action. Second, you can combine this lingerie piece with pasties or tassels. Eden Fantasies carries quite a lot of them and you can look for what you need in
Gloves and accessories
section. If you don't mind some BDSM action, then you can wear
nipple clamps
instead. Third, Retro Chemise is sheer, so if you have some body jewelery or tattoos you want to show off - the fabric is transparent enough for that. However, I would be rather careful with body jewelery: make sure it won't tear the material. Fourth, Retro Chemise will help you to create that lovely "pin-up girl" look which can be used as a part of a role-play. And finally, this chemise is both sturdy and comfortable enough to be worn during intercourse. It is however, a bit difficult to take off quickly enough if you want to.
Also there are some
other ideas
on what to do with this chemise except for
purely
sexual purposes. Well, first of all, my boyfriend is a bit into casual nudity thing and he is also very fond of boobs. I actually plan on trying to wear Retro Chemise around the house while doing some routine things like cleaning, cooking or just lounging. I bet he'll love it. I also like the idea of using this for an erotic photo-shoot at some professional studio. I would cover my nipples with pasties, find some suitable retro-style shoes and stockings - and here I am! Ready to make some great pics for my own sexy pin-up calendar.
As for now, I have only worn this chemise twice in the bedroom so far. To be honest, it seems that my partner doesn't really care about lingerie that I wear. It's more of a thing to make
myself
feel sexier and more confident. But in this case he at least enjoyed the way Retro Chemise left my breasts uncovered. By the way, I was a bit worried about my boobs being lost in comparison to this huge typical Coquette bow in front. However, in my opinion even my modest A's looked good in this chemise. And don't forget that you can always remove the bows.
Thanks for reading!
Follow-up commentary
2 months after original review
I still like this lingerie piece a lot. A few weeks ago I even ordered one as a birthday present for my best friend. She is shorter than me (5'4"), very thin but with rather big breasts (C-cups at least). As she told me afterwards, this chemise fit her perfectly well and both she and her boyfriend were super-excited about the looks. So I still recommend this one as a wonderful erotic piece for lots of different figures and body types.
This product was provided at a discounted price in exchange for an unbiased review. This review is in compliance with the FTC guidelines.

Thank you for viewing
Retro mesh cupless chemise
review page!