Too Many Bows For Him, Perfection To Her
The Retro Cupless Chemise has quickly made its way into my heart and into my top lingerie picks. My husband disagrees and thinks the bows and frilly details are just too much. The high quality, delicate detailing, and how sexy I feel in this mean I just can't help but give it less than a five star rating, despite his less than stellar opinion. The material is very delicate and you'll need to take care to make sure it doesn't rip or fray.
Published:
Pros
Detailed and beautiful design, Underwire, Forgiving on hips, Slimming to waist, True to size chart
Cons
Bows may be a bit much for some, Underwire doesn't offer that much support
Coquette's Retro Mesh Cupless Chemise was actually one of the first items added to my wishlist when I started Eden. I kept putting it off even though I thought it was one of the sexiest pieces on here. Lucky for me,
Antipova
was awesome enough to get it for me for Christmas. So a big thank you to her!!!
PACKAGING
This chemise comes on a hanger. It's wrapped in a plastic bag for safekeeping.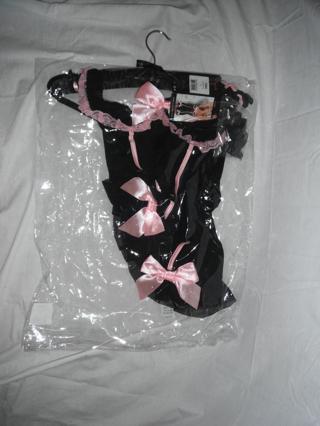 I wanted to show you the tag real quick because the tag says that it comes with a G string. Mine did not come with one nor does Eden list that it includes one. Not sure why the tag lists it.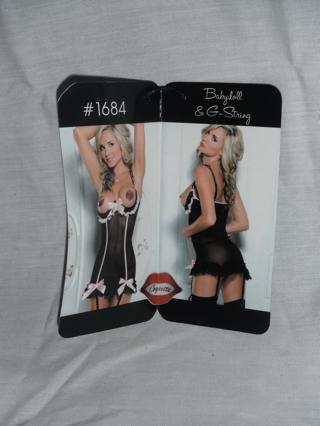 SIZING
I have this in a medium. For a medium, I should have bust measurements between 36"-38" with a B cup. My waist should be between 26"-30" and my hips should be between 38"-40". The cup size matters a little less with this since it's cupless. My actual measurements are 28" at the waist and 39" at the hip. My cup size is 34DD/36D.
The medium chemise is 20.25" long. Under the bust is 12.25". The waist is 12.5". The hips are 14.5". Each cup is 4.5" underneath. The straps are adjustable while the back is not. The cups are underwire.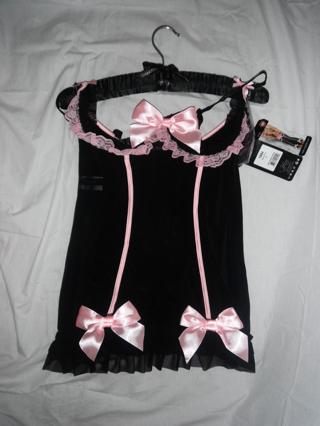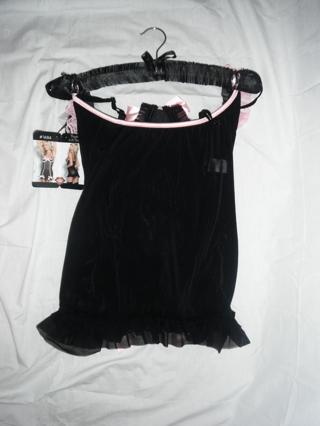 This fits me perfectly. There is a little room where it should fit up to the sizes listed in the size chart. It is very short and rides up some. I would say it comes right to the point where it covers my butt and not a centimeter more. When it rides up, it doesn't cover everything. The open cup is great because I didn't have to worry about cups fitting my breasts. The underwire does not offer much support, however.
MATERIAL
The piece is made from 82% nylon and 18% spandex. The material has a small amount of stretch to it to accommodate some size differences. It's not a ton of stretch and it's not super clingy. It will hug the curves, but not in a way that doesn't look good. It's just the right amount of hug to be form fitting but not lump and bump showing.
The material feels a little scratchy to the touch. When on, it feels much softer. It's very comfortable to wear and not at all irritating. I'm pretty sensitive to itchy materials and this didn't bug me at all.
It's a mesh, but it's a more opaque mesh. You can see the hand through it, but just make out a silhouette. It will give a peek, but not show everything. This photo gives an idea, but in real life it is a little more see through than this.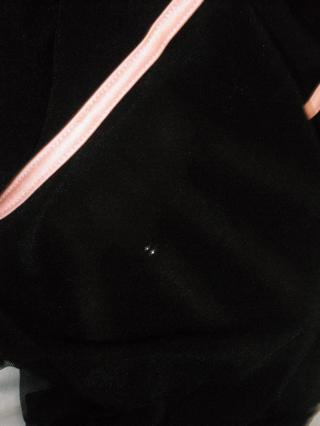 DESIGN
This chemise has a ton of design details. It comes together for a unique, girly look. Starting at the top, the straps are done in lace. It is black lace with a pink ribbon woven in it.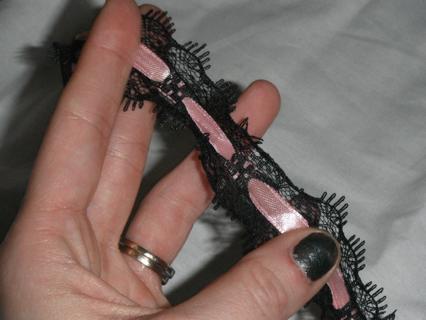 At the end of each strap is a small pink bow. From there, the cups begin with the black mesh material in a frilled design with pink lace done underneath it.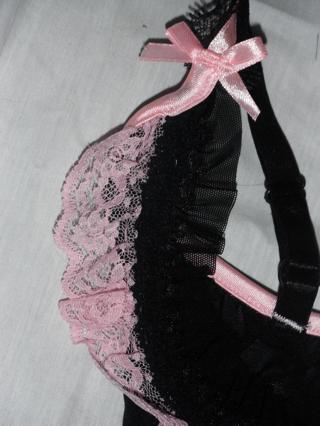 In the middle of the cups is a large pink bow. This bow is attached via safety pin and can be removed.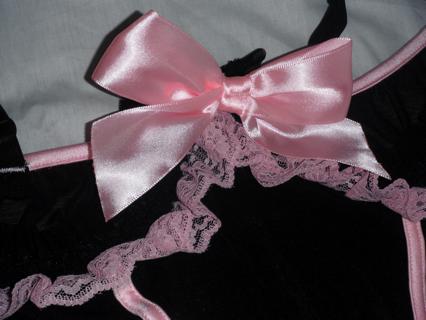 Down the center of the chemise are two pink satin piped strips. These are curved inward for a slimming effect on the body. These are placed against the mesh material that makes up the main part of the chemise.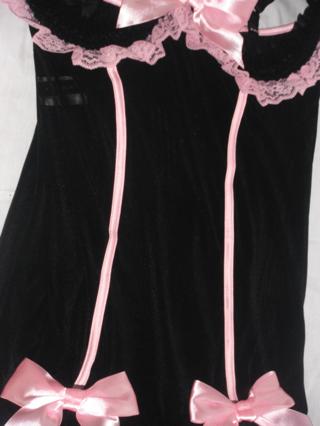 At the end of the pink strips are two more larger pink bows. These are also attached via safety pin.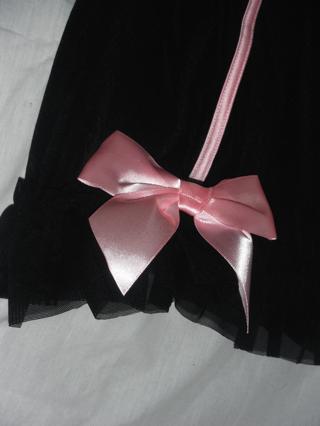 The very bottom of the piece is done in mesh but is frilled out.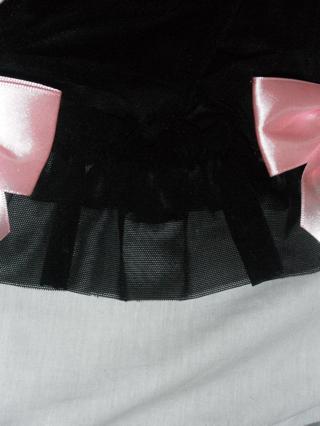 The back is all black save the very top which is done with the pink piping. The bottom also has the frilled mesh.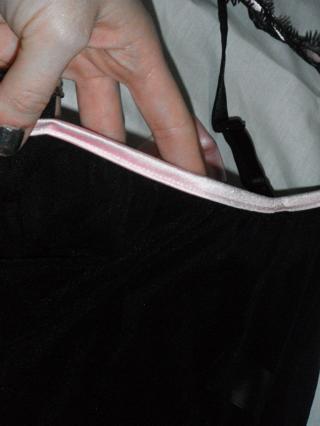 SPECIAL FEATURES
The three large bows are detachable via safety pins, so if you don't like them they can be easily removed.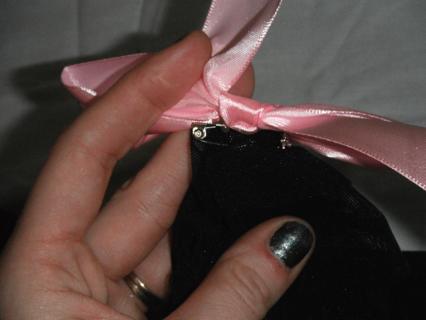 The piece comes with removable garters. The garter is made of metal. It is adjustable for length purposes.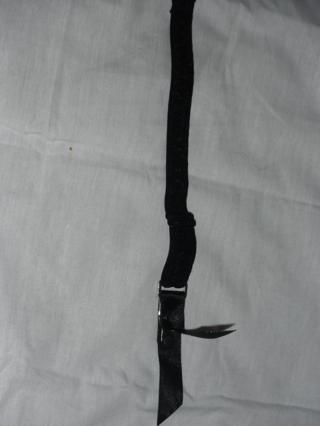 Experience
QUALITY
Coquette makes high quality lingerie and this chemise was no exception. I found only one fray on it near the strap in the lacing. I will say that the lacing on this is very delicate and you do need to be careful with it to maintain the high quality that it arrives in. It did not arrive with this fray, but rather it occurred after wearing it a few times. In that same area the seaming doesn't quite meet up perfectly, but everywhere else the seams line up correctly and are done well.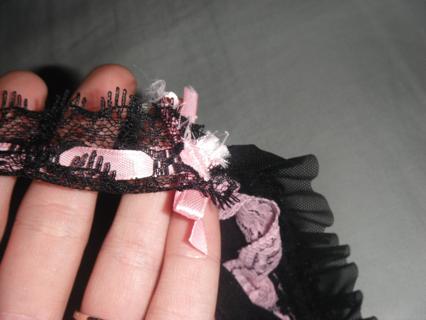 CARE
You should hand wash this in cold water. This is extremely important with this piece as it is very delicate. You should line dry it. It should not be place in a drier or ironed. It should not be bleached.
EXPERIENCE
I love, love, love this chemise. I don't know why I didn't get it as soon as I saw it. I'm so happy Antipova got it for me because it is a shining star in my lingerie collection. I feel incredibly sexy with it on. It covers my trouble areas (ie: my hips) but displays my breasts which I'm much more fond of. It fits like a dream. The piping down the middle is slimming to the waist and hip area. The detailing is stunning.
The only thing I can say about this piece that I wish were better is the underwire support. It doesn't really support all that much. It holds better than a piece without underwire, but nothing like you'd get from an actual bra. It may work well for B or even C cups, but for my D/DD breasts it didn't really do much in the support area. It's also a little shorter than some of my chemises, which doesn't pose an issue for me, but may for some.
Sadly, my husband is not as big of a fan of this. He really hates bows and there sure are a lot of them on this piece. I mean a lot of them! Even when I removed the big one from the middle he still complained about the bows and I wasn't willing to part with the ones at the bottom.
My husband says he would only give this three stars on account of all the bows. I'm giving it five despite his lackluster opinion because this piece is just too stunning and amazing to give anything less. The quality aside from the one area is good and it just doesn't deserve to get a lower rating because my husband has a bow issue.
I took some pictures both with the middle bow and without the (apparently horrible) middle bow. Remember the bottom two are also removable, I just can't bring myself to take them off. I had to put clothes on underneath since this is cupless and pretty see through once the flash hits. This looks way better without all the junk underneath it!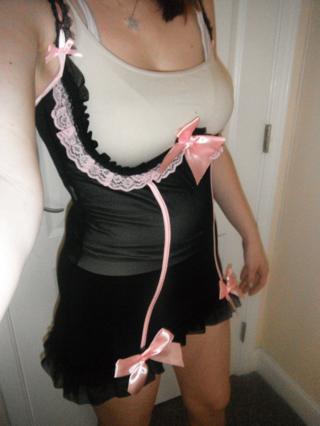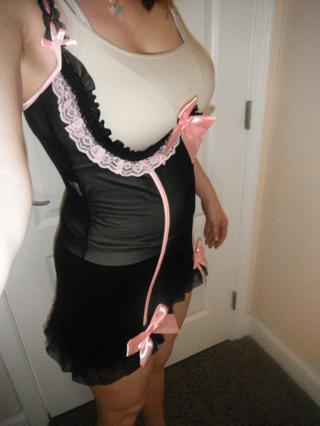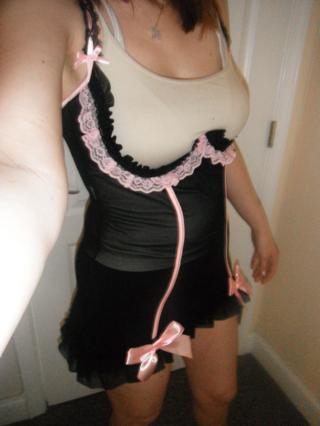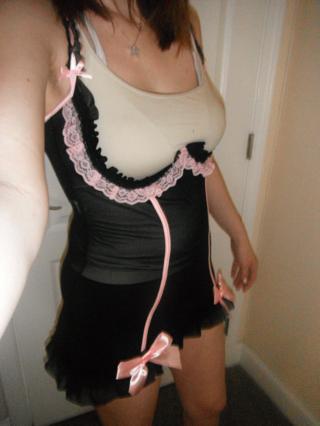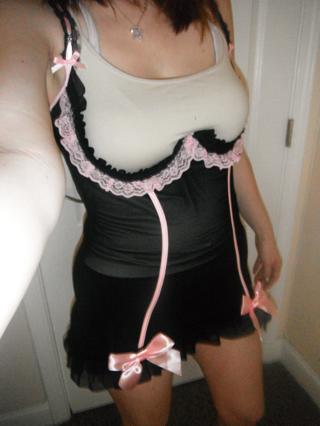 This content is the opinion of the submitting contributor and is not endorsed by EdenFantasys.com
Thank you for viewing
Retro mesh cupless chemise
review page!