Thank you for humming right into my heart!
The Clitoral Hummer by California Exotics has nice medium to strong vibrations, a velvety smooth texture, and a can't-beat price. Anyone can afford this toy! It is perfect for beginners, as it is not intimidating at all, but rather cute. This vibrator may not 'wow' more advanced toy users, but it certainly won't be a waste of money.
Published:
Pros:
Strong vibrations
Velvety smooth texture
Waterproof
Great for beginners
Cons:
Neck of the toy overheats
Vibrations may be too buzzy for some
The Clitoral Hummer by California Exotics is a vibrator designed for stimulation of the clitoris, as the name would suggest. It can be inserted for vaginal use, although the nub at the top may be uncomfortable for some. This toy should not be inserted anally, as it does not have a flared base.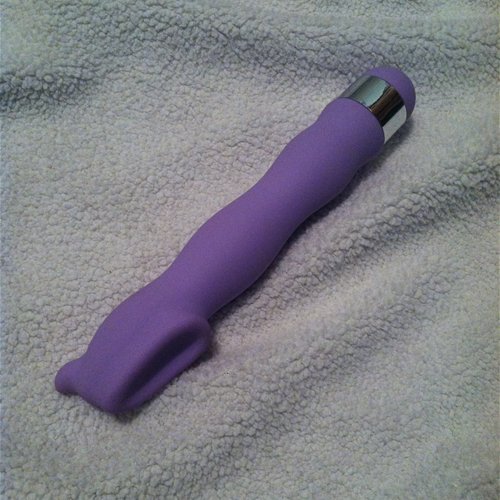 Now before I get to all the fun stuff, let's take a look at some product details, shall we? I'm going to include an ungodly amount of pictures, 'cause that's just how I roll. The entire toy, from the tip of the nub to the base, is 7 1/2" and fits quite nicely in your hand. Whoever designed this toy definitely had our comfort in mind when they did.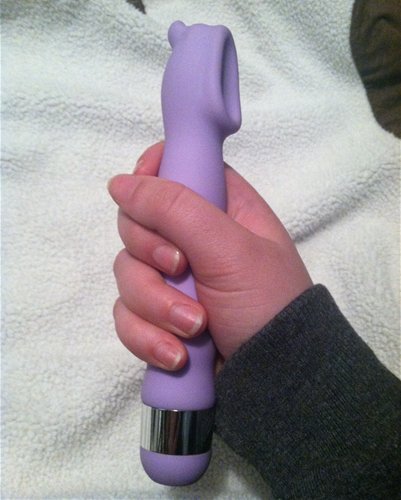 From the top to the bottom of the scoop is 2". That has got to be my favorite part of the toy. It's like it zeroes in on your clitoris and knows exactly what to do to get you off! For a good size estimate, my thumb fits almost perfectly in the little scoop. The product page on EdenFantasys says the diameter is 1 1/4", and seeing as I'd rather not cut my toy in half, I think I'll trust them on that one. Lastly, the toy at its largest part, being the head with the scoop, is 4" in circumference.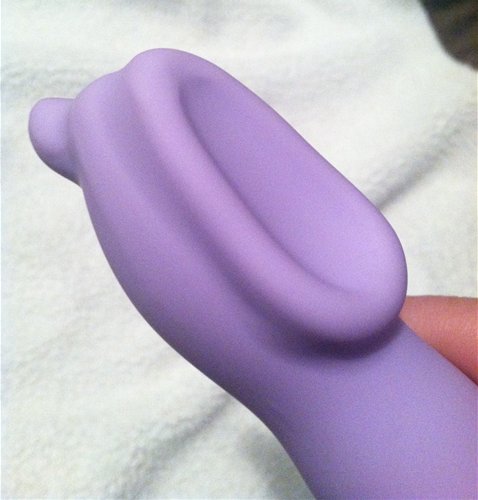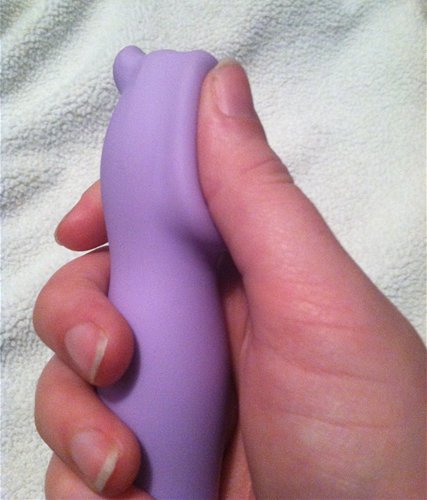 The Clitoral Hummer is made of PU coated plastic, giving it that nice velvety texture. PU coated plastic ranks a 7 on EdenFantasys' safety scale, which is lower than silicone, but still pretty stinking good. It is Phthalate and latex-free, and the lubes of choice for this material would be water-based and silicone-based. You can't boil the toy, but warm water and soap or toy cleaner will clean it just fine. The toy doesn't have any particularly strong smell to it, and for the sake of this review, I licked it; there is no taste. Although I'm not sure why you would want to put this in your mouth when there are much better orifices for it to be near.
Unfortunately I didn't keep the packaging, otherwise there would definitely be pictures of that, but oh well. The Clitoral Hummer came in a sort of flat, transparent tray with an indent for the toy. When I opened the packaging, there wasn't much smell to it. The packaging is definitely not discreet in the slightest, showing the toy itself from the get-go. It tells in no uncertain terms exactly what the vibrator does, so I would open this when no one was around. The Clitoral Hummer is not a discreet toy. I'm pretty sure if someone over the age of 14 walked in and saw this lying around, they'd probably be able to guess that it's a sex toy.
I ordered the purple one, so that's the color I'm going to describe. The purple is a nice lighter color. It's the color I think of when I hear the words "lavender" and "lilac". At the base there is a plastic ring painted to look metallic. This part scratches up relatively easily I've found. The base, including the metallic band, screws off to reveal the battery compartment, and takes 2 AA batteries. The toy itself has 3 distinct bulges, the one at the top containing the scoop. Overall, this toy is very aesthetically pleasing.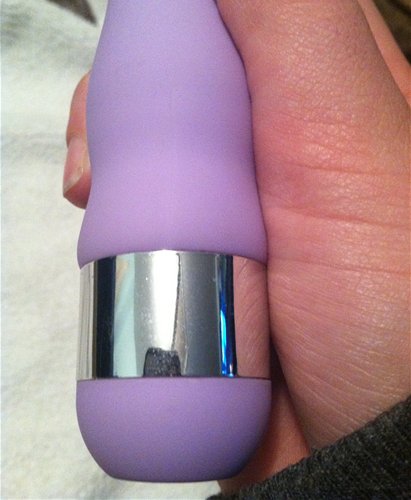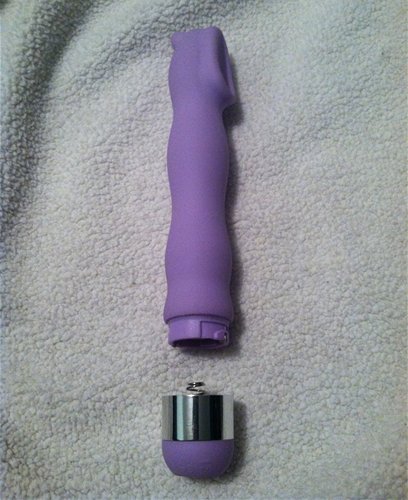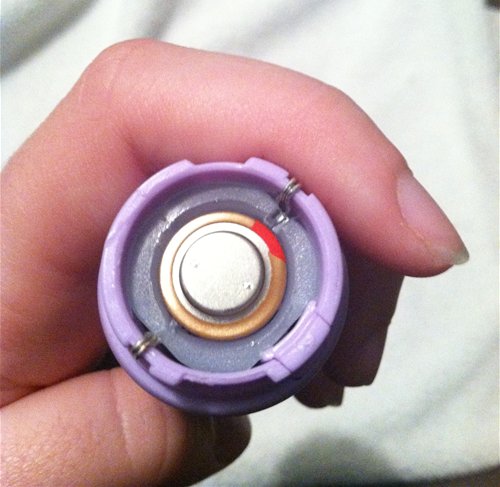 The vibrations are pretty strong, if a little buzzy. The motor is in the head of the toy. I've found the vibrations are pretty good about staying in the head of the toy, and my hand never gets numb, so that's pretty cool. The scoop is perfect for more broad vibrations, while the nub is for pinpoint vibrations. I would recommend using a lube if you don't get wet easily. While using it, I noticed the neck of the toy does get pretty warm, so that's definitely something to consider before buying this toy. It is possible to insert this toy vaginally, but the nub could be uncomfortable. I found with a bit of maneuvering, the nub actually feels great on the G-spot; just be careful if you plan to do a lot of thrusting.
This vibrator is controlled with just one button on the bottom of the toy. Push it once to turn on, hold it for 3 1/2 - 4 seconds to turn it off, and thanks to a handy memory chip, the toy will start up on whatever setting it was on when you turned it off. Speaking of settings, you'll love how many settings this baby has. It has 10 lovely settings and patterns! 10! The first 3 are your standard low, medium, high, while the other 7 are varying patterns and escalations.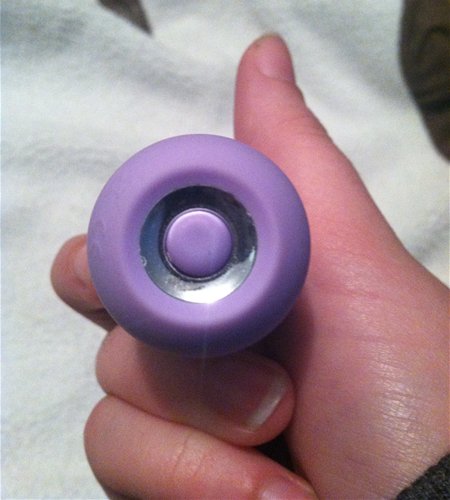 Experience
I ordered the Clitoral Hummer on a whim, as I had ordered a more expensive toy the day before, but still felt like spending a bit more money. As it turns out, I prefer this toy over the more expensive one! It has nice, strong vibrations and a wonderful, velvety feel to it that to me just screams luxury, even though it's only like $20! Perhaps I'm just easy to please, but this toy is definitely my favorite vibrator for the time being. A word of caution: the neck of this toy, just under the scoop, does have a tendency to become warm to the touch after about 10 - 15 minutes of use. It won't burn you, but it is definitely noticeable. This was actually a plus for me, as I like temperature play, warming lubes, and pretty much anything that adds heat.
Follow-up commentary
6 days after original review
This was my favorite vibrator. It had the perfect power, texture, color, everything! It was the number one piece in my collection, and it broke. I've had it for a month, and today when I turned it on, nothing happened! I changed the batteries, but that didn't work, and now I'm sad. I almost bought a new one, but I'm afraid of it dying again. Oh well. This is a good first vibrator for people to try, but, in my experience, it won't last.
This content is the opinion of the submitting contributor and is not endorsed by EdenFantasys.com

Thank you for viewing
Clitoral hummer
– vibrating clit cup review page!